FBI Acting Director Andrew Mccabe Also Being Investigated Over Clinton Emails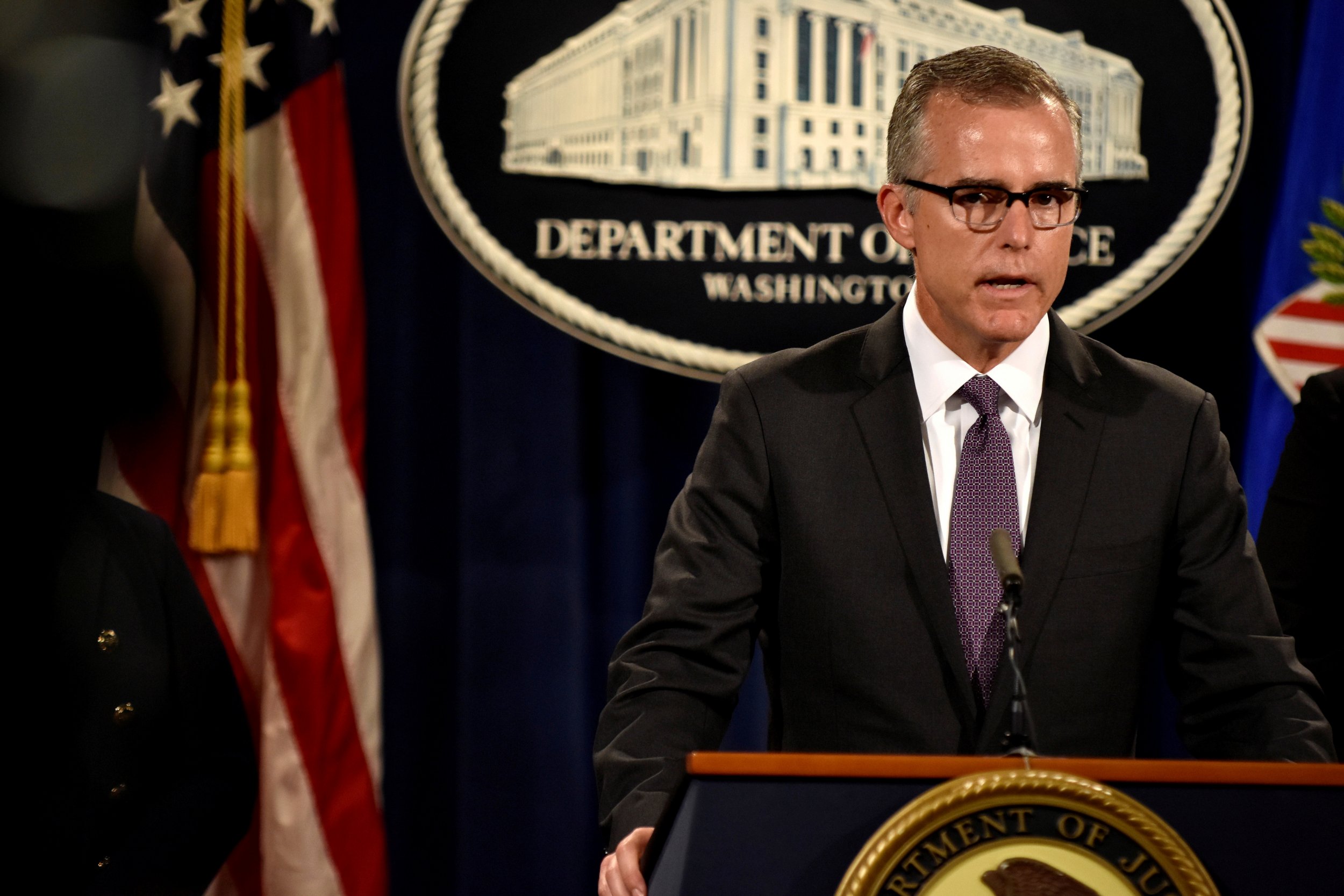 Following President Donald Trump's firing of FBI Director James Comey on Tuesday, Andrew McCabe, the deputy director, will temporarily lead the bureau. The president dismissed Comey because of his handling of the FBI's investigation of Hillary Clinton's use of a private email server, according to a memorandum by Deputy Attorney General Rod Rosenstein, but McCabe is also under scrutiny for his involvement in the Clinton emails matter.
The U.S. Department of Justice's Office of the Inspector General announced in January that in response to requests from members of Congress, organizations and the public, it was opening a review of the FBI's handling of the Clinton matter. Among the aspects that the office said it would review were "allegations that the FBI deputy director should have been recused from participating in certain investigative matters."
Related: Will James Comey go to prison?
Those concerns came after revelations by media outlets, including The Wall Street Journal, that a political action committee affiliated with Virginia Governor Terry McAuliffe, who has ties to Bill and Hillary Clinton, contributed almost $500,000 to the 2015 Virginia state Senate campaign of McCabe's wife, Jill McCabe. (She lost the election.) She also received $207,788 from the Virginia Democratic Party, which is connected to McAuliffe, a Democrat.
Senator Chuck Grassley of Iowa, chairman of the Senate Committee on the Judiciary, wrote a letter to Comey on March 28 expressing concerns about McCabe's involvement in the Clinton emails matter, given the donations that his wife received. "These circumstances undermine public confidence in the FBI's impartiality," Grassley wrote.
"FBI's senior leadership should never have allowed that appearance of a conflict to undermine the bureau's important work.... If Mr. McCabe failed to avoid the appearance of a partisan conflict of interest in favor of Mrs. Clinton during the presidential election, then any participation in this inquiry creates the exact same appearance of a partisan conflict of interest against Mr. Trump," Grassley said.
A statement by Grassley on Tuesday regarding Comey's termination did not mention his concerns about McCabe. A spokesperson for the senator was not available to comment on Wednesday morning.
The FBI has said that Andrew McCabe played no role in fundraising events for his wife's campaign and that he did not assume an oversight role in the Clinton emails investigation until after his wife's campaign had finished. "Once I decided to run," Jill McCabe said, according to The Wall Street Journal, "my husband had no formal role in my campaign other than to be a supportive husband to me and our children. As a federal official…everyone who participated in our campaign understood and respected that he could not participate."
While likely concerning to those who have questioned the new acting director's ties to Clinton, it is not unusual for the head of an agency to be under review by the inspector general. An FBI director under President Bill Clinton, Louis Freeh, faced such a review, for example.
Comey was also a subject of the inspector general probe, and the review will likely continue without him, Michael Bromwich, who was inspector general under Bill Clinton, told Newsweek Tuesday night. Bromwich told Newsweek in March that a review of this scope will perhaps take at least a year and involve interviewing witnesses and reviewing electronic communications. The office will then provide its findings to the Justice Department and to the public, and the department will decide on sanctions, which could be suspension or termination.
McCabe joined the FBI in 1996, working in the New York Field Office. He went on to help lead the Counterterrorism Division, the National Security Branch and the Washington Field Office. He became deputy director in February 2016.
"Andy's 19 years of experience, combined with his vision, judgment and ability to communicate, make him a perfect fit for this job," Comey said in a January 2016 statement announcing McCabe's promotion to deputy director.
A spokesman for the Office of the Inspector General declined to comment, other than to point to the January statement announcing the review.