Trump Says Acting FBI Director 'Got $700,000' From Hillary Clinton. Is it True?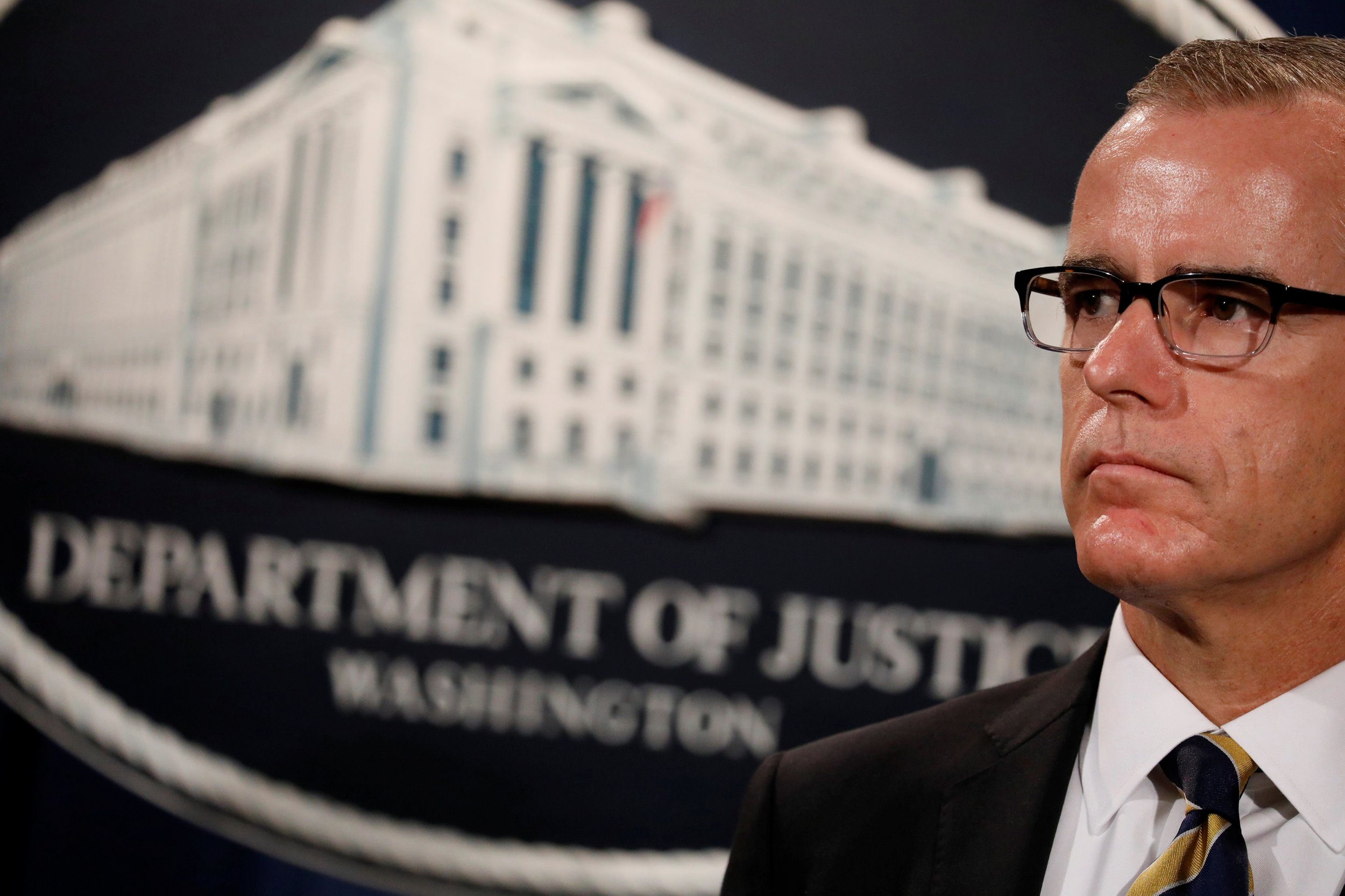 Updated | President Donald Trump tweeted early on Tuesday that acting FBI Director Andrew McCabe "got $700,000" from Hillary Clinton. It was at least the second time in less than a week that the president publicly made the allegation.
In a July 19 interview with The New York Times, Trump said, "We have a director of the FBI, acting, who received $700,000, whose wife received $700,000 from, essentially, Hillary Clinton. 'Cause it was through Terry. Which is Hillary Clinton." Trump was referring to Terry McAuliffe, the Virginia governor and longtime Clinton ally.
Senator Chuck Grassley, chairman of the Senate Judiciary Committee, has championed the accusation involving McCabe for months. The senator most recently mentioned it on July 12 during the confirmation hearing for Christopher Wray, Trump's pending nominee for FBI director. In his opening remarks at the hearing, Grassley described McCabe as "a man whose wife ran for Virginia state Senate and accepted almost a million dollars from Virginia Governor Terry McAuliffe's political machine."
Related: FBI acting director also being investigated over Clinton emails
Are the allegations true? Did McCabe, who helped oversee the FBI investigation into Clinton's use of a personal email server, receive money from Clinton or an ally of hers?
McCabe, who has worked at the FBI for two decades, was deputy director under James Comey. He oversaw all activities related to investigations and intelligence, both domestic and international, according to his official biography. After Trump fired Comey on May 9, McCabe became the bureau's acting director.
The Department of Justice's Office of the Inspector General is reviewing whether McCabe should have recused himself from the Clinton investigation because his wife, Jill McCabe, ran for Virginia's Senate in 2015 and received money from groups with ties to Governor McAuliffe. The inspector general announced the investigation in January, and Comey's actions as director are also part of the review.
Michael Bromwich, who was inspector general under President Bill Clinton, has told Newsweek that a review of this scope could take at least a year. If the Justice Department decides to sanction McCabe, he could face suspension or termination.
It's true that for her campaign, Jill McCabe received a total of $675,288 from two entities associated with McAuliffe: a political action committee and the Virginia Democratic Party. The governor did not make the donations directly, as Trump suggested to The New York Times. Other outlets, including The Wall Street Journal, first reported the campaign contributions last October.
It's also true that McAuliffe is a longtime friend of Hillary and Bill Clinton. He's been described as "Bill Clinton's best friend" and reportedly speaks daily with him, sometimes multiple times per day. A 2015 report by the Department of Homeland Security's Office of the Inspector General said the governor was once on the board of a company led by Anthony Rodham, Hillary Clinton's brother. But it is perhaps a stretch to say, as Trump has, that receiving money indirectly from McAuliffe is the same as receiving money directly from Hillary Clinton.
The FBI has defended McCabe, saying he did not help his wife fundraise and did not begin overseeing the Clinton investigation until after his wife's campaign was over.
"Once I decided to run," Jill McCabe has said, according to The Wall Street Journal, "my husband had no formal role in my campaign other than to be a supportive husband to me and our children. As a federal official…everyone who participated in our campaign understood and respected that he could not participate."
Trump's comments about McCabe came amid the president's criticisms of Attorney General Jeff Sessions. Minutes before tweeting about McCabe on Tuesday, Trump wrote in separate tweets, "Ukrainian efforts to sabotage Trump campaign - 'quietly working to boost Clinton.' So where is the investigation A.G." and "Attorney General Jeff Sessions has taken a VERY weak position on Hillary Clinton crimes (where are E-mails & DNC server) & Intel leakers!"
McCabe is not expected to oversee the bureau for much longer. On July 20, the Senate Judiciary Committee voted unanimously to report Wray's nomination to the full Senate as favorable. A spokesman for Senate Majority Leader Mitch McConnell said Monday that the Senate intends to vote on the nomination before its August recess.
Correction: This article previously incorrectly stated the amount of money Jill McCabe received from two entities associated with Virginia Governor Terry McAuliffe. The total amount was $675,288, not $707,788.