'Our Enemies Know They Can Run Freely': FBI Agents Paint Grim Consequences of Government Shutdown
FBI agents around the world offered grim accounts of the government shutdown's impact on the agency's operations in a report released Tuesday by the FBI Agents Association (FBIAA), an organization that represents more than 14,000 current and former FBI agents.
The partial shutdown, now in its 32nd day, appears unlikely to end anytime soon. Republicans and Democrats are on diverging paths when it comes to passing spending bills this week that could reopen the government. The 72-page report from FBIAA hosts anonymous, often dire warnings from dozens of field agents. Many of the concerns they articulate could be summed up by one sentence: "The fear is our enemies know they can run freely."
Employees have set up food banks for their coworkers. Counterterrorism efforts are underfunded and threaten national security. Confidential sources with drug and gang investigations have gone unpaid. And child sexual assault and trafficking cases have either been put on standby or are not receiving the necessary attention.
"On the child exploitation side, as an [undercover employee], I have had to put pervs on standby," an agent in the Southeast region said. "This just puts children in jeopardy."
"FBI offices…are having investigations stalled, to include delayed forensic interviews of child victims and delaying grand jury indictments on homicides and child sexual assault prosecutions," said an agent from the western region. "The impact is we aren't able to take cases to grand jury to seek indictments/warrants in order to get our most violent offenders arrested and justice for our victims."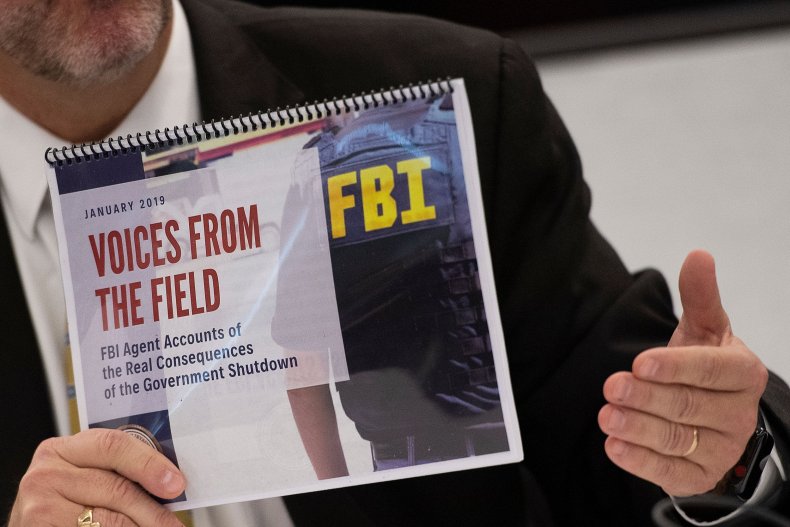 Another agent warned about the risk of losing confidential sources, saying the inability to pay them "risks losing them and the information they provide FOREVER. It is not a switch that we can turn on and off," the agent added.
FBI agents also expressed worries about gathering real-time intelligence for counterterrorism efforts. Agents are no longer receiving funds for travel vehicles and prepaid phone cards to talk with sources. Although the president has said his southern border wall would deter gangs and drugs from spilling over the border, agents warned of scenarios posed by the shutdown that amounted to far graver threats than a wall-free border.
At a press conference in Washington, D.C., where he pleaded for the government to be reopened, FBIAA President Tom O'Connor said the group's report and its agents' statements contained "no politics."
"I have been working a long-term MS-13 investigation for over three years. We have indicted 23 MS-13 gang members for racketeering, murder in aid of racketeering, extortion, money laundering and weapons offenses," an agent from the Central Region said. "Since the shutdown, I have not had a Spanish speaker in the Division…. We are only able to communicate using a three-way call with a linguist in another division."
Democrats on key committees sounded off on Trump over the report, blaming him for the shutdown that's caused the reported national security risks.
"If the president truly cares about the protection of our nation, he will listen to the men and women who keep us safe, and end this reckless shutdown," Congresswoman Val Demings, Democrat and member of the House Judiciary and Homeland Security Committees, told Newsweek.
Democratic Congresswoman Jackie Speier, a member of the House Armed Services and Intelligence committees, told Newsweek that Trump has "put out the welcome mat for criminals, spies, and terrorists-in-waiting."
"The FBI cannot launch critical investigations, continue vital operations, and process game-changing evidence," Speier said. "Imagine not being able to obtain a subpoena because the staff of the U.S. Attorney is furloughed. Try to sleep well tonight."
Senator Tim Kaine, Democrat from Virginia and member of the Senate Armed Services and Foreign Relations Committees, railed against Trump and Republicans on the Senate floor Tuesday, saying he agrees that the U.S. should crackdown on MS-13, a violent international crime organization, but that the shutdown is "undermining that effort."
"Apparently, that doesn't matter to President Trump," Kaine said on the Senate floor. "That effort is just another causality of the shutdown he brought about."
Aside from the security concerns, agents also said they've had to establish a "robust food bank," along with free potluck lunches and breakfasts. "I am working with our inbound new agents to help them," one agent said. "One of them may move in with my wife and I to help them save money."
Another agent said they had begun to work weekends in an attempt to pull their child out of daycare during the week. "Will be visiting a food pantry today after work," the agent added. "Not that anyone on the Hill really cares anyway."
This story has been updated with comment from Congresswoman Jackie Speier. It was further updated with comment from Congresswoman Val Demings.