FBI Arrests Pastor for Receiving Child Porn in Texts From 15-Year-Old Boy
On Wednesday, the FBI arrested Francis Hughes, a 65-year-old priest in Queens, New York, for allegedly trading sexually explicit images and texts with a 15-year-old male in Westchester, New York.
"The allegations against Francis Hughes are chilling and frightening to any parent. A person who, by the nature of his profession, is presumed to be trustworthy allegedly victimized a child," said acting U.S. Attorney Audrey Strauss in a statement.
Hughes and the teen met on the gay hook-up app Grindr around February 16 and then began texting on their personal phone numbers shortly thereafter, according to the FBI.
While texting on their phones, the teen sent Hughes three images of his penis and Hughes eventually sent one of his own in return. Seeing the images, Hughes responded, "Yummmmm I will suck you so much" and "Make you c*m."
Hughes also mentioned that he was a part-time college professor and counselor. Later on, Hughes asked the boy about his masturbation habits and offered to masturbate with the teen late at night over video. Later in the evening, Hughes sent the teen a clothed selfie and wrote, "I love you."
Shortly thereafter, the teen clarified that he wanted Hughes to treat him like a son or grandson by giving him money. When questioned by the FBI, the teen said he had also sent sexual images to other men.
Upon arrest, Hughes said he believed the teen to be underage and admitted to engaging in at least one in-person sexual encounter with a 15-year-old high school student. He also said he had attempted to meet other minors for sex numerous times.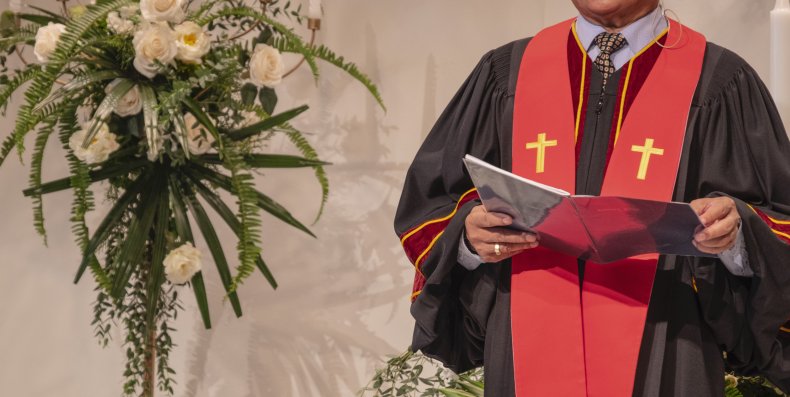 Hughes was listed as pastor of St. Pancras Roman Catholic Church in Glendale, New York. The Catholic Diocese of Brooklyn has since said that Hughes has been removed from his post.
Hughes was charged with one count of receipt and distribution of child pornography. He now faces anywhere from five to 20 years in prison.
In August 2015, CBS News reported that prison inmates known for having sexual interest in minors sometimes face a "living hell" behind bars, often occupying the lowest rung of the prisoner hierarchy. Other inmates will sometimes defecate in their cells, use them as sex slaves or target them for violence and murder as a way to gain prestige.
Such offenders are sometimes placed into protective custody, but even there they're despised by other prisoners who derisively refer to them as "Chesters," "short eyes," "tree jumpers" or "chomos," a slang neologism made from "child" and "molester."