FBI Blocking Andrew McCabe's Book From Publication, Says Former Deputy Director
Former deputy FBI director Andrew McCabe believes that the bureau may be intentionally stalling a review of his book, part of what he alleges is a pattern of unfair treatment directed toward him, he said on Thursday.
McCabe, who was fired by Attorney General Jeff Sessions in March as controversy swirled and President Donald Trump offered public attacks, originally planned to release his book, "The Threat: How the FBI Protects America in the Age of Terror and Trump" in December.
"I am disappointed that we have had to substantially delay the publication date for my book because the FBI's review has taken far longer than they led me to believe it would," McCabe told ABC News in a statement. "Having been singled out for irregular, unfair treatment over the past year, I am concerned that it could be happening again."
McCabe also said he hoped to tell his story early next year.
"I am looking forward to sharing my story with the public, and now look forward to doing so in February."
The FBI declined Newsweek's request for comment but also referred to the bureau's guidelines regarding pre-publication reviews.
The policy states that a review could take a minimum of 30 business days, but it also noted special circumstances could extend the process.
"When a submission contains operational or intelligence matters, it is unrealistic to assume the proposed disclosure will be reviewed within 30 business days," the policy read.
McCabe would certainly have been privy to sensitive materials both as the FBI's No. 2 and its acting director following the dismissal of James Comey and the eventual hiring of current director Christopher Wray.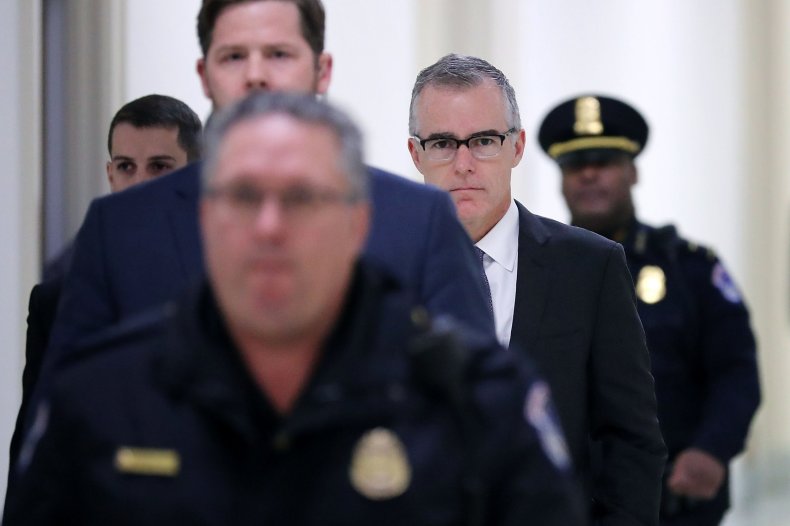 But McCabe has taken umbrage with the agency ever since he was fired earlier this year just two days prior to his receiving full pension benefits. He called out the Trump administration for what he believed was an "ongoing war on the FBI" and the probe under special counsel Robert Mueller involving Russia's alleged collusion with the president's campaign in 2016.
"This attack on my credibility is one part of a larger effort not just to slander me personally, but to taint the FBI, law enforcement, and intelligence professionals more generally," McCabe said in a statement the same day of his firing. "It is part of this Administration's ongoing war on the FBI and the efforts of the Special Counsel investigation, which continue to this day. Their persistence in this campaign only highlights the importance of the Special Counsel's work."
What McCabe planned to tell the public in his book remained unclear, but his interactions with top Justice Department and FBI officials, especially involving Trump, received outsized attention in recent months.
McCabe's memos about a conversation with Deputy Attorney General Rod Rosenstein led to heavy speculation about Trump possibly firing Justice's second-highest ranking official. Rosenstein reportedly talked to McCabe and others about invoking the 25th Amendment to oust Trump and even suggested wearing a wire to record the president, The New York Timesreported last month.
Rosenstein fully denied the report and a Justice Department spokesperson said Rosenstein was speaking sarcastically.