FBI Director Christopher Wray eulogized a slain special agent Saturday at a memorial held at the Hard Rock Stadium in Miami Gardens, Florida.
FBI agent Laura Schwartzenberger, 43, was shot and killed on Tuesday in Sunrise, Florida. Agent Daniel Alfin, 36 was also killed. The squad was serving a warrant to search the home of a child pornography suspect, David Huber, who opened fire on the agents and later killed himself before he could be arrested.
"A true American hero," were the words Wray used in his eulogy for Schwartzenberger, who had dedicated her career to investigating criminals who endangered children or exploited people online. "There are no good words to make sense of a loss like this."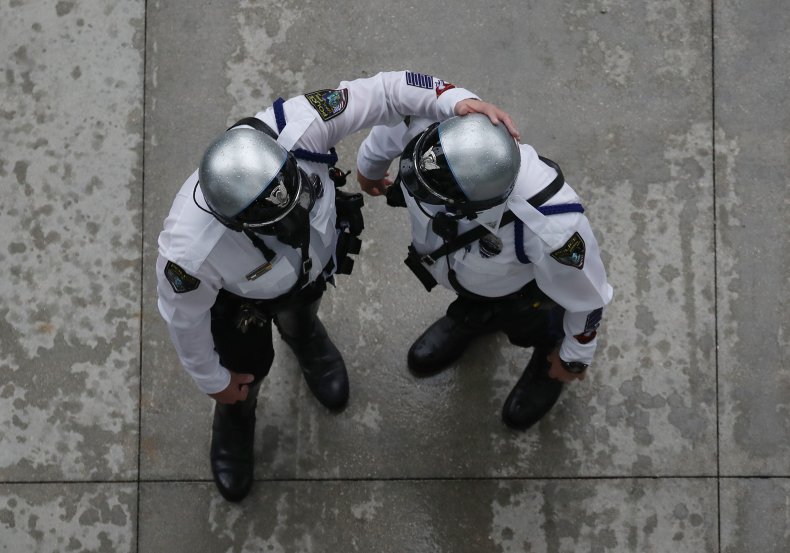 Wray was joined at the service by other top officials, including Acting Attorney General Monty Wilkinson and Assistant to the President for Homeland Security Elizabeth Sherwood Randall, in addition to local and federal law enforcement members.
"During her 15 years as an FBI Special Agent, Laura Schwartzenberger was selfless, tireless, brave and committed to protecting some of society's most vulnerable: its children," Wilkinson said in a statement Saturday.
Florida Governor Ron DeSantis directed the U.S. and Florida state flags be flown at half-mast over the weekend.
"As a passionate protector of the children of our state, she frequently spoke to children in Florida schools about online safety," DeSantis wrote in a memo on Friday. "[Schwartzenberger and Alfin]'s careers exemplified heroic records of bringing justice to the perpetrators of crimes against children. Their ultimate sacrifice will never be forgotten."
Tuesday marked one of the bloodiest days in the FBI's history, and the loss of two agent lives has stipulated a broad internal review of the incident—specifically what could have been done differently to save the agents' lives, according to the Miami Herald.
Schwartzenberger's squad of agents served the warrant without the protection of a SWAT team, which are trained to effectively combat armed and dangerous suspects like Huber. The FBI "underestimated" the danger of serving the search warrant on Huber, the Herald reported, and now the agency will be reviewing its policy of deploying tactical force on a "discretionary basis."
On Saturday, the agency's top official urged attendees to remember Schwartzenberger for her "heroism" and "faith" serving the Violent Crimes Against Children Squad.
"Every FBI employee feels it deep down in their souls, whether they had the privilege of knowing Laura or not," Wray said. "Because we all know the risks our agents take, every day, to uphold an oath taken long ago, knowing that life can change forever in a mere moment."
Wray closed the eulogy with a prayer and extended specific condolences to Schwartzenberger's husband and sons. A flag draping over Schwartzenberger's casket was folded into a triangle, which Wray presented to the family during the service. She was also given a 21-gun salute.
"We can find joy knowing that she brought light into some of the darkest places, and that she died as she lived—making a difference, serving her community, and keeping kids safe," Wray said. "We can find joy in her strength, her laughter, and her legacy. And in the fact that the FBI today is better and stronger because of what Laura gave to all of us."
Three other agents were wounded in the shooting. A memorial service for Alfin will be held on Sunday.