'We're Not Focused on Rhetoric': Christopher Wray Defends FBI Against Donald Trump's 'Dirty Cops' Claim
President Donald Trump likes to say the FBI is filled with "dirty cops" and "angry Democrats" who attempted a "coup" on his presidency. But on Friday, FBI Director Christopher Wray publicly defended his agency.
Asked whether the president's rhetoric damages the reputation or inner workings of the bureau, the director said, during an event at the Council on Foreign Relations in Washington, D.C. a block from the White House, that Trump's claims of "dirty cops" running investigations were false, and that he didn't pay them much attention to such comments.
"This is a topic near and dear to my heart. I would tell you that rumors about damage to our morale or brand are grievously overstated," Wray said. "We're not focused on the rhetoric. We're focused on the work, who we do it with and who we do it for."
Wray's comments came the day after Trump spoke with Fox News host Sean Hannity about the FBI's 2016 probe into his campaign and the Mueller investigation that evolved from it. "This was a coup... This was an attempted overthrow of the United States government," Trump said Thursday night. Trump tweeted about "dirty cops" at the FBI six times this month and 39 times since May 2018 about "angry Democrats" running the special counsel's investigation. Last week, he again tweeted that the investigation was a "witch hunt" that was "brought to you by Dirty Cops, Crooked Hillary and the DNC."
The president also labeled the FBI's investigation of his campaign as "the greatest political scandal in the history of our country. Again, bigger than Watergate."
But the FBI has seen a growing interest from people who want to work for the agency, according to Wray. He said that since October, the FBI had received 16,000 job applications, more than the entire previous year, and it's currently seeing the highest number of applications from recent college graduates than ever before.
"The feedback I get from our employees is that they're inspired… I look at the SWAT agent in Chicago who got shot up in his arm by a fugitive with an AK-47 and not only survived but retrained himself to shoot left-handed and then requalified for SWAT left-handed," Wray said. "These are people who love their jobs."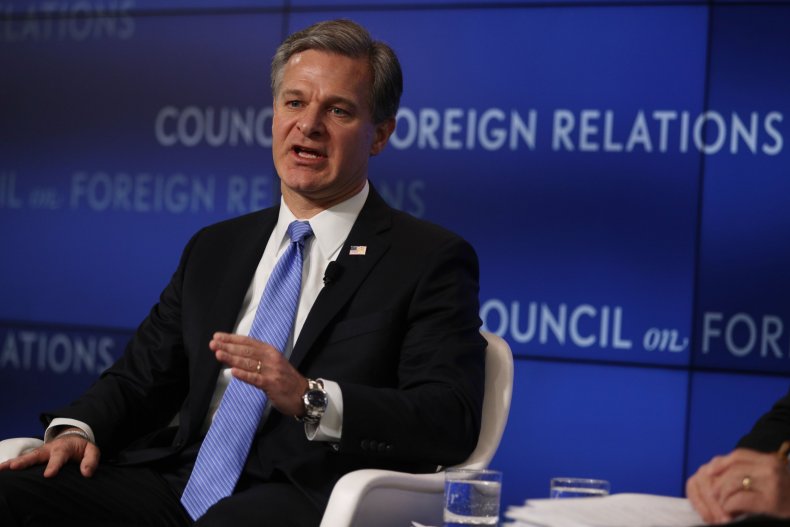 Trump has long challenged the integrity of the agency that played a role in launching the Russia investigation, which was later headed by special counsel Robert Mueller. The probe officially concluded last month, and a redacted version of Mueller's report was released to the public on April 18.
"The Russian government interfered in the 2016 presidential election in sweeping and systematic fashion," the report concluded.
Wray said he might not use those exact terms to describe the foreign adversary's actions, but he agreed it continuded to pose a significant threat to the U.S. and future elections.
"Everybody has their own adjectives. I do think that Russia poses a very big counterintelligence threat, certainly in the cyber arena, what we call the malign foreign influence territory, their presence of intelligence officers in this country," he said. "So, in a lot of ways, yeah."
Since 2016, Wray said the U.S. had made "enormous strides" in securing its elections. But he added that wouldn't deter foreign adversaries from continuing their work to undermine elections.
Trump has repeatedly dismissed his intelligence community's findings—and those of the special counsel's investigation—that the Russian government and its president, Vladimir Putin, were involved in election meddling in 2016.