FBI Director Christoper Wray Slams Shutdown: 'About as Angry as I've Been in a Long, Long Time'
FBI Director Christopher Wray took an uncommon step and waded into political waters on Friday in a message to bureau employees. He expressed his anger over the government shutdown, which has dragged on to become the longest in U.S. history, leaving some 800,000 federal workers—including tens of thousands working for the FBI—furloughed or working without paychecks.
"It takes a lot to get me angry," Wray said in a video to FBI employees, "but I'm about as angry as I've been in a long, long time."
The shutdown started more than a month ago, when President Donald Trump refused to sign a stopgap spending bill over his demand for funding for his long-promised border wall.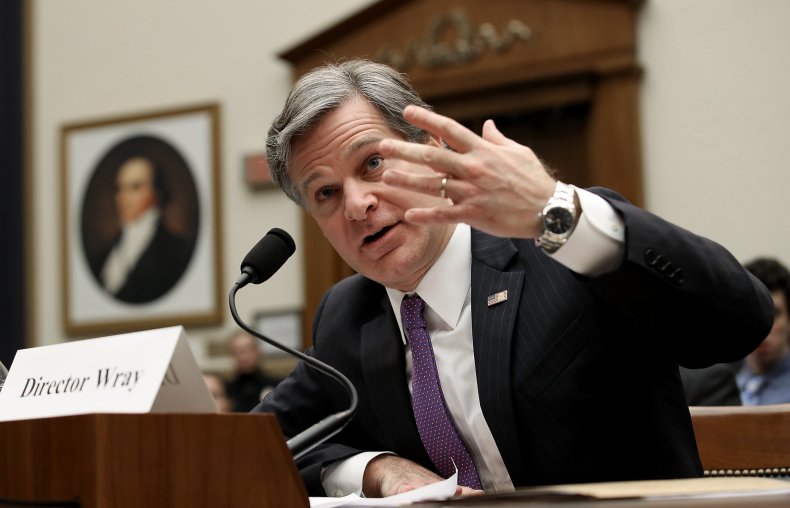 In the video, Wray talked about how FBI workers were feeling a financial strain, and explained that officials were advocating behind the scenes while avoiding the press:
"We're having conversations day and night with people who can have the most impact, to show them how much this is affecting all of you and your families, and how it could affect the work we need to do for the American people. We're just not doing it in the press. In this polarized environment even seemingly straightforward statements can be hijacked by one side or the other. But our work behind the scenes on your behalf is not just about advocacy. Because while the men and women of the FBI need defending, what you need even more is to be paid."
Wray added that they were looking for, and thought they had, a way to send a payment to employees, but ran into "unforeseen obstacles."
It seemed Friday that there was a chance that FBI officials would soon receive pay. Reports suggested a forthcoming continuing resolution approved by Trump that would fund the government for three weeks. The president was scheduled to speak to the press at around 1:30 p.m. ET.