FBI Director James Comey Worried About Sharing Classified Russia Information With Michael Flynn Due to His Frequent Calls With Ambassador, Email Shows
A newly declassified email shows that the Obama administration was concerned about sharing sensitive information with President Donald Trump's team because of former national security adviser Michael Flynn's communication with Russian officials.
The email, much of which was already public knowledge but was fully released on Tuesday afternoon, was sent by Susan Rice to herself on the day of Trump's inauguration in January 2017. The text of the message was first reported by Politico.
The email describes an Oval Office meeting from earlier that month during which then-President Barack Obama, Vice President Joe Biden, former FBI Director James Comey and others discussed an intelligence briefing about Russian interference in the 2016 election.
"From a national security perspective, Comey said he does have some concerns that incoming NSA Flynn is speaking frequently with Russian Ambassador Kislyak. Comey said that could be an issue as it relates to sharing sensitive information," Rice wrote in a previously redacted paragraph.
She added that President Obama asked Comey if he thought the National Security Council should stop giving Flynn "sensitive information" related to Russia. Comey responded "potentially," though he noted he had no current indication that Flynn had passed classified information to Kislyak but that the "level of communication is unusual."
"The President asked Comey to inform him if anything changes in the next few weeks that should affect how we share classified information with the incoming team. Comey said that he would," Rice wrote.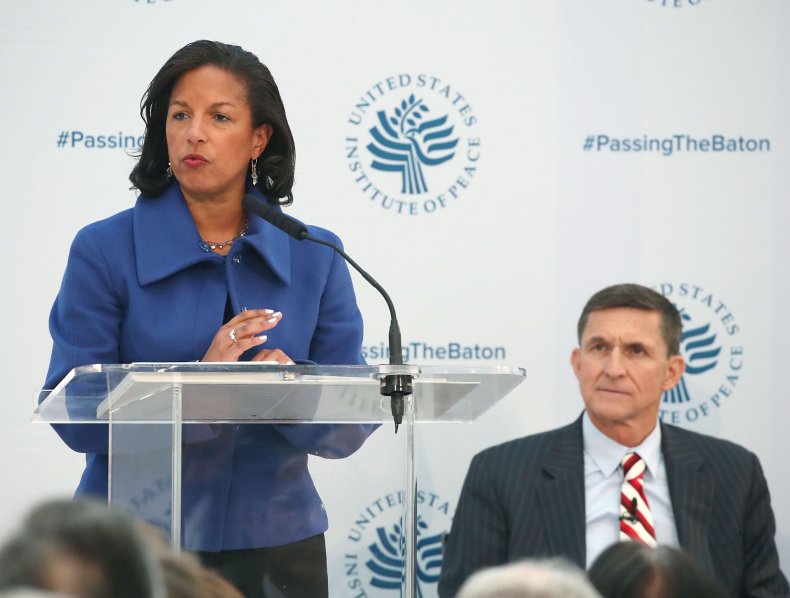 Flynn has been back in the spotlight this month following several bombshell developments in his legal saga. First, the Justice Department announced that it was dismissing their case against him, even after he pleaded guilty twice to lying to Congress about his communications with Russian officials.
Then last week, acting Director of National Intelligence Richard Grenell sent Congress a list of Obama officials who were involved in "unmasking" Flynn from intelligence reports during the transition period between the two presidential administrations.
While "unmasking" officials is a common occurrence, President Trump and his allies have seized on the information as part of their allegation of conspiracy against his administration. Trump Trump has recently taken to calling the purported scandal "Obamagate" but has declined to offer specifics when asked to explain the charges.
In her declassified email, Rice wrote that President Obama had repeatedly emphasized that everything be done "by the book."
"The president stressed that he is not asking about, initiating or instructing anything from a law enforcement perspective," the email read. "He reiterated that our law enforcement team needs to proceed as it normally would by the book."