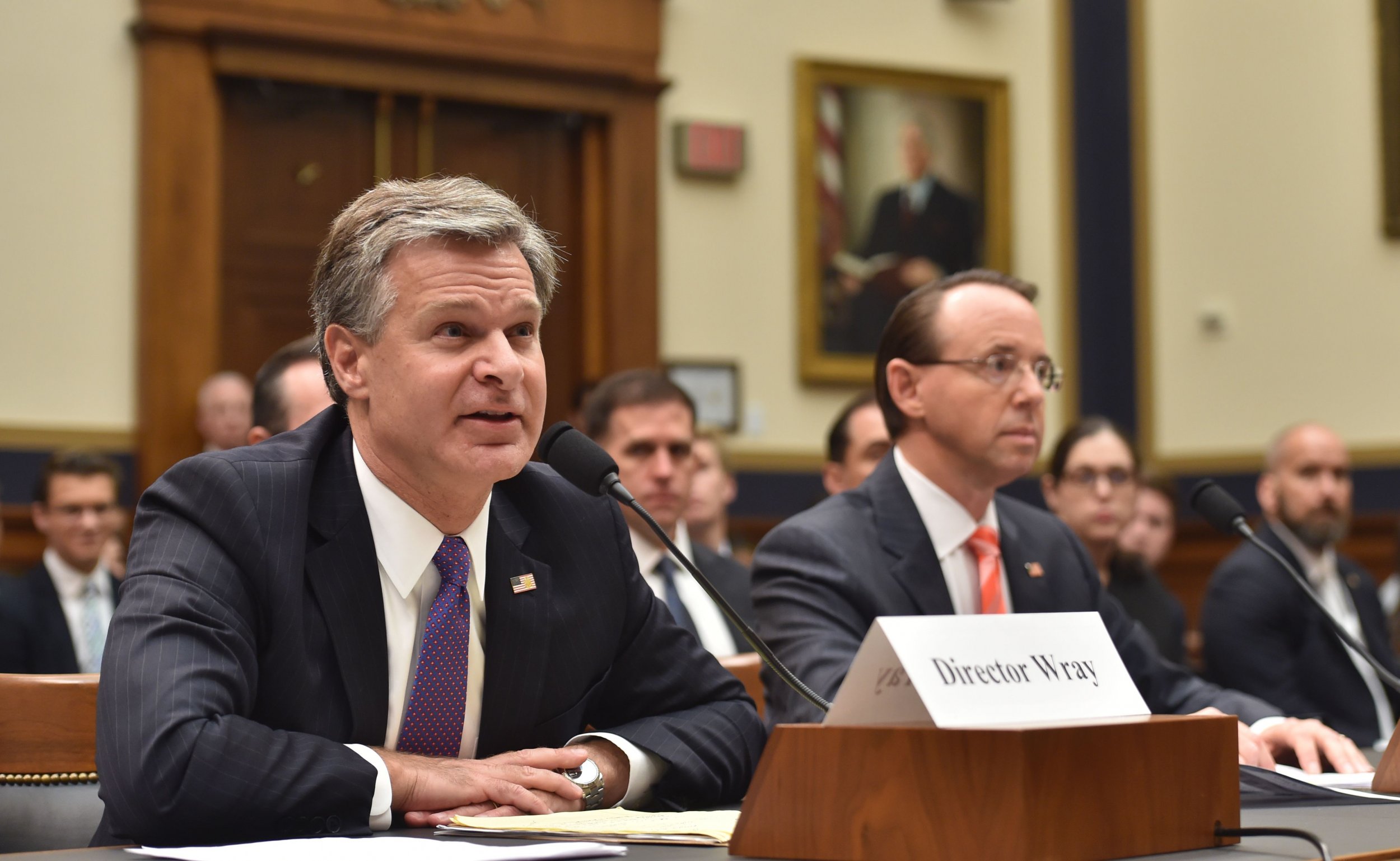 FBI Director Christopher Wray said Wednesday he disagrees with President Donald Trump's assessment that special counsel Robert Mueller's investigation of Russian interference in the 2016 election is a "witch hunt," adding that Russia continues to engage in election interference.
Speaking to NBC's Lester Holt at the Aspen Security Forum in Colorado, the FBI director said the entire intelligence community's assessment that Russia "attempted to interfere" with the last election and that it "continues to engage this day," has not changed.
"I do not believe special counsel Mueller is on a witch hunt," Wray said. "I think it's a professional investigation conducted by a man that I've know to be a straight shooter in all my interactions with him, my past life in government and certainly since then.
Wray also hinted that he considered resigning as director at one point or another, which Axios first reported in January and Wray did not deny in March, since he took over the FBI following Comey's firing by the president.
"I'm a low-key understated guy, but that should not be mistaken for what my spine is made out of," Wray said. "I'll just leave it at that."
Wray's comments came as Trump continued to offer conflicting statements about whether he believes Russian President Vladimir Putin interfered in the election. He was first briefed on the matter two weeks before his inauguration when intelligence officials showed him texts and emails from Russian military personnel and others that indicated Putin directly ordered the election meddling, The New York Times reported Wednesday.
Following his one-on-one meeting with Putin in Helsinki on Monday, Trump originally said: " I don't see any reason why it would be" Russia. Trump came out with a correction Tuesday, claiming that he meant to use the word "wouldn't" instead of "would."
Then Wednesday, he again appeared to rebuke the findings of the U.S. intelligence community when asked if Russia was still "targeting" the U.S. election system, to which the president replied: "No." Press secretary Sarah Huckabee Sanders claimed shortly after that the president was merely attempting to usher reporters out of the room and wasn't responding to the question.
Just hours later, the president said in a CBS interview that he does believe Putin meddled in the election and holds him responsible "because he's in charge of the country. "
In the same interview, Trump said, for the very first time since the meeting happened three days ago, that he told Putin in private on election meddling that "we can't have this, we're not going to have it and that's the way it's going to be."