FBI Director Says Greatest Long-Term Threat to U.S. Is Chinese Government
FBI Director Christopher Wray appealed to the American people during a panel discussion Tuesday, stating that the greatest long-term threat to information and economic vitality in the U.S. is the Chinese government.
"The Chinese Communist Party believes it's in a generational fight to surpass our country in economic and technological leadership," Wray said during the discussion at the Hudson Institute in Washington D.C.
During the event, Wray outlined several ways the Chinese Communist Party is currently engaging in counterintelligence and economic espionage efforts.
The Chinese government is actively working to steal American people's data and intellectual property, including that related to the fight against the coronavirus, he said.
"At this very moment, China is working to compromise American health care organizations, pharmaceutical companies and academic institutions conducting essential COVID-19 research," Wray said, adding that in addition to data, Americans' health, livelihood and security is at stake.
All of the agency's 56 field offices are conducting investigations relating to Chinese counterintelligence efforts. Of the nearly 5,000 total active counterintelligence cases, approximately half are related to China, Wray said.
"We've now reached the point where the FBI is opening a new China-related counterintelligence case about every 10 hours," he said.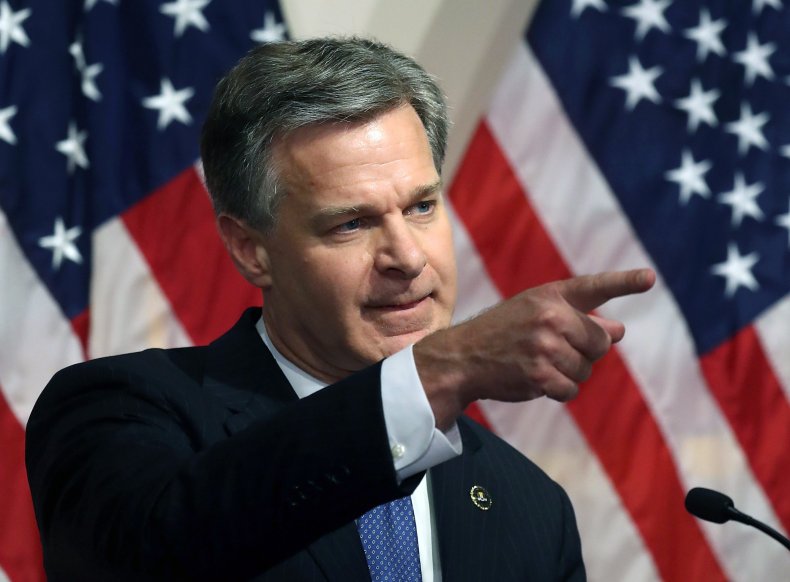 The news comes amid mounting pressure on the Chinese-owned app TikTok, after Secretary of State Mike Pompeo suggested it could be outlawed in the U.S. over national data security concerns, similar to action previously taken against Chinese tech firms Huawei and ZTE.
U.S. officials are "looking at" security concerns relating to TikTok, Pompeo confirmed during an appearance Monday on Fox News' The Ingraham Angle.
When asked if U.S. citizens should download and use the app, Pompeo said: "Only if you want your private information in the hands of the Chinese Communist Party." His comments came after India banned TikTok and other apps over security concerns.
The Chinese government is engaged in a whole-of-state effort to become the world's only superpower by any means necessary, Wray said Tuesday.
Wray repeatedly insisted that the so-called threat is not about the Chinese people or Chinese Americans, acknowledging that the U.S. should not stop doing business with the country or hosting Chinese visitors.
Instead, Wray said, it means that the U.S. will not tolerate or enable China to violate American criminal laws and international norms.
The intelligence and law enforcement communities are working hard to provide American companies, universities and citizens with the information needed to make informed decisions and protect their most valuable assets, Wray said.
The FBI's investigations are having "real success" in identifying, arresting and prosecuting targets relating to Chinese counterintelligence cases, he said.
The FBI declined to comment further for this article, Katherine Gulotta, a spokeswoman for the FBI, told Newsweek in an email.
Update (07/07/20, 4:01 p.m.): This article has been updated to include a response from the FBI.