Who Will Be the Next FBI Director? Trump's Search Stalls as Russia Investigation Expands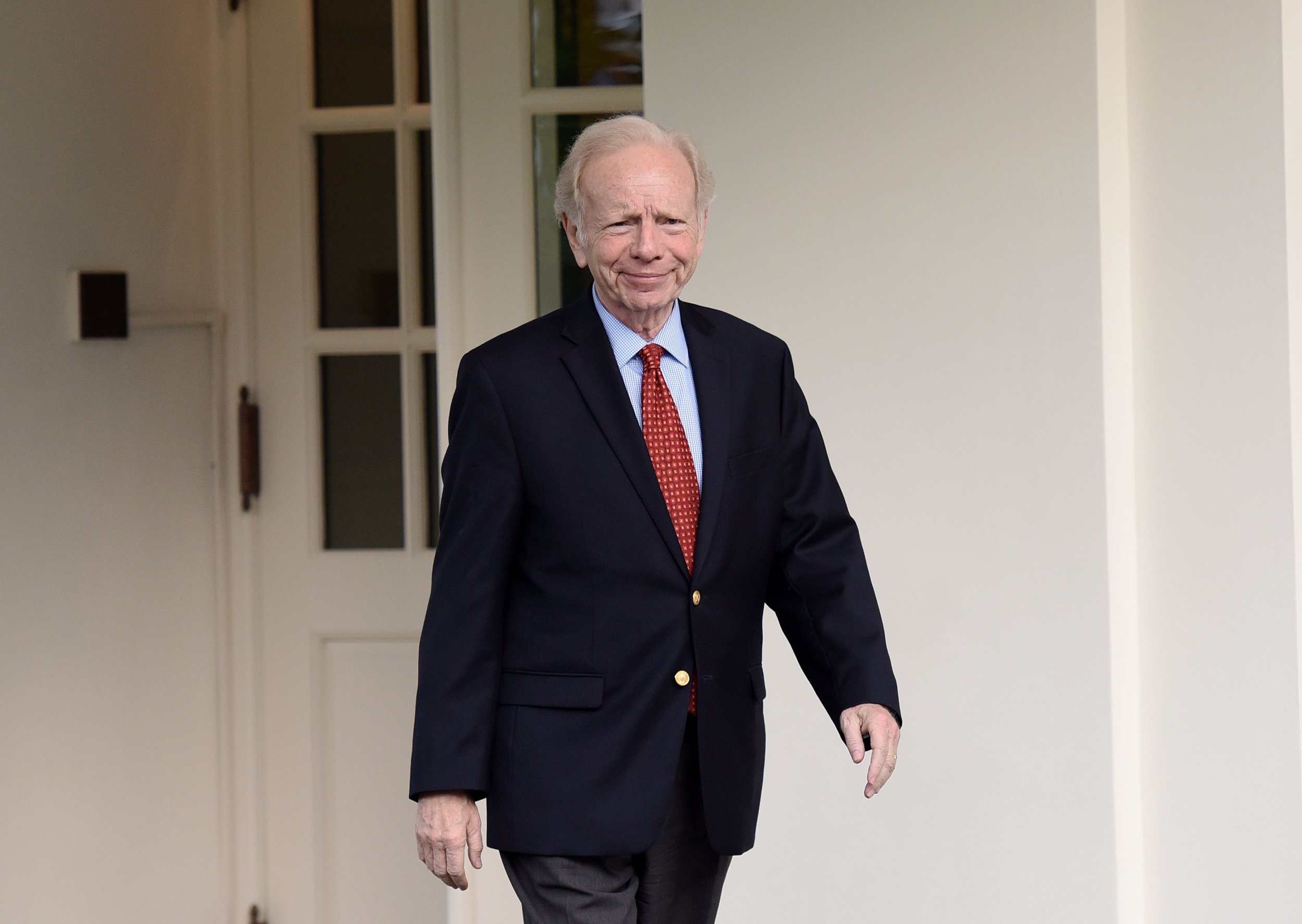 Before leaving for his overseas trip, President Donald Trump told reporters that he would nominate a new FBI director "very soon" and that former Senator Joe Lieberman was a top pick. But the president is no closer to naming a replacement for James Comey, whom he fired on May 9, CNN reported on Wednesday.
The search team the White House appointed to find a new director has hit reset, according to CNN, citing an unnamed senior administration official. The press offices of the White House and the Department of Justice did not respond to Newsweek's requests for comment on the report.
When President Bill Clinton fired FBI Director William Sessions in July 1993, the only other time in the bureau's history that a president dismissed a director, Clinton nominated his replacement the next day. After two weeks, the Senate confirmed the replacement, Louis Freeh, and he was sworn in about a month after that.
But Trump's search seems to have stalled. At least five contenders have withdrawn their names from consideration for the position: former Assistant United States Attorney General Alice Fisher, New York State Court of Appeals Associate Judge Michael Garcia, Senator John Cornyn, U.S. Representative Trey Gowdy and former FBI official Richard McFeely.
Related: How Joe Lieberman became a Trump supporter
The president interviewed candidates on May 17 and said he could name his pick by the end of the week. The following day, citing several White House officials and advisers, Politico reported that Lieberman was the front-runner. The president was also considering former Oklahoma Governor Frank Keating and acting FBI Director Andrew McCabe. Earlier in the search process, he had considered former Republican congressman Mike Rogers and Fran Townsend, who had been an adviser to President George W. Bush.
Speaking with Newsweek on Wednesday, Keating says he first learned the morning of the interview that the White House and Justice Department were considering him, when Attorney General Jeff Sessions called him. At the time, Keating was on the way to his granddaughter's preschool graduation. That afternoon, he met with Trump, Vice President Mike Pence and Sessions. The meeting lasted 30 minutes, according to Keating, and he says he ran into Lieberman on the way out.
Keating, who was governor from 1995 to 2003 and worked as an FBI agent for a few years after law school, says he has not withdrawn his name from consideration and has not heard from the White House about the position since the meeting. "I have no idea who's on the list, who's not on the list," he says about the potential candidates.
Responding to the report that the search process is restarting, he says, "I think it's healthy to reset and re-examine who they've seen and whether or not they need to consider a number of other people. I think that's best for the country." He adds, joking, "Now for individual candidates such as I, it may not be the best thing." Keating works at the law firm Holland and Knight, which has ties to Trump's presidential transition team.
A representative for Rogers declined to comment on whether the former congressman had withdrawn his name from consideration. Through a representative, Townsend also declined to comment on the subject. But in a podcast that Politico recorded last Friday, Townsend said that the Trump administration had approached her about the role and that she did not indicate she had asked officials not to consider her. "The fact that women are in that mix says a lot about how far we've come," she said in the podcast. Before the 2016 election, Townsend signed a letter calling Trump unfit for office.
Neither Lieberman nor a spokesperson for the law firm where he works, Kasowitz Benson Torres, responded to requests for comment on the CNN report or to say whether the former senator had withdrawn his name. Lieberman, who was a senator from Connecticut from 1989 to 2013 and Al Gore's running mate in the 2000 presidential race, has quietly become a Trump supporter in recent months. He has defended Trump's policies and spoke in support of Betsy DeVos at her Senate confirmation hearing for education secretary.
Either way, choosing a politician to become FBI director would be unprecedented. And Lieberman's experience in office, as well as his estrangement from the Democratic Party—he ran for Senate as an independent in 2006—could created challenges during the confirmation process.
"I think it's a mistake to nominate anyone who's ever run for office," Senator Claire McCaskill told reporters on May 18 after reports that Lieberman was a front-runner for the position. "This is a moment where we need a law enforcement professional that's never campaigned for a presidential candidate, never campaigned for office, never worn a party label, to head the FBI."
Democratic operatives were taken aback to learn that Trump was even considering Lieberman. "Frankly, I am surprised he would put his name out there at this moment in this environment and risk a very divisive nominating process that will further cement his negative perception with progressive [Democrats]," says a political strategist who worked on Lieberman's 2004 presidential campaign. The strategist requested anonymity in order to speak candidly.
"I think for most Democrats, they've all but forgotten about him, which is why they're surprised that he's popped up again like this," Jim Manley, a longtime Democratic strategist who was senior communications adviser for former Senator Harry Reid, has told Newsweek. "If the administration actually thought that this was someone who could be confirmed with overwhelmingly bipartisan support, that's just yet another miscalculation…. There's not going to be a lot of Democrats willing to vote for the guy."
Lieberman might also have lost his front-runner status because of his past praise for former National Security Adviser Michael Flynn, who was forced to resign following the controversy surrounding his undisclosed contacts with Russian Ambassador Sergey Kislyak.
Lieberman is also senior counsel at Trump's go-to law firm, which under certain conditions could prevent him from overseeing investigations involving Trump. A January 28 executive order states that for the first two years in a position, presidential appointees cannot "participate in any particular matter involving specific parties that is directly and substantially related to my former employer or former clients." The rule applies only if an appointee "personally provide[d] services" to the former clients, so Lieberman would have to prove he didn't work on Trump's cases.
People had questioned whether the same rule would preclude Robert Mueller, the special counsel overseeing the FBI's investigation into Russia's meddling in the 2016 election, from investigating three of his former firm's clients: Ivanka Trump, Jared Kushner and former Trump Campaign Manager Paul Manafort. But a spokesman for the firm has said Mueller had no involvement with those three clients, and the Justice Department has said its ethics experts had determined his "participation in the matters assigned to him is appropriate."
On Tuesday, Axios reported that Trump has retained Marc Kasowitz, a partner at Lieberman's firm, as his personal attorney for the Russia investigation, creating another potential challenge to a Lieberman nomination. Hiring Kasowitz had not affected the search for a FBI director, according to the CNN report. A spokesperson for the firm did not respond to a request for comment on that subject either.
An FBI spokesman declined to comment on whether McCabe had withdrawn his name from consideration. But McCabe would be an unlikely choice too. He has testified that working under Comey was the "honor" of his career and that the FBI's Russia inquiry will continue. Also, the Justice Department's Office of the Inspector General is reviewing whether he should have recused himself from the bureau's investigation into Hillary Clinton's use of a private email server because his wife had received donations to her state Senate campaign from groups with ties to Clinton.
Senator Chuck Grassley, chairman of the Senate Committee on the Judiciary, has been vocal about that issue. The FBI has said that McCabe did not participate in fundraising events for his wife's campaign and that he did not play a role overseeing the Clinton emails investigation until after his wife's campaign was finished.
Since 1972, the Senate has confirmed seven FBI director nominations, and presidents have withdrawn two nominations, in 1973 and 1977, according to a 2014 report by the Congressional Research Service. The length of time between nomination and confirmation has spanned from one day to 38 days.