FBI Director Wray Breaks With Barr's Use of 'Spying' on the Trump Campaign: 'That's Not the Term I Would Use'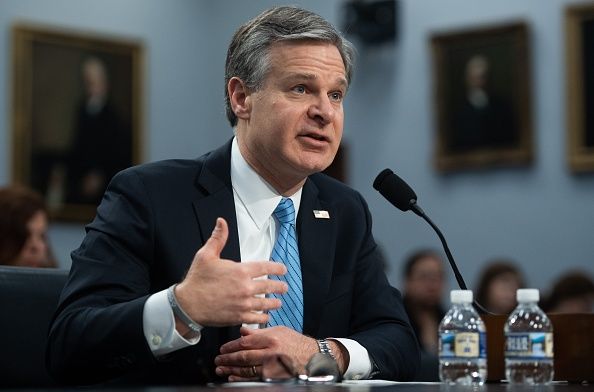 FBI Director Christopher Wray has split with Attorney General William Barr on the controversial notion of "spying" on Donald Trump's 2016 campaign, telling Congress, "That's not the term I would use."
Wray appeared before a Senate Appropriations subcommittee on Tuesday morning to testify on the president's 2020 budget request. During the hearing, lawmakers questioned the FBI chief on Barr's allegation that the agency spied on Trump and his campaign during the election.
"I was very concerned by his use of the word spying, which I think is a very loaded word. It conjures a criminal connotation," said Democratic Senator Jeanne Shaheen, a ranking member of the committee.
"When FBI agents conduct investigations against alleged mobsters, suspected terrorists, other criminals, do you believe they're engaged in spying when they're following FBI investigative policies and procedures?" she asked.
"Well, that's not the term I would use," Wray responded. "Look, there are lots of people who have different colloquial phrases. I believe that the FBI is engaged in investigative activity and part of investigative activity includes surveillance activity of different shapes and sizes."
Wray then added that the "key question is making sure that it's done by the book, consistent with our lawful authorities."
During congressional testimony last month, Barr told lawmakers that he thinks "spying did occur" by the federal government on Trump's 2016 campaign. The statement was made in response to a question posed by Senator Shaheen, who had asked the attorney general why he was looking into the origins of the special counsel's investigation into Russian election interference.
"For the same reason we're worried about foreign influence in elections.... I think spying on a political campaign—it's a big deal, it's a big deal," Barr replied.
The allegation immediately earned praise from President Trump, who told reporters after the hearing that Barr was doing a "great job."
"What I'm most interested in is getting started, hopefully the attorney general, he mentioned it yesterday, he is doing a great job. Getting started on going back to the origins of exactly where this all started," Trump said. "Because this was an illegal witch hunt and everybody knew it."
But Democrats blasted Barr's claim and accused the attorney general of spreading a debunked theory about how the Russia probe began.
Senator Mark Warner, the top Democrat on the Senate Intelligence Committee, told CNN at the time that Barr's comment was "disrespectful to the men and women who work in the Department of Justice" and shows a "lack of understanding or willful ignorance on what goes into a counterintelligence investigation."
Since then, however, Trump and his allies have seized on a New York Times report that the FBI sent an undercover investigator to meet with Trump campaign aide George Papadopoulos in 2016.