FBI Makes Two More Busts Related to Alleged 'Domestic' Radicalization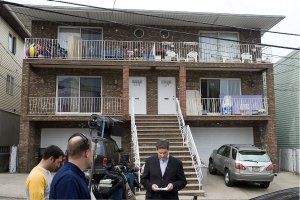 In less than a week, federal authorities have announced arrests in two investigations involving American citizens who allegedly sought to involve themselves with violent jihadist groups. One common factor between the otherwise unrelated cases: suspects in both cases allegedly fell under the influence of Anwar al-Awlaki, the American-born radical cleric who is believed to be hiding in Yemen and who reportedly has been targeted for death by the Obama administration.
According to official press releases, both of the cases announced by the feds—one became public in Houston last Thursday, and the other broke in New Jersey on Sunday—involved close and extended monitoring of the suspects by undercover informants, and in neither case do the feds claim that the suspects were anywhere close to launching real attacks, either inside the U.S. or overseas.
However, the latest cases lend further weight to concerns by many federal officials about a growing and potentially dangerous trend in which U.S. citizens or residents are becoming more regularly involved in real and would-be violent jihadist plotting. As we reported, over the last 18 months, government records show, at least 25 American citizens have been charged with serious federal terrorism violations.
One of the two latest cases involves two New Jersey men who, federal officials allege, sought to travel to Somalia to join Al-Shabab, a jihadist movement that has become increasingly prominent in that lawless country for its alleged loose affiliation with Al Qaeda. The other new case centers on an American-born Texan who converted to Islam and then allegedly sought to provide "material support" to Al Qaeda in the Arabian Peninsula, the Qaeda affiliate that operates in Yemen and Saudi Arabia.
Officials say they arrested the New Jersey defendants on Saturday at New York's JFK airport when they showed up to take flights to Somalia via Egypt. A statement from the U.S. attorney's office in Newark identifies the suspects as Mohamed Mahmood Alessa, 20, of North Bergen, N.J., and Carlos Eduardo Almonte, of Elmwood Park, N.J. Prosecutors say both men are U.S. citizens and are due to appear in court in Newark on Monday morning.
In a court affidavit, an FBI agent, Samuel P. Robinson, says the FBI had been aware of possible suspicious activities involving Alessa and Almonte since early October 2006, when "a member of the public" who knows them sent a tip to the FBI Web site alleging that every time the men "access the internet all they look for is all those terrorist videos about the Islam holly [sic] war." A few weeks later, Robinson says, cops interviewed "a member of Almonte's family" who said that Almonte and Alessa had watched a video about suicide vests. The two men visited Jordan in February 2007, though in conversations monitored by U.S. investigators after their return to the U.S., Almonte complained that they had tried but failed to get recruited as mujahedin fighters while in Jordan.
Sometime in 2009, Robinson says, an undercover officer, who the U.S. attorney's office said worked for the intelligence division of the New York Police Department, began "spending time" with Almonte and Alessa. During the course of those interactions, the feds recorded a series of conversations that give one of the most disturbing insights available to date of the kind of radicalization process that experts worry more and more American citizens are succumbing to.
According to the Robinson affidavit, a few days after Maj. Nidal Hasan, an American-born Muslim and U.S. Army psychiatrist, allegedly went on a deadly shooting spree at Fort Hood, Texas, Alessa was recorded as declaring, "I'm gonna get a gun. I'm the type of person to use it at any time ... I'll have more bodies in it than the hairs on my beard ... It's already enough, you don't worship Allah, so ... that's a reason for you to die ... Freaking Major-Nidal-shaved-face-Palestinian-crazy [sic] guy, he's not better than me. I'll do twice what he did."
A few weeks later, after meetings at which Alessa showed off military gear he had acquired, Almonte played for Alessa and the undercover officer during a car ride a recording he had stored on his cell phone of al-Awlaki lecturing about the importance of violent jihad and different types of martyrs. In January, during another car ride, Alessa played for the undercover officer an audio recording that, the feds say, "included the sounds of automatic-weapons fire, explosions and screams, over which two Arabic speakers called upon the listeners to wage violent jihad." Later in January, the feds recorded Almonte talking about how he had learned about the story of Omar Hammami, alias Abu Mansoor Al-Amriki, an Alabama-born man of Syrian ancestry who had traveled to Somalia and become a major spokesman for Al-Shabab. Later that day, Almonte shared with Alessa and the undercover agent a pamphlet on jihad by al-Awlaki.
Over the next several weeks, according to the FBI, the defendants engaged in weight training at a gym in Jersey City; watched more violent videos, including pictures of attacks on tanks in Iraq; and went for a hike in the snow and mud in a Passaic County, N.J., mountain reservation. In March, Alessa watched a video at the undercover agent's residence that included a diatribe by Adam Gadahn, the American convert to Islam who has become the principal English-language mouthpiece of what remains of Al Qaeda's Pakistan-based central command. By the end of March, the feds say, Almonte was telling the undercover officer, "Any Muslim that gets an opportunity, or a chance, or even ten-percent out of one-hundred chance of making it there [referring to waging violent jihad abroad] should--should risk it ... Because what's better than sitting back here and working like a dog and ... being somebody's puppy, basically what I call it, than moving forward to ... a life of honor, life of dignity, once Allah ... takes your soul upon that."
During May, federal officials say, Alessa and Almonte stocked up further on military gear, including clothing and boots, and watched more jihadist videos, including another featuring Omar Hammami and one in which al-Awlaki "justified the killing of civilians in the course of waging violent jihad." The two men booked themselves to travel on separate flights on June 5 from JFK to Egypt, but were arrested before they were able to board. The narrative produced by federal officials is one of the most explicit accounts yet of the degree to which the messages of al-Awlaki and other English-speaking jihadist spokesmen are getting through to susceptible Americans. Some law-enforcement officials will undoubtedly be disturbed that the suspects were also recorded discussing carrying out possible terror attacks with guns, rather than with more spectacular but harder-to-operate devices, such as the failed underpants bomb that Umar Farouk Abdulmutallab allegedly tried to use on a transatlantic flight last Christmas Day, and the car bomb that Faisal Shahzad allegedly tried (and failed) to detonate at New York's Times Square on May 1.
In the Houston case that federal officials went public with last Friday, prosecutors indicted 29-year-old Barry Walter Bujol Jr. of Hempstead, Texas, on charges of attempting to provide material support to Al Qaeda in the Arabian Peninsula in the forms of, among other things, currency, mobile-telephone SIM cards, GPS equipment, and restricted U.S. military publications, including one about drone aircraft. According to a Justice Department release, the feds had begun investigating Bujol in 2008, and learned that he had been in e-mail communication with al-Awlaki. Officials say al-Awlaki provided him with a document titled "42 Ways of Supporting Jihad" and that he asked al-Awlaki for advice on how to send money to mujahedin overseas. According to a law-enforcement official familiar with the case, Bujol, a former employee of Hewlett-Packard, would contact al-Awlaki using a public-access computer at Prairie View A&M, a small university in East Texas. The feds say they arrested Bujol after he boarded a ship docked at a port near Houston, having been encouraged to do so and provided with a false ID card that gave him port access by someone the feds describe as a "confidential human source," who had been dealing with Bujol since last November.
Federal officials say they have asked the courts to hold Bujol in custody without bail pending trial. A hearing on the case is set for Tuesday afternoon.