FBI Need 'Smoking Gun' Against Trump—Or Risk 'Deep State' Claims
The FBI Mar-a-Lago raid needs to turn up a "smoking gun" to dent Donald Trump's "formidable armor" and avoid claims the operation was part of a "deep state" conspiracy, according to a leading reputation manager.
Agents who entered Mar-a-Lago on Monday were reportedly searching for classified documents which the former president allegedly took from the White House. Sources close to the investigation told The Washington Post these included papers related to nuclear weapons.
Newsweek spoke to five experts to get their views on what the unprecedented raid means for the reputations of both the FBI and Trump himself.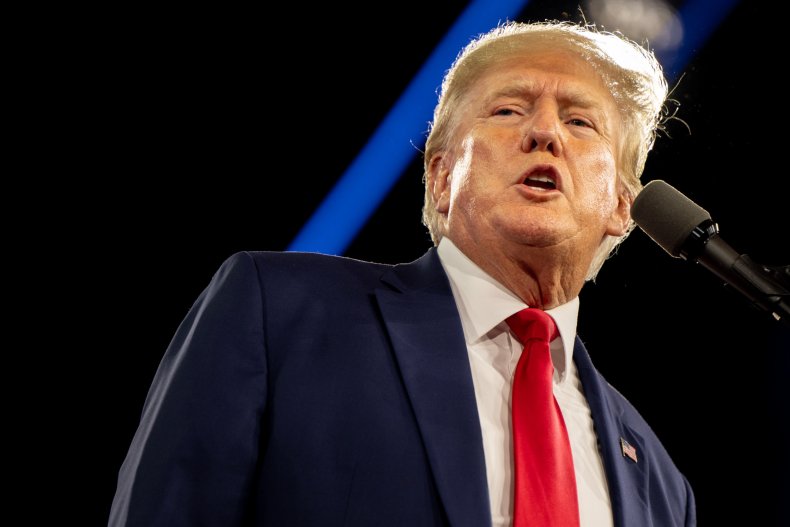 Speaking to Newsweek, Todd William, founder of Reputation Rhino, said Trump is likely to use the raid to fire up his base.
He said: "Donald Trump thrives on controversy and will likely use the perceived 'injustice' of the Mar-a-Lago raid to strengthen his base, and raise funds from his ardent supporters."
William said that, during a time of economic turmoil, the raid is unlikely to "dent Trump's formidable armor" unless it leads to "an indictment and discovery of a smoking gun or trove of classified documents that threaten national security or suggest other criminal activity."
He said if "nothing of significance is found," Trump will be able to "proclaim victory," reaffirming "right-wing Republicans worst fears of a 'deep state' conspiracy."
However, "if classified documents are found, the devil will be in the details—what documents were kept, why, and who stands to benefit or lose from their use or misuse.
"If the documents are inconsequential, even if classified, it will be seen as a technicality, not much different in severity (or political impact) than Hillary Clinton's use of a private, personal email to conduct some State Department business or other minor ethical infractions that people tend to assume is simply politics as usual in Washington," William said.
Eric Schiffer, CEO of Reputation Management Consultants, and Adam Petrilli, founder of NetReputation.com, agreed the FBI will take a reputational hit from the raid, at least initially amongst Republicans.
Schiffer said: "The raid is a short-term hit to the FBI's reputation with many conservatives because the full facts behind the action have not appeared, and the submerged legal details and context has not fully surfaced with the public.
"For Trump, it's a giant power source with Republicans because it remakes him as a fresh victim against perceived government over-reach but decimates a degree of independents who will see the smoke of the raid and believe there is a fire of criminality."
Petrilli said: "Unwarranted raids on President Trump by the FBI have caused irreparable reputation damages, and the government agencies responsible need to be held accountable. If nothing is discovered, and formal charges are not pressed, these actions had clear intentions, reputation damage for President Trump."
Seun Ajanwachuku, CEO of reputation management company GVATE, said the raid is likely to strengthen pre-existing perceptions as Trump supporters will "perceive this as bullying." Consequently, the operation "might end up deepening their loyalty to Trump."
Amongst "non-Trump followers," however, the raid "further solidifies their perception of Trump," according to Ajanwachuku.
Two government officials involved in the investigation told Newsweek an informer provided intelligence for Monday's raid, including on where documents were being kept.
Retired FBI agent Jose Orench told Newsweek the agency is "always careful…and deliberate when conducting this type of sensitive inquiry."
He said: "The fact that the subject of the investigation is a former president, raises the stakes even higher.
"In order to secure a search warrant, the FBI would have had to obtain information from reliable sources, either human or technical, to convince a judge that there was probable cause to believe that evidence of crime would result from the execution of this warrant.
"The affidavit to secure the warrant…would have gone through a rigorous review process through multiple management layers both at the FBI and DOJ before being presented to a judge."
On Thursday, 42-year-old Ricky Shiffer was killed in a shootout after attempting to break into the FBI field office in Cincinnati, whilst armed and wearing body armor.
Newsweek has contacted Trump's office for comment.