FBI Raids Home of Netflix Actor Seen Inside Capitol on January 6 With Far-Right Activists
FBI agents raided the home of a Netflix series actor last week, who was seen inside the United States Capitol during the January 6 riots.
The home of Siaka Massaquoi, 35, who has appeared in the Netflix series Ratched, was raided by FBI agents in the early hours of the morning last Thursday, although no arrests were made, authorities say.
In an email with Newsweek on Monday, FBI spokesperson Laura Eimiller confirmed that "the FBI executed a federal search warrant at a North Hollywood residence on Thursday, June 10th." It was not yet clear, Monday, why the raid was conducted, but the FBI declined to comment further, stating that the warrant and its affidavit remain sealed.
Massaquoi, along with friend Brian Burks who was also present for the raid, described "twenty-some FBI agents with assault rifles" in a video posted to Instagram shortly after the raid on his North Hollywood home. The agents served the warrant clad in riot gear at about 6 a.m. Thursday morning.
"I did nothing wrong on the 6th," Massaquoi said. "They can paint something as wrong, but I did nothing violent."
Massaquoi can be seen participating in the January 6 riots in videos posted to social media by Tim Gionet, the alt-right activist known online as "Baked Alaska," who live-streamed much of the riots. Gionet's videos show Massaquoi standing inside the Capitol Building, smiling and filming the rioters and Capitol Police.
Burks said in the Instagram video, Thursday, that he was not at the riots, but was being investigated "by association." "That's literally where we're at," Burks said. "...You don't even have to be guilty of something, but if by chance you know somebody, you're guilty of something because of them."
"If you're in a group with them on a social media app," Massaquoi added.
During the Instagram video, Burks said FBI officials said he and Massaquoi were both under investigation for associating with members of a social media group. The FBI spokesperson was unable to confirm or deny this detail with Newsweek, as "It's an ongoing investigation."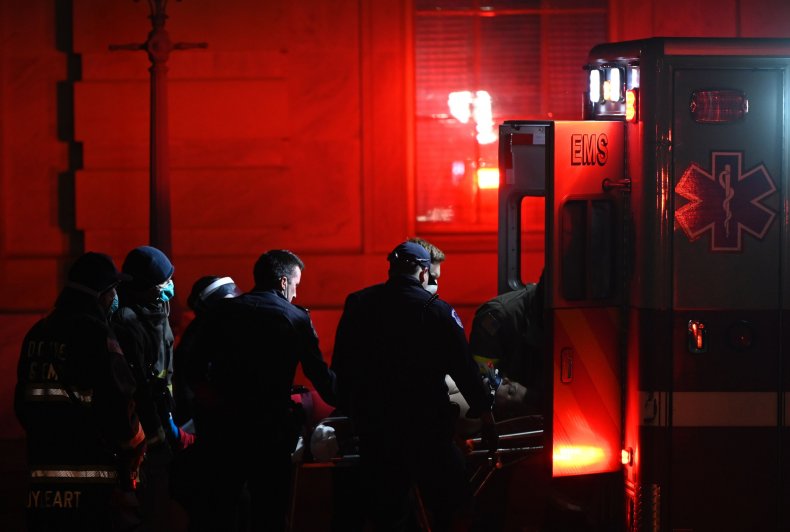 Massaquoi has also been part of additional far-right activism movements recently, including participating at an anti-vaccine rally that took place near the entrance to a COVID-19 vaccine clinic at Dodgers Stadium in January, as reported by The Mercury News. The protest resulted in the authorities shutting the site down briefly as a precaution.
Massaquoi shared footage of the protest on his Instagram account, showing the gates closed because authorities were "afraid that us here who are protesting will come and attack."
He also protested in support of a Burbank, California bar that refused to comply with L.A. County lockdowns during a December COVID-19 surge.