FBI Recovers 'Wizard of Oz' Ruby Slippers Stolen From Judy Garland Museum
A pair of the famous ruby slippers from the 1939 movie The Wizard of Oz were found 13 years after they were stolen, the FBI said Tuesday.
The "traveling pair," as they are called, are one of several pairs still around from the movie. They were taken from Judy Garland's house, which became the Judy Garland Museum in 1975, in Grand Rapids, Minnesota, on August 28, 2005. Grand Rapids Police Department Chief Scott Johnson called the slippers "a piece of history that will be forever connected to Grand Rapids and one of our city's most famous children."
The museum features memorabilia from the movie in which Garland played Dorothy Gale. She wore the slippers as her character followed the yellow brick road in the land of Oz and found her way home.
The Grand Rapids Police Department turned to the FBI after someone told the company that insured the slippers he knew how they could be recovered in 2017. "It became apparent that those involved were, in reality, attempting to extort the owners of the slippers," the FBI Special Agent in charge of the investigation, Christopher Dudley, said.
The FBI's Art Crime team, Laboratory and Chicago, Atlanta and Miami participated in the subsequent investigation. The famous shoes were found after an undercover operation in Minneapolis this summer.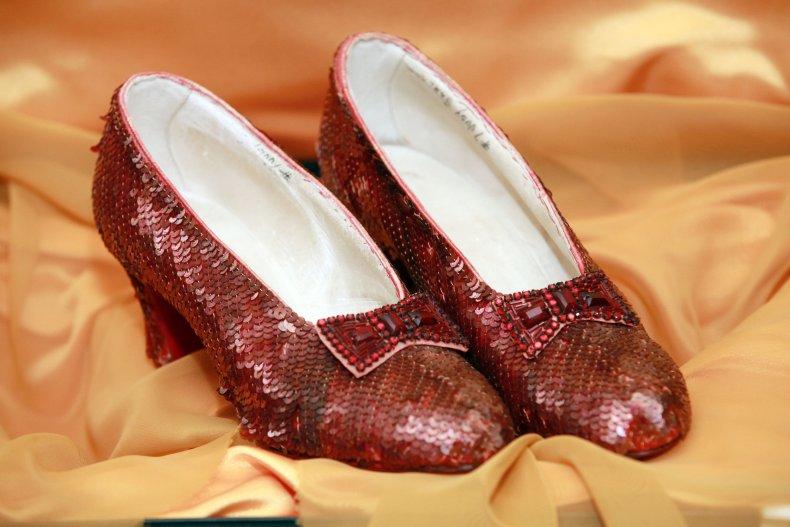 The Smithsonian Institution's National Museum of American History in Washington, D.C., analyzed the recovered slippers. A conservator and curator determined the shoes were mismatched twins of the pair added to the museum's collection in 1979. "It was common that you would create multiple copies of costumes and props," according to Ryan Lintelman, the curator for the museum's entertainment collection.
"Knowing that there are other pairs out there and the enormous interest that there is in this film, we want to be as useful as possible and to try to preserve this history and to let people experience it as much as possible," Lintelman said. "So this recovered pair, it's so exciting to know that they've been brought back into the fold and that they're going to be preserved for future generations."
"When the FBI reached out to us to look at the pair that were recovered, we had the knowledge to make those comparisons to determine whether the construction and the materials were consistent with the pair that we have in the museum's collection," Dawn Wallace, a conservator who has been working on the slippers at the Smithsonian, said.
"From the outset, our top priority was the safe recovery of the slippers," Dudley said in a statement. "We are still working to ensure that we have identified all parties involved in both the initial theft and the more recent extortion attempt for their return. This is very much an active investigation."
FBI Recovers 'Wizard of Oz' Ruby Slippers Stolen From Judy Garland Museum | Culture