The FBI has released new photos of suspects in the U.S. Capitol riots as it tries to apprehend dozens who remain at large.
The images join the hundreds already posted by the federal agency, amid a nationwide effort to find the people who stormed the Capitol.
The bureau has called on the public to help identify individuals "who made unlawful entry into the U.S. Capitol building and committed various other alleged criminal violations" on January 6 in Washington, D.C.
Analysis of footage from inside the building, together with tips from members of the public and other witnesses, has led to charges against roughly 226 people, according to a database maintained by the Program on Extremism at George Washington University.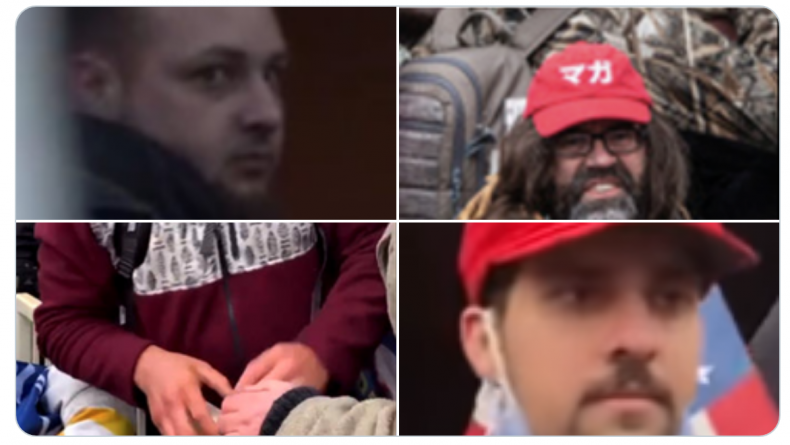 The charges include disrupting Congress, disorderly conduct, assaulting law enforcement personnel, destruction of property and targeting members of the media for assault.
"The FBI has brought to justice many of the participants in the violence at the U.S. Capitol on January 6, but more people are still at large," the agency tweeted on Thursday, alongside a photo of a man wearing a Trump 2020 cap.
The FBI posted images of more than a dozen individuals who it says "actively instigated violence."
Ten people—9 men and 1 woman—have been added to the agency's most wanted list in relation to the riot.
Known only as No. 229 through No. 238, these 10 are all wanted on suspicion of assaulting federal law enforcement personnel. The crime carries penalties ranging from one to 20 years in prison.
Federal prosecutors are continuing to charge participants in the violence that erupted after thousands of Donald Trump supporters gathered on January 6 to protest the congressional certification of President Joe Biden's victory.
Last month, Acting U.S. Attorney for D.C. Michael Sherwin said: "The scope and scale of this investigation in these cases are really unprecedented, not only in FBI history but probably DOJ history."
Before the riot, pro-Trump protesters had gathered for a rally near the White House, where they were addressed by the then president. He repeated his baseless claims that the 2020 election had been stolen from him, telling his supporters that "we will never give up" and that they would have to "fight much harder."
A mob later stormed the Capitol to disrupt the joint session of Congress. Five people died, including Capitol Police officer Brian Sicknick.
Newsweek has contacted the FBI, the U.S. Department of Justice and the U.S. Attorney's Office for the District of Columbia for comment.