FBI Releases Timeline of Murders After Convicted Killer Confesses to More Than 90 Slayings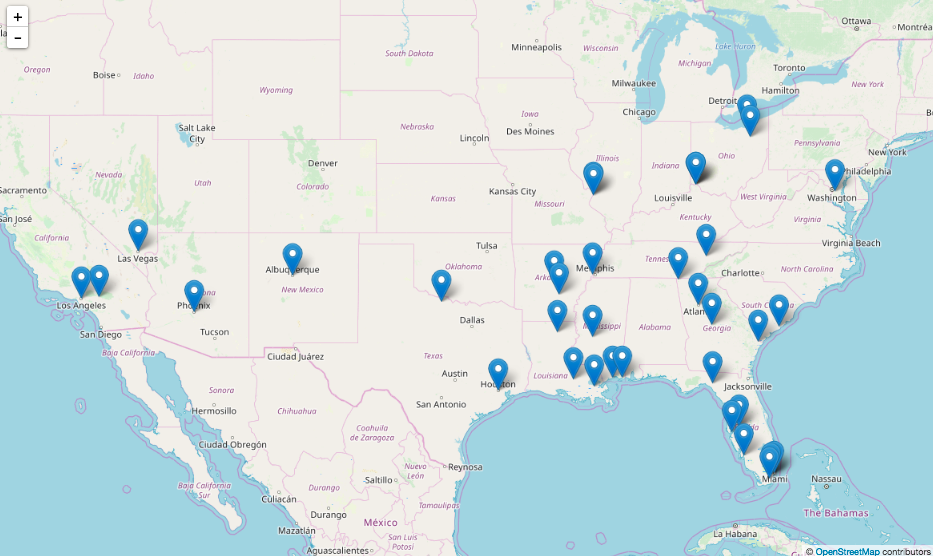 The FBI released a timeline and map on Tuesday noting all the women convicted murderer Samuel Little has confessed to killing. The 78-year-old claimed he killed at least 90 women in at least 37 cities around the United States.
Little, who is serving time in a California prison for the murders of three women, began confessing to the slayings in September. The killings, which occurred between 1970 and 2005, over a dozen states, according to the FBI.
According to the FBI's timeline, many of the confessions have not yet been definitively corroborated by law enforcement. Other murders have been linked to victims who have not yet been identified.
One confession matched a Jane Doe, described as a black female between 35-45 years old, who was killed in 1977 in Pascagoula, Mississippi. Another matched a Jane Doe, described as a white female between 20-25 years old, killed five years earlier in Prince George's County, Maryland.
There were a number of unmatched confessions in Georgia, but at least two were connected to Jane Does. Little's confession matched a black female between 30-40 who was killed in 1977 in Macon, Georgia and another black female victim between 25-30 years old who was killed in either 1980 or 1981 in Dade County, Georgia.
Earlier in November, Little was charged with murder in a cold case from 1994 in Texas. Little allegedly provided details to a Texas Ranger that linked him to Odessa, Texas, at the time 38-year-old Denise Christie Brothers disappeared and died.
Brothers was last seen alive in a motel parking lot in January 1994, before her strangle body was found around four weeks later in a vacant lot two blocks away.
Little reportedly confessed to Brothers's murder to Texas Ranger James Holland. He was indicted for the slaying in July. Little was serving three consecutive life sentenced without the possibility of parole in California State Prison before he was extradited to Texas.
Once in Texas, Little reportedly explained his involvement in more than 90 murders committed across multiple states. The FBI has worked with Holland and has corroborated Little's involvement in 34 cases, with "many more pending confirmation," the FBI said.
Little was convicted in 2014 in the murders of three women in the Los Angeles area during the 1980s. If convicted of the other cases, Little would be confirmed to be among the most prolific serial killers in U.S. history.