FBI Now Releasing Documents About Bill Clinton and Marc Rich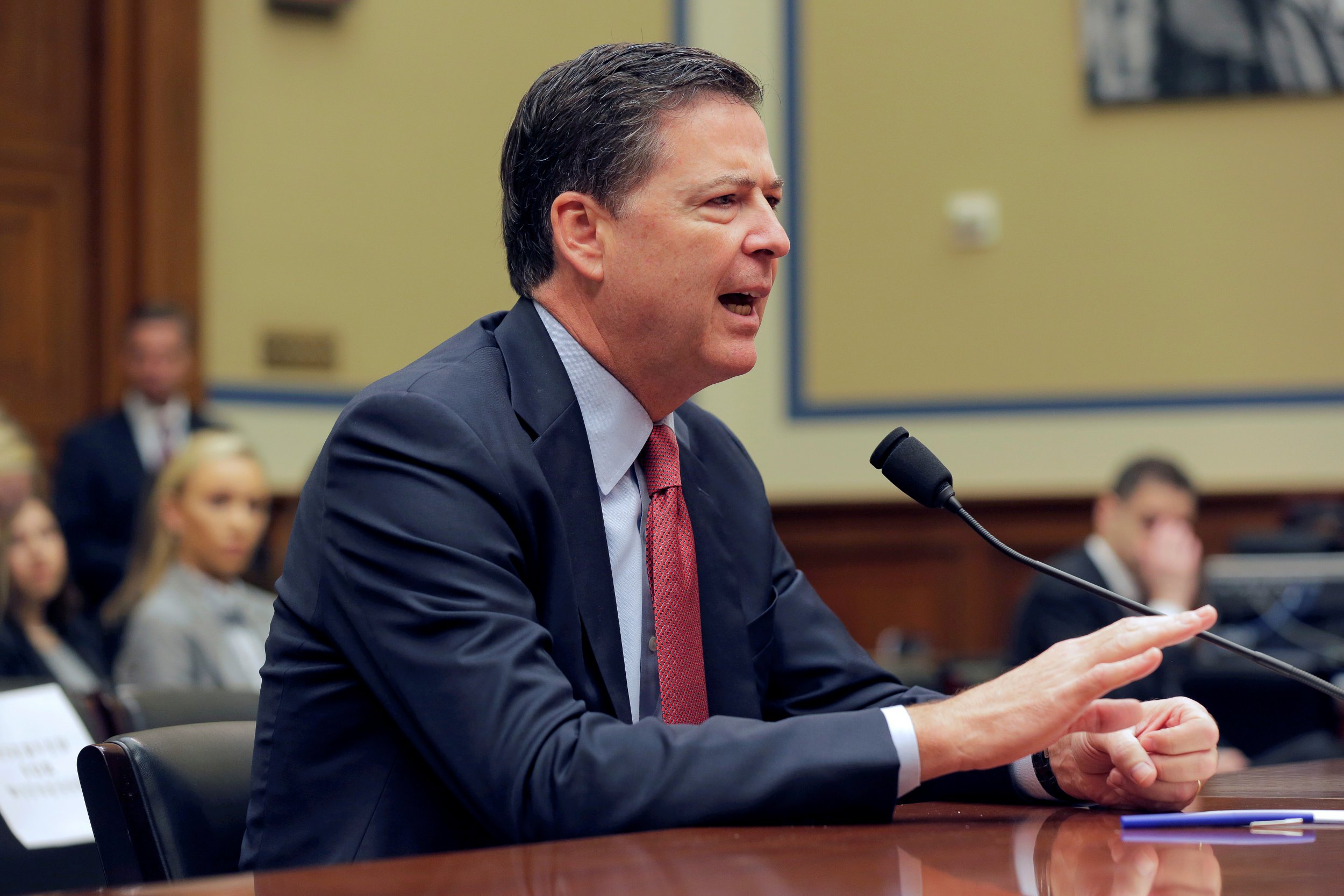 With the election just a week away, the FBI has released a tranche of 15-year-old documents dealing with Bill Clinton's pardon of a fugitive financier—a move that the bureau made without explanation and that only adds to the confusion surrounding its controversial role in the presidential contest.
While they offer some tantalizing tidbits, the documents are heavily redacted, and they don't seem to offer any substantial new information about the criminal inquiry launched by the U.S. attorney for the Southern District of New York after Bill Clinton pardoned Marc Rich in 2001. Long sought for extradition, the wealthy Rich was living overseas to escape charges related to tax evasion and exporting goods to Iran (which remains under a less restrictive U.S. embargo). His wife, Denise Rich, a singer-songwriter, was a major donor to the Clintons.
The timing of the document dump—just seven days before the election—is giving fodder to critics of FBI Director James Comey. While the Hillary Clinton campaign has not released a formal statement about these documents from the winter of 2001, Brian Fallon, a Clinton spokesman, tweeted: "Absent a FOIA litigation deadline, this is odd. Will FBI be posting docs on Trump's housing discrimination in '70s?"
Comey is "acting like he's trying to throw the election," says Steve Ryan, a prosecutor in Ronald Reagan's Justice Department who worked on organized crime, referring to the FBI director's "trifecta"—comments about the Hillary Clinton email probe over the summer; his shocking letter last week announcing new evidence related to that case; and now this out-of-the-blue FBI document dump.
"It looks worse and worse each day. He's out of his swim lane.… There's no precedent for this. I think it's the most troubling thing I've seen out of law enforcement," he adds. Ryan notes that he is a Hillary Clinton donor, but a number of Republicans have criticized Comey as well, including Larry Thompson, the deputy attorney general under President George W. Bush.
As for the documents, they contain almost no previously unreleased information, with the exception of several pages that refer to seized property—apparently as evidence—including, intriguingly, "one cellophane containing" and "one red rope containing."
The documents are so heavily redacted, it is impossible to tell what the cellophane or red rope "contained" or what, if anything, they have to do with Rich's pardon.
Jill Farrell, a spokeswoman for the right-wing watchdog group Judicial Watch, which has been leading efforts to expose Hillary Clinton's email habits and the FBI's investigation by filing Freedom of Information Act requests and civil lawsuits against the government, says the latest document drop was not in response to any of its requests. "Tangentially, but not directly for these ones. We've certainly been after this information and are glad they finally coughed it up," she says.
Judicial Watch is funded by the Sarah Scaife Foundation. Scaife's late son, Richard Mellon Scaife, financed many of the outside investigations into Bill Clinton's financial and alleged extramarital affairs during the 1990s. The two men made peace before Scaife died, though, and Bill Clinton spoke at Scaife's funeral.
The Hillary Clinton campaign has been warring with Comey since he sent a letter to Congress last week informing key committee members that the agency had found new documents pertaining to the Hillary Clinton email investigation. Later, news reports revealed that the documents were on the computer of Anthony Weiner, the former congressman who is being investigated for allegedly lewd contacts with an underage girl. His wife, Huma Abedin, is a longtime aide to the Democratic presidential nominee. Abedin's lawyer, Karen Dunn, issued a statement on Monday saying that Abedin was fully cooperating with federal authorities. The FBI has said it has begun to examine Weiner's computer, but no one is expecting it to finish inspecting the device, let alone assessing whether anything on the machine is there in violation of the law, before Election Day, November 8.
These 15-year-old documents from the Marc Rich pardon case don't seem to bear any relation to the current investigation. They were released on the website where the bureau makes documents available to those who have filed FOIA requests. When a Newsweek reporter asked the FBI about the origins of this document, who requested it and why it's coming out now, the bureau sent back a pro forma statement saying it was "following the law and standard procedure" of putting requested documents on its site once they had been processed.
Adding to the weirdness of the document release was the way it was announced on Twitter. The account, @FBIRecordsVault, had been dormant for over a year. Then, at 4 a.m. on Sunday, 20 new postings were announced in a single tweetstorm, including one about records for Fred C. Trump, the Republican nominee's late father. On Monday, the site heralded the arrival of the Marc Rich documents, putting them under the heading of "William J. Clinton Foundation," although the connection between the foundation and the Rich pardon is unclear from an examination of the heavily redacted files.
The probe was being conducted by the "Public Corruption Unit," according to the documents, which say that "donations may have been intended to influence the fugitive's pardon."
The documents are reminders of the long and often intertwining careers of many of the America's top law enforcement officials. It was Comey who replaced Bill Clinton's U.S. attorney for the Southern District, Mary Jo White, and the embryonic investigation ended on his watch. (Comey was an assistant U.S. attorney, or AUSA, in that office during Bill Clinton's last term in office.) The case against Rich, who was found guilty of selling goods to Iran, as well as violating embargos with Libya and North Korea, was brought in 1983 by then–U.S. Attorney of the Southern District Rudolph Giuliani, who went on to become mayor of New York City and is now a prominent supporter of Donald Trump's presidential bid. The point man at the Justice Department for the pardons was Eric Holder, who dealt with the White House, which sidestepped the Justice Department's usual elaborate procedures for reviewing pardons during its last days in office in January 2001. Holder was the deputy attorney general at the time and would be appointed attorney general by President Barack Obama in 2009. Marc Rich died in 2013.
The Rich pardon was extremely controversial at the time. He was a top target of U.S. law enforcement, and Bill Clinton's decision to grant him a pardon was widely condemned by American law enforcement officials, although not everyone joined in the condemnation. At the time, many speculated that the pardon was wrapped up in Middle East politics. In January 2001, Bill Clinton's last-ditch effort to produce an Israeli-Palestinian settlement had faltered, but Israeli and Palestinian negotiators were going to give it one more try in meetings in Taba, Egypt, just after he left office. The White House was trying to bolster the political fortunes of Ehud Barak, the Israeli prime minister who was facing an election. Israel had long lobbied for the pardon of Jonathan Pollard, who was convicted for spying for Israel, but Bill Clinton was unwilling to free Pollard over the objections of the CIA and other government agencies. But by pardoning Rich, who was popular for his philanthropic work in Israel, the president, it was widely assumed, was able to at least offer Barak some help. In March 2001, Barak lost to Ariel Sharon.