FBI Report From Day Before Capitol Riot Highlighted Rioters' Plans to Be 'Ready For War'
An FBI report released the day before the riots at the U.S. Capitol building outlined rioters plans to be "ready for war."
The Washington Post reviewed the internal document issued by an FBI office in Virginia which warned of rioters traveling to Washington D.C. to commit violent acts on the day Congress certified President-elect Joe Biden's victory.
"As of 5 January 2021, FBI Norfolk received information indicating calls for violence in response to 'unlawful lockdowns' to begin on 6 January 2021 in Washington. D.C.," the document says, according to the Post. "An online thread discussed specific calls for violence to include stating 'Be ready to fight. Congress needs to hear glass breaking, doors being kicked in, and blood from their BLM and Pantifa slave soldiers being spilled. Get violent. Stop calling this a march, or rally, or a protest. Go there ready for war. We get our President or we die. NOTHING else will achieve this goal.'"
Additionally, the report also included another online conversation that said if Antifa, a far-left extremist group, or Black Lives Matter protesters "get violent, leave them dead in the street."
According to the Post, an FBI official familiar with the internal document said the FBI Norfolk office wrote the report shortly after learning of the planned violent riots. The FBI official also told the Post that officials at the bureau's Washington D.C. office were briefed on the info, but it was not clear how many law enforcement agencies outside the FBI were notified.
The internal document also stated that while individuals and organizations named in the report were identified "as participating in activities that are protected by the First Amendment to the U.S. Constitution," it noted that "based on known intelligence and/or specific historical observations, it is possible the protected activity could invite a violent reaction towards the subject individual or others in retaliation or with the goal of stopping the protected activity from occurring in the first instance," according to the Post.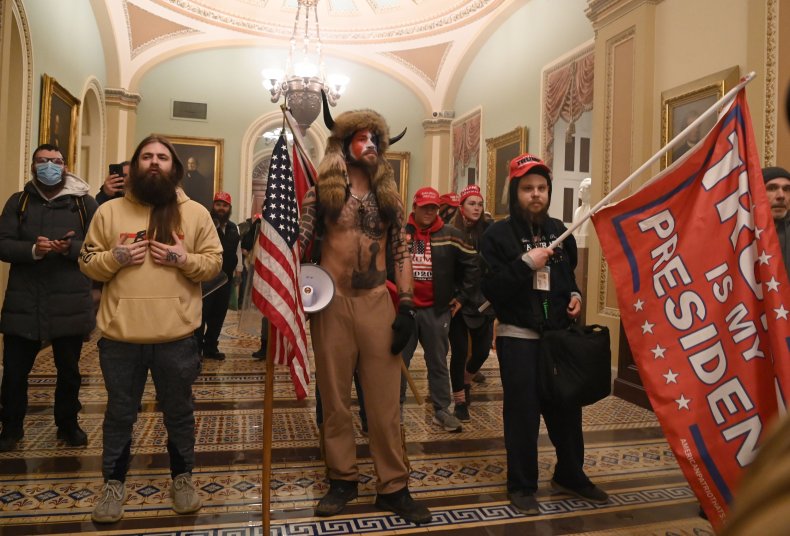 The FBI report comes amid political turmoil following the riots in D.C. when supporters of President Donald Trump breached the Capitol, entering both the House and Senate chambers.
While the internal document shows that the FBI's Norfolk Office was aware of potential violence, while speaking to reporters on Friday, Steven D'Antuono, head of the bureau's Washington field office, said that "there was no indication" of violence on January 6.
In a statement sent to the Post, the FBI said that field offices "routinely share information with their local law enforcement partners to assist in protecting the communities they serve," but noted that the bureau's "standard practice is to not comment on specific intelligence products."
Newsweek reached out to the FBI for comment but did not receive a response in time for publication.