FBI Reviewing Investigations of Recent Hangings as Third Man Found Dead in Houston
The investigations into the deaths of two black men, Robert Fuller and Malcolm Harsch, whose bodies were found hanging from trees in two Californian cities around 50 miles apart, will be reviewed by the Federal Bureau of Investigation (FBI), the Department of Justice and the California Attorney General's Office.
The latest development follows the report of another hanging that emerged this week. A man described by Houston's police chief as "Hispanic/Caucasian" was discovered Monday hanging from a tree in the Shady Acres neighborhood of Houston, Texas. The death has been described by the Houston Police Department as an "apparent suicide."
The FBI issued a statement Monday confirming the move: "The FBI, U.S. Attorney's office for the Central District of California and the Department of Justice Civil Rights Division are actively reviewing the investigations into the hanging deaths of two African American men in the cities of Palmdale and Victorville to determine whether there are violations of federal law."
Los Angeles County Sheriff Alex Villanueva confirmed at a news conference Monday: "I reached out to Attorney General Xavier Becerra, and they are now going to provide a monitor and review all of our investigation and make sure we didn't leave any rock unturned. I also reached out to the FBI. We're making sure we're transparent and fully accountable."
The only evidence reported to be found at the scene of Fuller's death was a rope, the contents of his pockets and a backpack he was wearing, investigators confirmed at the news conference.
Los Angeles County Department Captain Kent Wegener confirmed forensics on the rope will be conducted through "physical analysis and tests of serology nature by our crime lab. We'll also dissect the involved knot structure [of the rope] to determine how they were tied."
Investigators will also be searching for any surveillance video near the scene of the death and review Fuller's medical history locally as well as in Arizona and Nevada where they believe he previously lived.
The hanging in Houston was brought to the attention of police after a video of the scene was shared widely on social media.
The Houston Police Department said on Twitter: "Homicide detectives are investigating the apparent suicide of an adult Hispanic male who was found about 9:05 a.m. in the 2500 block of Ella Blvd. Foul play is not suspected. Investigators are awaiting an autopsy by the Harris County Institute of Forensic Sciences."
Houston Police Chief Art Acevedo also tweeted: "Medical Examiners Office has identified deceased individual. He is a Hispanic/Caucasian male, and described by his family as suicidal. No signs of foul play have been found and the evidence to date points to this being a suicide. Investigation continues."
Newsweek has contacted the Houston Police Department for further comment.
Two petitions were launched last week demanding a full investigation into the death of 24-year-old Fuller, who was found dead near Palmdale City Hall, after it was initially described as an "alleged death by suicide" by Palmdale coroner's office. The petitions collectively garnered more than 500,000 signatures.
In Victorville, the body of 38-year-old Harsch was found hanging in a tree near the Victorville city library.
"There were no indications at the scene that suggested foul play; however, the cause and manner of death are still pending," a spokeswoman for the San Bernardino County Sheriff's Department, Jodi Miller, told Victor Valley News.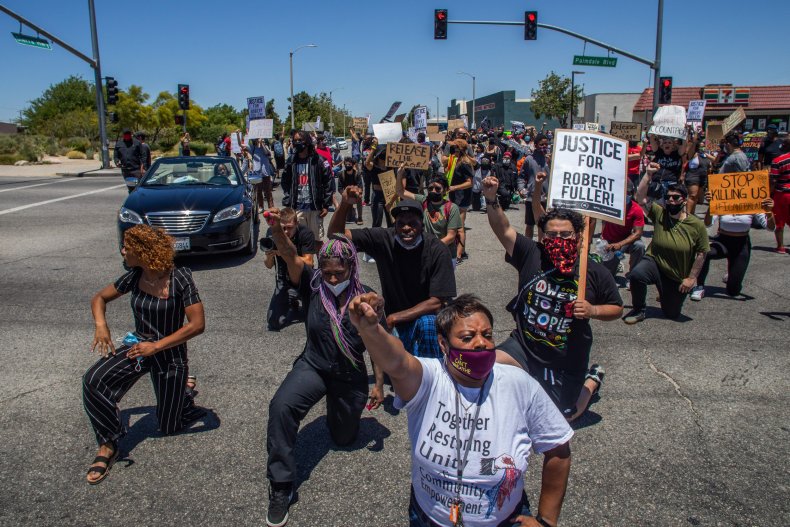 In a statement, the family of Harsch said: "Our brother Malcolm Harsch died on May 31. His cause of death has not been released to the family yet but we are concerned that his death will be labeled as a suicide, as this is what was communicated to us upon confirmation of his death on the morning of June 1st."
The recent deaths come amid ongoing protests across the globe following the death of 46-year-old African American George Floyd, who died after being held to the ground with a knee to his neck for eight minutes and 46 seconds during an arrest made by the Minneapolis Police Department.
The incident sparked outrage around the world and ignited Black Lives Matter protests against police brutality and racism.