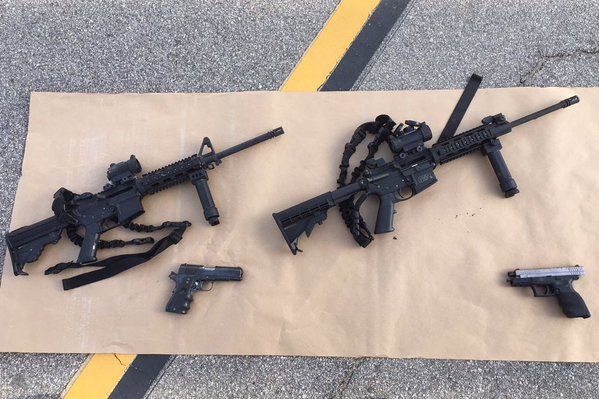 An FBI official on Monday used the word "radicalized" to describe the couple responsible for last week's deadly shooting in San Bernardino, California.
The couple, Syed Farook and Tashfeen Malik, killed 14 people and injured 21 at a holiday party last Wednesday hosted by Farook's employer, the county of San Bernardino public health department. Last week, the FBI said the shooting is being investigated as an act of terrorism.
"We believe that both subjects were radicalized and have been for quite some time," David Bowdich, an FBI official working on the case, said at a press conference on Monday afternoon. It is not yet know how and when the couple became radicalized. Bowdich said authorities are working with foreign counterparts to learn more about them.
The FBI determined the couple had 19 pipes in their home that could be turned into pipe bombs. Authorities previously said they thought the couple had 12 bombs in their home, and they found one bomb at the scene of the shooting. It did not detonate.
Both Farook and Malik participated in target practice in advance of the shooting, the FBI official said. One practice session took place "days" prior to the attack.
While three of the weapons used in the attack were owned by Farook, authorities determined two weapons were owned by Enrique Marquez, a friend of his. Law enforcement sources told the Los Angeles Times Marquez is currently seeking treatment in a mental hospital. A source told the newspaper Marquez is not believed to have known of Farook and Malik's attack in advance.
More than 320 pieces of evidence have been recovered in the investigation thus far, many of which have been transported to the FBI's offices in Washington for further investigation.
"We have found evidence of pre-planning, participation and financing," Bowdich concluded. "We are an apolitical organization and we will get to the bottom of this. We want to find out everyone who participated in the pre-planning, if there was anyone else.… We want to find out everyone who profited, financed it, and I'm not saying there is anything like that, but we will leave no stone unturned."