FBI Says Missing Brother and Sister in Idaho in Serious Danger, Mother and Stepfather Not Cooperating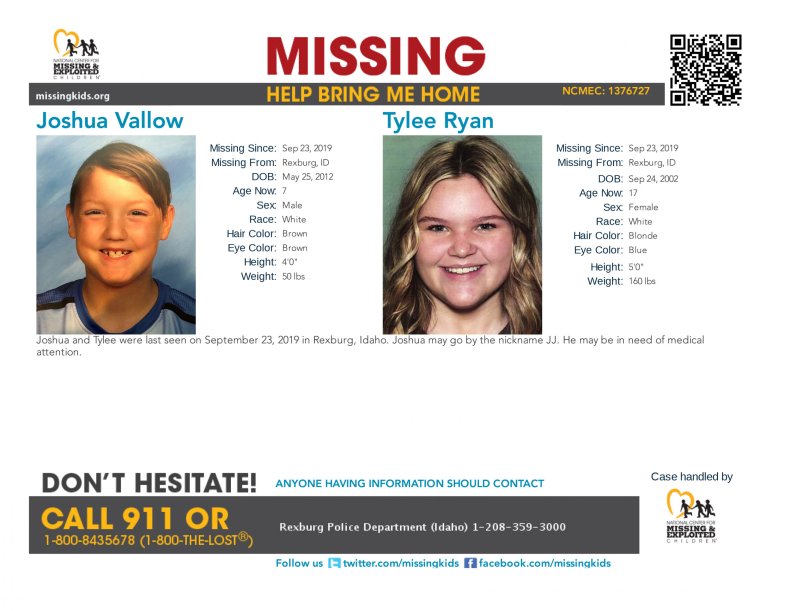 The Federal Bureau of Investigation (FBI) has issued a nationwide search for a brother and sister who went missing in Idaho three months ago, saying that the two may be in serious danger. The children's mother and stepfather, who were wanted for questioning in connection with the disappearances, are also currently nowhere to be found.
Tylee Ryan, 17, and her brother, Joshua "JJ" Vallow, 7, were last seen in the city of Rexburg in eastern Idaho on September 23. JJ may be in need of medical attention, according to information from the National Center for Missing and Exploited Children (NCMEC) that FBI Salt Lake City shared on social media on Friday.
Captain Gary Hagen, assistant chief of the Rexburg Police Department, told Newsweek via phone on Tuesday that the police are currently investigating a number of tips into the siblings' whereabouts, and that additional updates would be provided as the police department gathers new information.
The children's mother was identified as Lori Vallow, 46, who may be using the surname Daybell, and their stepfather was identified as Chad Daybell, 51.
The search for the children began when authorities were investigating the death of Daybell's ex-wife, Tammy Daybell, a librarian, in October, CBS News reported. Authorities initially thought she died of natural causes.
Daybell was buried in Springville, Utah, according to KSTU. However, after the sheriff's office determined that she may have died under more suspicious circumstances, her body was exhumed. The results of the autopsy are still pending, CBS News reported.
Within weeks of Tammy Daybell's death, her husband had been remarried to Lori Vallow—whose former husband, Charles, also died this year.
Police were made aware of the missing children in November, when authorities attempted to check on JJ, who has autism, KUTV reported. At the time, Lori Vallow and Daybell told police that JJ was living with a family friend in Arizona.
A day after determining that this information was false, police obtained search warrants to look for JJ in the couple's residence, KSTU reported. However, they then found that both Vallow and Daybell had left the city of Rexburg. They also discovered that Tylee, like her brother, had not been seen since September.
Brandon Boudreaux, a Rexburg resident who married into Lori Vallow's family, told KSTU that he believes the disappearances may be related to Chad Daybell's "cult"-like religious beliefs, which he said focused on the end of the world.
"I spent the last 11 years of my life spending time with Lori and her now-deceased husband Charles," Boudreaux told KSTU. "I don't know what happened to [Tylee and JJ], but I know there's people who do, and they're not talking... I love them both. I hope they're safe. They're both just innocent and they didn't deserve to be involved in any of this."
Police have urged anyone who may have information about the missing children to call 911.
The FBI did not immediately respond to requests for additional information.
The NCMEC stated on its website that it assisted law enforcement with solving over 25,000 missing children cases in 2018. The overwhelming majority (92 percent) of the missing were runaways, while four percent had been abducted by relatives. Less than one percent of the children had been abducted by non-family members.