FBI Agent Swaps Chasing Terrorists for Teaching Kids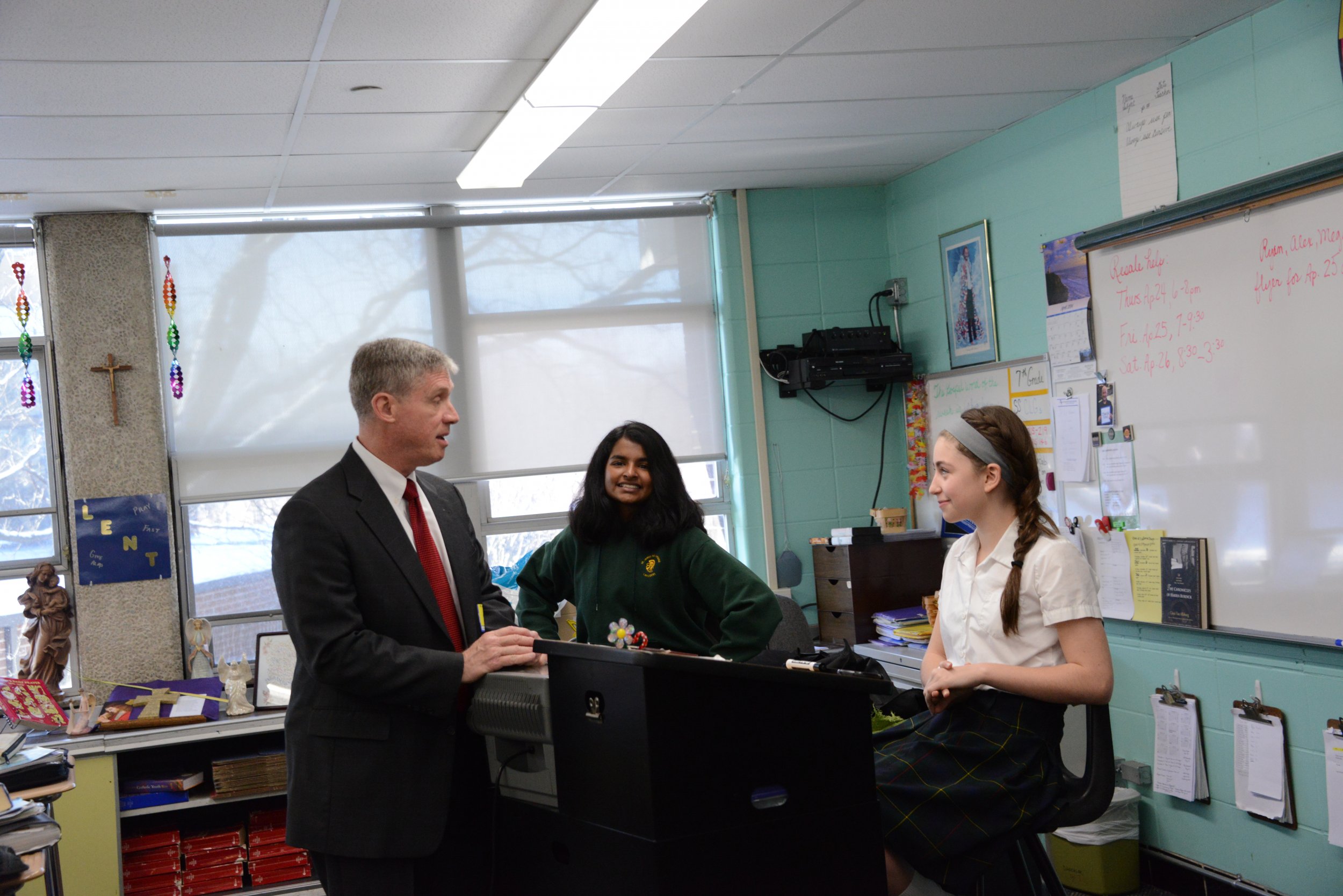 Just a few years ago, Kevin Blair was directing FBI teams in highly classified counterterrorism missions in Iraq. This week, he experienced an even more exciting moment: moving his special-needs middle school students up another grade.
No joke: Blair, a decorated 22-year FBI veteran, insists he gets more exhilaration from teaching children, especially the foreign-born that are his specialty, than he did helping chase terrorists in Iraq. "Because," he said, "every day I get more energy from the kids than I would in the counterterrorism world. Also, it's harder—you have to bring your A game every day."
Blair, who retired in 2012, is an anomaly: Most FBI agents who pursue a second career after leaving the bureau naturally go into fields they know best, such as security and intelligence. Such work also happens to pay very well. Ex-FBI and CIA counterterrorism specialists, even those with a decade or less experience, can pull down upwards of $100,000—and often far more—working for one of the "Beltway Bandits," as government contractors in the Washington, D.C., suburbs are known.
Cashing in was not really an option for him, said Blair, still trim at 53 from running marathons. "Seeing guys retiring and going back to the till for another $150,000 a year was nauseating," he said in an interview last week at D.C.'s Nationals Park, where he has season tickets and often brings his students on baseball outings, paid for out of his own pocket. "My thinking is, you do your time, you get your experience and you shouldn't be sucking more money out of the government. You should be giving back."
That's the guy Bill Keefe knew when they worked together years ago in the FBI's Chicago Division. "Kevin was always volunteering to do stuff, like the FBI's PR visits to the schools," said Keefe, who retired after 25 years in the bureau, most of it in Chicago. "They'd come around looking for people to do that and you'd go, 'Please, not me!'" he said with a laugh. "But not Kevin. He'd be happy to go." Blair won two Justice Department awards for his volunteer outreach service.
Keefe said he didn't know of any other FBI agent who'd traded in his badge and gun for grease boards and crayons. Nor did another half-dozen former agents queried by Newsweek. But Nancy Savage, executive director of the Society of Former FBI Agents, headquartered in suburban Virginia, insists it's not uncommon. "They want to give back," she said, although she added that most retired agents who teach do it at the college level.
"He believes in doing the right thing," Keefe added.
It was the same way in Baghdad. When Blair arrived as deputy FBI legal attaché in 2009, he discovered fellow agents padding their overtime, putting in pay sheets claiming they were working 16 hours a day, seven days a week. "The thinking was, 'When I wake up in the morning, I'm brushing my teeth in a combat zone, so I'm working,'" Blair recalled. His complaints triggered a Justice Department investigation, which uncovered "millions of dollars in excess overtime payments," according to the subsequent inspector general's report.
For his counterterrorism work in Baghdad, which involved inserting FBI evidence-collection agents into kill and capture missions, Blair won a commendation medal from the Joint Special Operations Command. That alone, coupled with a previous FBI Director's Award for his work at the bureau's Terrorist Screening Center in 2004, would have likely guaranteed him a fat paycheck as a counterterrorism consultant when he retired.
It was not for him. "A lot of guys I know are bored to tears but really sucked in by the big money" that intelligence contractors pay, he said. "I had plenty of offers when I left, but I didn't want anything to do with the life of a contractor or consultant within the intelligence-military-industrial complex. I had had my fill of self-promoting executives...and the good ol' boy system," he added.
He retired and thought of buying a house in the mountains and just taking it easy. But the idea quickly bored him. In Baghdad, Blair had been musing about teaching during late-night talks with an army-officer friend. "The general would come in, and we talk about what we do when we were retired," he recalled. "He said we ought to be teaching history." (Blair has a B.A. in Russian history from Cornell and a master's in military arts and sciences from Fort Leavenworth's School of Advanced Military Studies.)
When he was on home leave, he began giving classes at middle schools in suburban Virginia. It turned out to be his calling. He started with part-time substitute teaching at Yorktown High School in Arlington, where "I learned I had a skill with kids with special problems—learning disabilities, emotional disabilities or language disabilities," he said. He felt he had found a home. Along the way, he got his teaching certificate and landed a full-time gig teaching special-needs children at a middle school in Arlington.
The kids loved him, judging by a few comments on a "rate my teacher" webpage. "Mr. Blair is the nicest teacher I have ever met," said one. "He was an FBI guy and he tells us all these awesome stories. Every Friday, he gives us something he baked himself! He also sometimes subs in some of our classes and we always have a lot of fun when he is around."
But Blair said he gets as much from the students as he gives them. "When I'm teaching a kid from Central America and he or she says their first English sentence, that's everything to me," he said. It also thrills him to "watch them make their first American friends."
"I am the connection for these families to American society," he said of the wide range of students from the Middle East, Asia and Latin America that populate D.C.-area schools. Without English, "they will stay inside their own world." With English, he said, the kids might try signing up for school sports or clubs. It gives him a kind of thrill he never got as an FBI agent.
But next year, he'll have to get his thrill from another school. In recent months, Blair butted heads with school bureaucrats, mostly over the way he said they routinely integrated his special-needs students into regular classes, where they fared poorly. He's moving on—undaunted. "The look on a child's face when they've just 'gotten' something," he said, "keeps me coming back every day."