FBI Traced NYC Sanitation Worker to Capitol Riot With License Plate Readers
In building their case against a New York City sanitation worker for participating in the U.S. Capitol riot, the FBI used multiple states' license plate trackers to place him in Washington on the day a mob attacked the federal building.
Dominick Madden was arrested Thursday in New York and faces four federal charges for his alleged participation in the Capitol attack on January 6. The FBI, which is putting its full weight behind bringing those involved in the riot to justice, used Madden's passport information, a co-worker and his license plate to establish "probable cause" that Madden violated federal law.
A New Jersey license plate reader tracked a plate associated with Madden traveling south on I-295 on January 5. Shortly after, his license plate was picked up by a Maryland reader that tracked him going through the Baltimore region, "consistent with a person traveling towards Washington, D.C.," according to an FBI affidavit.
Two days later, on January 7, Maryland's and New Jersey's license plate readers picked up his plate in a manner that's "consistent with a person returning to the New York region."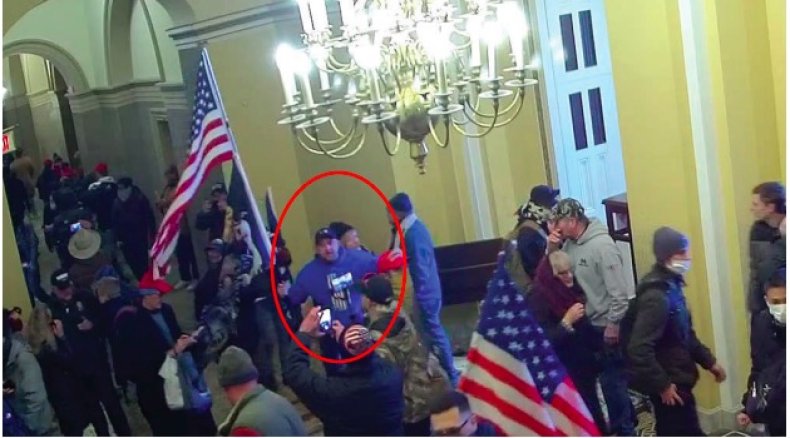 Madden was seen in photos wearing a QAnon hooded sweatshirt and waving a Donald Trump flag in front of the Capitol. Madden, who was the subject of a New York Post story, was also seen in surveillance footage entering the building through the Senate wing door.
The mob of people coming from a rally where President Donald Trump spoke breached Capitol security as Congress gathered to certify President Joe Biden's electoral victory. At least five people lost their lives as a result of the riot, including a police officer, and lawmakers demanded that those involved be held accountable.
More than 110 people face charges for their alleged participation in the riot, according to the Department of Justice, and last week officials said they received more than 145,000 photos and videos. Law enforcement had more than 300 suspects as of last week. Steven D'Antuono, assistant director in charge of the FBI's Washington Field Office, told rioters that "every FBI field office in the country is looking for you."
The FBI verified that Madden worked for New York City's sanitation department by cross-referencing information he used for a passport application. When his employer asked him about his whereabouts during the Capitol riot, Madden said he was out on sick leave that day and admitted to being out of the house without authorization.
The sanitation department didn't ask specifically about his participation in the riot because of legal reasons, but he was suspended. Newsweek reached out to the department for comment but did not hear back before publication.
Madden's co-worker told New York City's Department of Investigation that a person seen in a video of the riot "looks like Madden."