Trump 2020 Campaign Responds to Report FBI Investigator Posed as Assistant to Meet with 2016 Campaign Adviser: This Is 'Spying'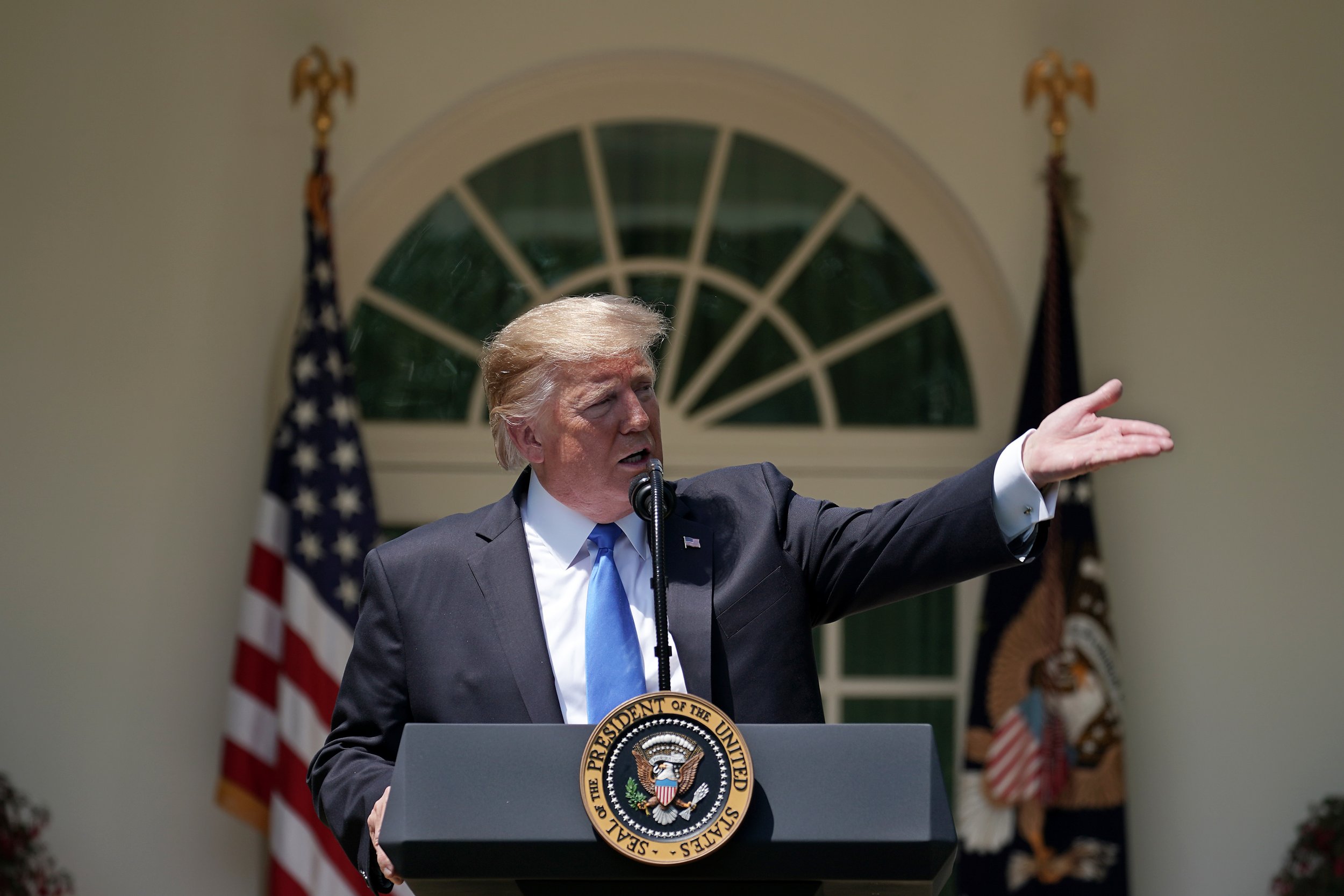 President Donald Trump's campaign team renewed allegations of FBI spying after a New York Times report on Thursday revealed that an FBI investigator posed as a research assistant to meet with then-Trump campaign aide George Papadopoulos in 2016 as part of a counterintelligence probe into the presidential candidate's suspected ties to Russia.
"There is a word for this in the English language: Spying," Trump 2020 campaign manager Brad Parscale said in a statement emailed to Newsweek. "Democrats and their media friends have expressed horror at the term, but there is no other way to describe it: The FBI spied on the Trump campaign in 2016. For two years, Democrats and their allies in the media have lied to the American people about the Russia collusion hoax, when all along the real scandal was the Obama Administration using the Justice Department to spy on a political adversary's campaign. As President Trump has said, it is high time to investigate the investigators."
Papadopoulos and the female investigator, who went by the pseudonym Azra Turk, met at a bar in London to discuss foreign policy issues in September 2016, sources familiar with the operation told the Times. During their conversation, the agent reportedly asked the Trump campaign adviser whether they were working with Kremlin officials. The investigator's real name is currently not publicly known.
Cambridge professor and FBI informant Stefan Halper assisted Turk with her mission and accompanied her to one of the meetings with Papadopoulos, according to the Times. He also held meetings separately with Papadopoulos and a number of other Trump campaign aides.
During her time in London, Turk sent Papadopoulos an email saying their meeting had been "the highlight of my trip."
"I'm excited about what the future holds for us :)," she wrote in another email, provided to the Times by Papadopoulos.
Turk and Halper's operation in London did not result in the finding of any substantial evidence. FBI officials have maintained that their activities were above board, in terms of legality, and that it was justified under extraordinary circumstances.
The FBI launched an investigation exploring possible ties between Trump's 2016 campaign and Russia after they received information on July 26, 2016, that Papadopoulos had told an Australian diplomat about Moscow officials offering to release hacked Democrats emails to help get Trump elected, Special Counsel Robert Mueller's redacted 448-page Russia report revealed.
Turk's meeting with the then-Trump campaign aide occurred just weeks after the probe, named "Crossfire Hurricane," had commenced, according to the Times.
The White House and the Justice Department did not immediately respond to Newsweek's request for comment.
Without citing any specific evidence, Trump has claimed numerous times over the past two years that he believed the FBI had spied on his campaign. Attorney General William Barr spurred the controversy last month during his second consecutive day of testimony at a Senate Appropriations subcommittee, where he told members: "I think spying did occur."
"But the question is whether it was adequately predicated. And I'm not suggesting it wasn't adequately predicated. But I need to explore that," Barr added.
Papadopoulos tweeted his praise for the article on Thursday, but noted that he believed that Turk was actually "CIA and affiliated with Turkish intel," rather than an FBI agent as stated by the Times.
"I agree with everything in this superb article except "Azra Turk" clearly was not FBI," he tweeted. "She was CIA and affiliated with Turkish intel. She could hardly speak English and was tasked to meet me about my work in the energy sector offshore Israel/Cyprus which Turkey was competing with."
Papadopoulos served 12 days in jail in 2018 after pleading guilty to lying to investigators. He is currently in the middle of a year-long supervised release. In March, he revealed that he had sought a pardon from the White House.
"My lawyers believe, as they are the ones who formally submitted the application, that there's a basis for a pardon," he told CNN at the time.
However, around the same time, Trump lawyer Rudi Giuliani told the New York Daily News that, "No one should expect a pardon. [Trump] is not focused on that, and it's not going to happen."