FBI to Work With State, Local Agencies to Address Threats Made to School Boards, Teachers
Attorney General Merrick Garland addressed "a disturbing spike in harassment, intimidation, and threats of violence" against schools and employees on subjects such as mask mandates on Tuesday and plans to implement actions and investigations in the next 30 days, the Associated Press reported.
"While spirited debate about policy matters is protected under our Constitution, that protection does not extend to threats of violence or efforts to intimidate individuals based on their views," Garland said.
Garland said the FBI would begin working with federal, state, local, territorial and tribal authorities and hold strategy sessions to address the increasing threats that target teachers, school administrators, board members and other school officials.
Chip Slaven, National School Board Association (NSBA) interim executive director and CEO, said the Justice Department action is appreciated and well needed, as over 20 reports of threats, violence, harassment, and more were reported by the NSBA.
"Over the last few weeks, school board members and other education leaders have received death threats and have been subjected to threats and harassment, both online and in person," Slaven said. The department's action "is a strong message to individuals with violent intent who are focused on causing chaos, disrupting our public schools, and driving wedges between school boards and the parents, students, and communities they serve."
Last week, the NSBA asked President Joe Biden in a letter for help with the threats, to further investigate but to also address the violence as violation of federal law.
Garland assured them that the Justice Department would assist and "prosecute them when appropriate," and would "announce a series of measures designed to address the rise in criminal conduct directed toward school personnel."
For more reporting from the Associated Press, see below.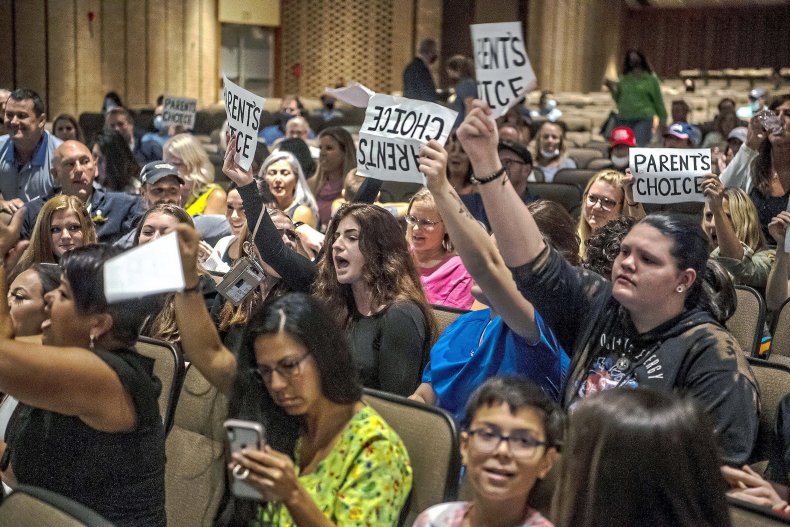 The (NASB) group's letter documented more than 20 instances of threats, harassment, disruption and acts of intimidation in California, Florida, Georgia, New Jersey, Ohio and other states. It cited the September arrest of an Illinois man for aggravated battery and disorderly conduct for allegedly striking a school official at a meeting. In Michigan, a meeting was disrupted when a man performed a Nazi salute to protest masking.
"We are coming after you," a letter mailed to an Ohio school board member said, according to the group. "You are forcing them to wear mask—for no reason in this world other than control. And for that you will pay dearly." It called the member "a filthy traitor."
School board members are largely unpaid volunteers, parents and former educators who step forward to shape school policy, choose a superintendent and review the budget, but they have been frightened at how their jobs have suddenly become a culture war battleground. The climate has led a growing number to resign or decide against seeking reelection.
Nicole Neily, president of Parents Defending Education, an Arlington, Virginia-based group formed in January, took the school board group and the Justice Department to task. In a statement emailed to The Associated Press she said: "It is shameful that activists are weaponizing the US Department of Justice against parents. This is a coordinated attempt to intimidate dissenting voices in the debates surrounding America's underperforming K-12 education – and it will not succeed. We will not be silenced."