FCC Says Emails About Chairman Ajit Pai's 'Harlem Shake' Video Are Confidential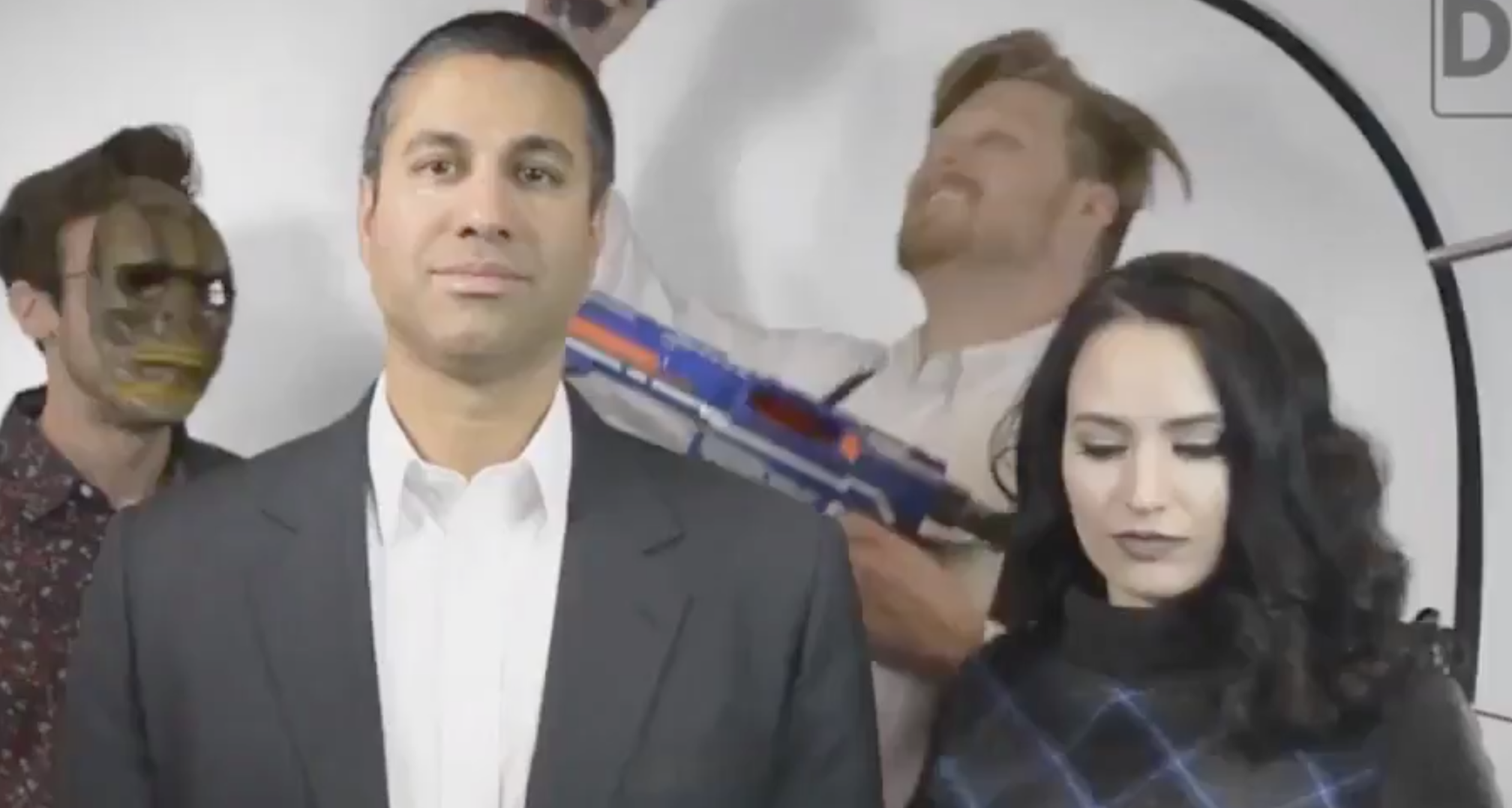 The Federal Communications Commission denied a public records request for emails pertaining to a "Harlem Shake" video in which chairman Ajit Pai danced next to a woman known for peddling the Pizza Gate conspiracy theory. Produced by conservative website The Daily Caller, the widely mocked video was a PSA meant to promote Pai's decision to overturn net neutrality rules.
Muckrock, a nonprofit devoted to filing and helping people file public records requests, asked for the emails after the video debuted in December 2017. In a letter dated April 4, the FCC denied turning them over on grounds that they were part of an exemption that covers materials written as part of a decision making process.
"Our search located two pages of internal email exchanges between personnel in the Office of the Chairman and the Office of Media Relations concerning the release of the video. We have determined that these emails are exempt for disclosure under FOIA Exemption 5, which covers "inter-agency or intra-agency memorandums" on a deliberative, or consultative, process.
Journalists and other Freedom of Information Act buffs have nicknamed the oft-used provision the "Withhold It Because You Want To" exemption.
Dubbed "7 Things You Can Still Do On the Internet After Net Neutrality Repeal," the 2017 video was a response to criticism the FCC received after it decided to roll back laws that prevent Internet companies from playing favorites with its subsidiaries. Called net neutrality, the Obama-era regulations attempted to level the playing field for online traffic sources. Pai said the regulation was bad for business.
In the video, Pai—himself a controversial figure—runs through a list of activities known to be popular among younger generations. After rattling off "gramming your food" and "posting photos of cute puppies," the 45-year-old arrives at the viral meme "do the Harlem Shake." A woman who appears dancing to his right was later identified by eagle-eyed Twitter users as Martina Markota, a video producer for The Daily Caller.
According to Gizmodo, Markota hosted a now-deleted demo reel in which she promoted the Pizzagate theory, which rose to prominence in 2016 and posits that the Democratic Party is connected to an underground network of child molesters.
Pizzagate peddlers—including Alex Jones—attempted to distance themselves from the unfounded theory after a gunman fired shots at a Washington D.C. pizza parlor. The South Carolina man told police he was there to "self-investigate" the theory.