FCC Commissioner Calls Chinese Drone Company a Potential 'Airborne Version of Huawei'
Federal Communications Commission (FCC) Commissioner Brendan Carr has called for Chinese drone company DJI to be placed on a blacklist, warning that the company could be "an airborne version of Huawei."
Carr's remarks were included in a Tuesday FCC news release that described DJI as a potential "Huawei on Wings." Huawei, a Chinese telecommunications and electronics company, was blacklisted in the U.S. in 2019 over concerns that the company's technology could be used to aid Chinese government espionage efforts. Carr suggested that products made by DJI, the world's largest maker of drones, could be used in similar ways.
"DJI drones and the surveillance technology on board these systems are collecting vast amounts of sensitive data," Carr said. "Everything from high-resolution images of critical infrastructure to facial recognition technology and remote sensors that can measure an individual's body temperature and heart rate."
"DJI's software applications collect large quantities of personal information from the operator's smartphone that could be exploited by Beijing," he added. "One former Pentagon official stated that 'we know that a lot of the information is sent back to China from' DJI drones."
Carr noted that, under Chinese law, the "vast troves of sensitive data" collected by DJI could be used for espionage purposes. He suggested that the company should be added to the FCC's "Covered List," which includes companies that are "deemed to pose an unacceptable risk to the national security" of the U.S. or "the security and safety of" Americans. Products from companies on the list are prohibited from being purchased with federal funds.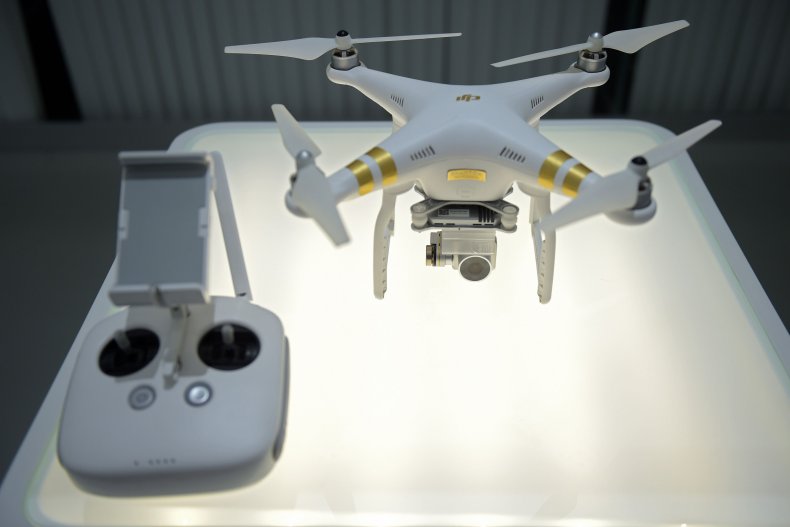 Huawei was added to the Covered List in March, as were fellow Chinese tech companies ZTE, Hytera, Dahua and Hikvision. Carr said that "the widespread use of DJI drones by various state and local public safety and law enforcement agencies" meant that "quick action" was needed to deal with the "national security threat" posed by DJI.
"The evidence against DJI has been mounting for years, and various components of the U.S. government have taken a range of independent actions—including grounding fleets of DJI drones based on security concerns," said Carr. "The FCC should take the necessary steps to consider adding DJI to our Covered List. We do not need an airborne version of Huawei."
The FCC is also considering whether to allow companies on the Covered List to be used in the U.S. regardless of whether federal funds are involved. DJI products currently account for over half of the U.S. drone market. The Department of Commerce placed DJI on a blacklist in December. Congress banned DJI drones from being purchased or used by the Department of Defense in 2019, while the Department of the Interior grounded a fleet of DJI drones the following year.
"DJI drones are safe and secure for critical and sensitive operations," DJI said in a statement obtained by Newsweek. "Our systems are designed so customers never have to share their photos, videos or flight logs with anyone, including DJI. The data security architecture that protects this information has been repeatedly validated by US government agencies as well as respected private cybersecurity analysts."
The FCC release touts Carr, a Republican who was nominated by former President Donald Trump in 2017, for leading "efforts to crack down on the threats posed by Communist China." The agency is headed by acting FCC Chairwoman Jessica Rosenworcel, a Democrat, while the two other active commissioners are Democrat Geoffrey Starks and Republican Nathan Simington. One of the five total FCC commissioner positions is currently vacant.