FDA Advisory Committee Votes For Emergency Authorization of COVID Vaccine, Still Needs Approval
A committee that advises the Food and Drug Administration (FDA) on vaccines has recommended that the Pfizer/BioNTech COVID-19 vaccine be given an Emergency Use Authorization (EUA) that would allow it to be used in the U.S. immediately.
The Vaccines and Related Biological Products Advisory Committee (VRBPAC) voted for emergency use by 17-4, with one abstention, during a meeting on Thursday. The five votes that were not in favor of approval may have occurred because the recommended approval includes anyone aged 16 or older, with some debate having focused on whether those aged 16 or 17 should be included due to limited data, although most of the panel agreed that the benefits of including them outweighed the risks.
The FDA directed Newsweek to tweet from Commissioner Stephen Hahn when asked for comment.
"Thank you to the scientific and public health experts who participated in the FDA's Vaccines and Related Biological Products Advisory Committee meeting today to discuss a request for Emergency Use Authorization for a vaccine to prevent #COVID19," tweeted Hahn.
The FDA still has to approve the recommendation for the EUA to go into effect, although they are likely to do so. It is possible that the EUA could be modified by the FDA to apply to only those 18 and older, or to address one of a small number other concerns raised by the panel. If the vaccine is approved, a limited number of doses will likely be available to a group that includes front-line health care workers within days.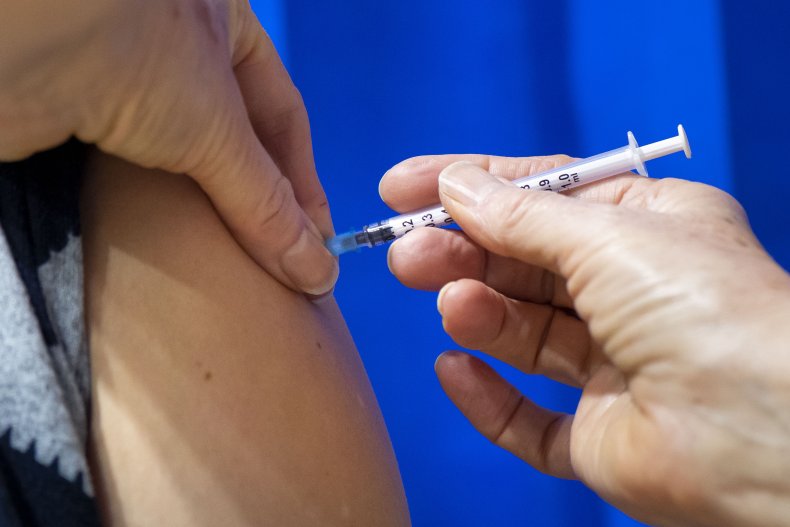 "Today's recommendation by FDA's Advisory Committee that an Emergency Use Authorization be issued for the Pfizer-BioNTech COVID-19 vaccine is a bright light in a needlessly dark time," President-elect Joe Biden said in a statement. "We are grateful to the scientists and researchers who developed this vaccine. And, we are grateful to the scientists and public health experts who evaluated the safety and efficacy of this vaccine free from political influence."
"The integrity of science led us to this point," added Biden "Vaccines don't equal vaccinations. Our challenge now is to scale up manufacturing and distribution to distribute 100 million shots in the first 100 days of my administration."
Other issues debated by the advisory committee included safety during pregnancy and among patients with a history of significant allergic reactions. In the U.K., where the vaccine was approved last week and started being administered on Tuesday, two health care workers who received it experienced severe allergic reactions, leading to a recommendation against giving it to those with a history of significant allergies.
The committee is also expected to meet next week to discuss a possible EUA for Moderna's coronavirus vaccine, which performed similarly to the Pfizer/BioNTech vaccine in clinical trials, with an efficacy rate of over 90 percent and no life-threatening safety concerns.
Update 12/10, 7:26 p.m.: This article has been updated to amend a portion of a statement from President-elect Joe Biden, who issued a corrected version of the original statement. Biden initially said the FDA had approved the vaccine, which was inaccurate.