FDA Announces Recall of SkinGuard24, Other Toxic Hand Sanitizers Sold
The U.S. Food and Drug Administration (FDA) has issued a warning about a hand sanitizer called SkinGuard24 and 10 others that have tested positive for methanol contamination. The recall list of hand sanitizers has soared past 100 products since the FDA issued its first recalls in June.
SkinGuard24 lists methanol among its ingredients, and the FDA has stated that the chemical's absorption through the skin or its oral ingestion can result in rashes, illnesses, irreversible nerve damage and even death.
The other hand sanitizers recently placed on the FDA's Do-Not-Use List for having methanol include Grupo Asimex de Mexico's Florance Morris Body Care Antiseptic Hand Sanitizer, Asimex International's Florance Morris Body Care Antiseptic Hand Sanitizer, Roldan Industries's Florance Morris Body Care Antiseptic Hand Sanitizer, Soluciones Dinámica's OZO Ozone Hand Sanitizer Gel, Goldsquare Hand Sanitizer and Medi Science Laboratories Germ Killa 70% Alcohol Hand Gel.
Newsweek contacted SkinGuard24 for comment.
Most hand sanitizers isopropyl alcohol, ethanol or n-propanol in concentrations of 60 to 95 percent because these chemicals destroy the molecular structure of germs, viruses and other micro-organisms that cause illness.
The sale of hand sanitizers has increased since the start of the ongoing COVID-19 epidemic as more people seek to cleanse their hands of possible coronavirus transmission.
As such, the FDA has been closely monitoring the safety, production and ingredients of hand sanitizers, issuing public warnings about sanitizers that contain methanol and 1-propanol in particular. Anyone who encounters dangerous hand sanitizers is encouraged to report them to the FDA at 1-800-332-1088.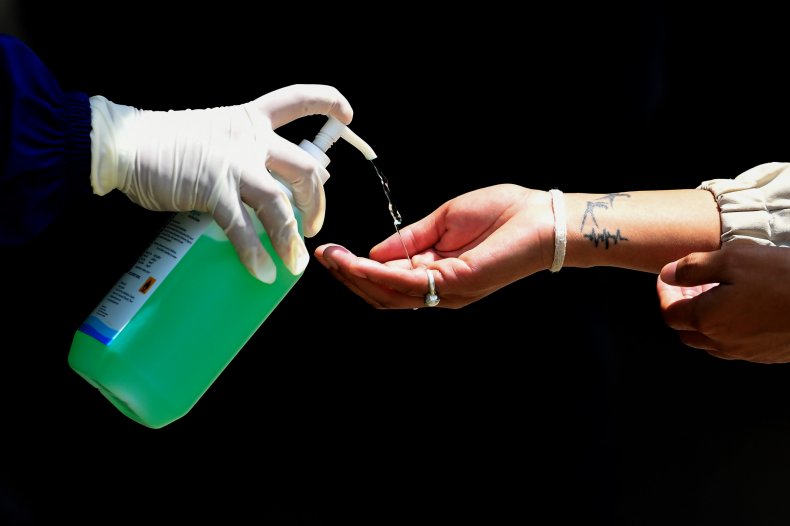 "Substantial methanol exposure can result in nausea, vomiting, headache, blurred vision, permanent blindness, seizures, coma, permanent damage to the nervous system or death," the FDA wrote in a Monday email alert.
According to the Methanol Institute, the global trade association for the methanol industry, ingestion of as little as one to four ounces of methanol can cause irreversible injury to the nervous system, systemic acidosis (a buildup of acid in the body leading to kidney shutdown), optic nerve damage and blindness or worse.
Exposure to methanol can also lead to headaches, weakness, drowsiness, nausea, difficult breathing, eye irritation, blurred vision and loss of consciousness. These symptoms can appear even 18 to 30 hours after ingestion.
The FDA suggests flushing the skin or eyes with tepid water if exposed to methanol and contacting a poison control center or seeking immediate medical attention if anyone swallows methanol.
"Although all persons using these products on their hands are at risk, young children who accidentally ingest these products and adolescents and adults who drink these products as an alcohol (ethanol) substitute, are most at risk for methanol poisoning," the alert continued.
On August 13, the FDA added different hand sanitizers from four U.S. states and China to its do-not-use list.