FDA Approval of Saliva-Based Coronavirus Testing Will Reduce Health Care Workers' Risk of Infection
The Food and Drug Administration has granted emergency approval for the first saliva-based coronavirus test, which could potentially reduce the risk of infection for health care workers while helping to alleviate shortages of medical supplies.
The approval was announced on Monday. The test was developed by researchers at New Jersey's Rutgers University, along with a private lab in the state and Utah company Spectrum Solutions. Unlike the somewhat invasive methods currently available, the new test requires a patient to spit into a tube which can then be collected and analyzed.
Current testing most commonly involves a long swab being inserted far into a patient's nose or throat and twisted for seconds, which can provoke strong reactions including gags and coughs from some patients, putting health workers at additional risk.
"Saliva testing will help with the global shortage of swabs for sampling and increase testing of patients, and it will not require health care professionals to be put at risk to collect samples," said Rutgers scientist and professor Andrew Brooks in a statement. "Saliva testing will also be important for people who are in quarantine because they don't know how long it will be until they are no longer infectious. This will allow health care workers to release themselves from quarantine and safely come back to work."
"The impact of this approval is significant," he added. "It means we no longer have to put health care professionals at risk for infection by performing nasopharyngeal or oropharyngeal collections. We can preserve precious personal protective equipment for use in patient care instead of testing. All of this combined will have a tremendous impact on testing in New Jersey and across the United States."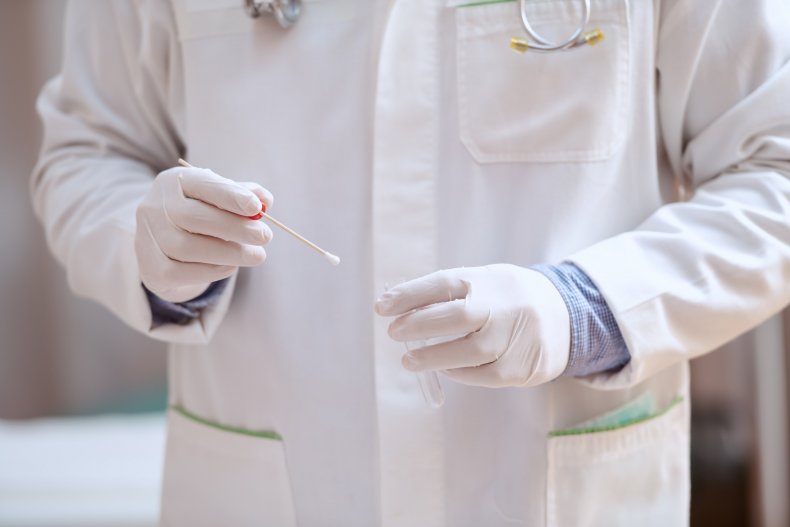 The saliva test is believed to be as accurate as current methods. It will first become available at select New Jersey testing sites as soon as Wednesday. The university says their lab could potentially process tens of thousands of test results per day.
Although saliva samples could be given without a patient coming into any direct contact with a health care worker, the FDA authorization specified that the tests could only be administered in a health care setting by a professional, according to the Associated Press.
Swab tests may pose a greater risk for health care workers, but the new tests are unlikely to eliminate risks completely if they require patients to make some form of contact with medical workers. Personal protective equipment has been in short supply due to the pandemic, but will likely still be vital in safeguarding any workers testing potentially infected patients.
Newsweek reached out to the FDA for comment but did not receive a response in time for publication.