FDA Approves Pfizer COVID Vaccine Booster, But Only For 'Certain Populations'
The Food and Drug Administration (FDA) has authorized Pfizer/BioNTech COVID-19 booster shots for "certain populations" who are at risk of developing severe disease.
The Pfizer/BioNTech vaccine, which is marketed under the name Comirnaty, became the first coronavirus vaccine to receive full FDA approval last month. Around the same time, President Joe Biden announced a plan to offer booster shots to every U.S. adult who had received a two-dose vaccine beginning this week, although the plan stalled and was ultimately altered following intense debate among health officials.
On Wednesday, the FDA approved limited boosters for the Pfizer/BioNTech vaccines at least six months after recipients aged 65 and over received their second dose. The agency said that some younger individuals who received the vaccine would also qualify, although specific eligibility details were unclear. Booster shots have not yet been approved for recipients of the Moderna and Johnson & Johnson vaccines.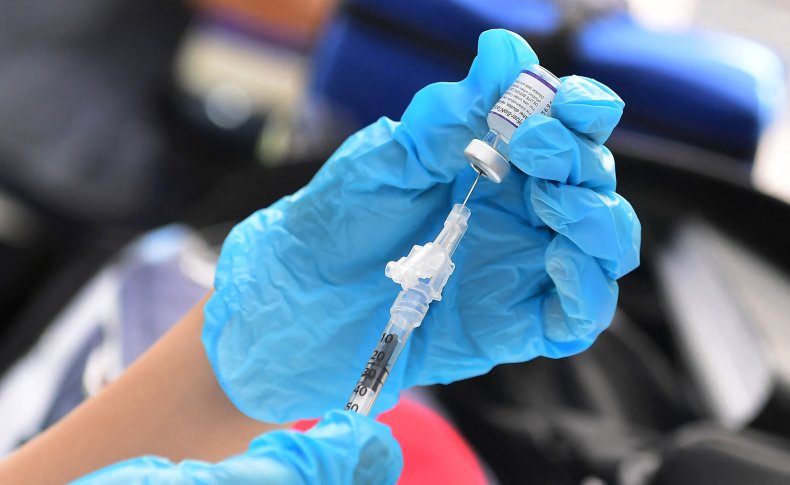 In addition to those who are 65 or older, the approved shots will be available to "individuals 18 through 64 years of age whose frequent institutional or occupational exposure to SARS-CoV-2 puts them at high risk of serious complications of COVID-19 including severe COVID-19," according to an FDA release. Those who are age 18 to 64 and have conditions that put them "at high risk of severe COVID-19" will also be eligible.
"This pandemic is dynamic and evolving, with new data about vaccine safety and effectiveness becoming available every day," acting FDA Commissioner Dr. Janet Woodcock said in a statement. "As we learn more about the safety and effectiveness of COVID-19 vaccines, including the use of a booster dose, we will continue to evaluate the rapidly changing science and keep the public informed."
Occupations deemed "high risk" include health care workers, teachers, grocery store workers, prison staff and people who work at homeless shelters. It was less clear what conditions the FDA believes put individuals at high enough risk to qualify for the shots, although many common conditions increase risk, including obesity—a category that includes over 40 percent of Americans.
More specifics on booster eligibility could soon come from the Centers for Disease Control and Prevention (CDC), with the issue being debated by an agency advisory panel in a two-day meeting that began on Wednesday. An FDA panel rejected Pfizer's request to approve the boosters for anyone over the age of 16 last week.
"Today's FDA decision is a major step forward in our effort to provide Americans with additional protection from COVID-19," White House Press Secretary Jen Psaki tweeted. "We have been preparing for weeks to administer booster shots to eligible Americans and are ready to do so following CDC's final recommendation later this week."
The FDA is also expected to consider booster shots for Moderna and Johnson & Johnson vaccines soon. Although the Johnson & Johnson vaccine was intended to be administered in a single-dose, the company said Tuesday that data from an ongoing study suggests that a two-dose version is 94 percent effective against moderate and severe COVID-19.
Newsweek reached out to the FDA and the CDC for comment.