FDA Approves Pfizer's COVID Booster for Kids Ages 12 to 15
The U.S. Food and Drug Administration (FDA) on Monday approved the distribution of Pfizer-BioNTech's COVID-19 booster shot for children ages 12 to 15.
The Centers for Disease Control and Prevention (CDC) still need to confirm the FDA's decision, with a ruling expected to be released by the end of this week.
"Throughout the pandemic, as the virus that causes COVID-19 has continuously evolved, the need for the FDA to quickly adapt has meant using the best available science to make informed decisions with the health and safety of the American public in mind," Janet Woodcock, the acting FDA commissioner, said in a statement.
"With the current wave of the omicron variant, it's critical that we continue to take effective, life-saving preventative measures such as primary vaccination and boosters, mask-wearing and social distancing to in order to effectively fight COVID-19."
The decision comes amid increasing numbers of children being hospitalized for COVID-19 since the emergence of the Omicron variant, though White House chief medical adviser Dr. Anthony Fauci said it is not cause for alarm.
"When you have such a large volume of infections among children, even with a low level of rate of infection, you're going to still see a lot more children who get hospitalized," Fauci told MSNBC.
"If a child goes in the hospital they automatically get tested for COVID and they get counted as a COVID hospitalized individual, when in fact they may go in for a broken leg or appendicitis or something like that. So it's overcounting the number of children who are 'hospitalized' with COVID as opposed to because of COVID."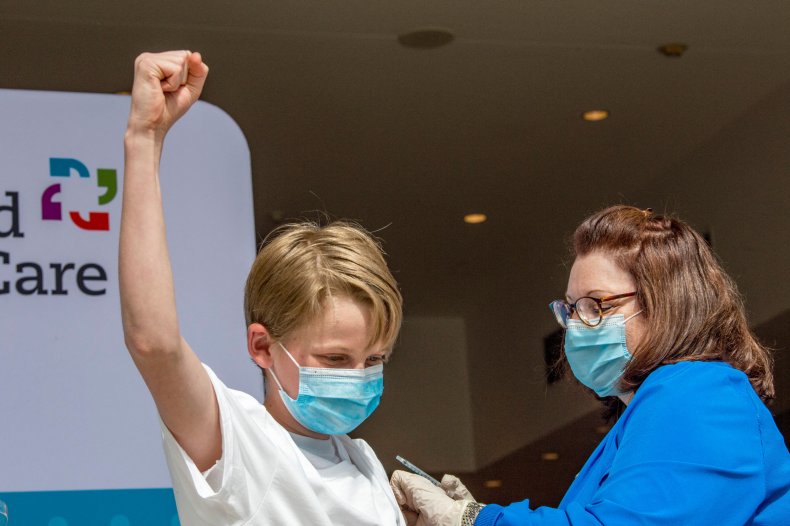 Real-world data from Israel tracked more than 6,300 12- to 15-year-olds who got a booster there at least five months after their second Pfizer dose and found no serious safety concerns, the FDA said.
Likewise, the FDA said even more data from Israel showed no problems with giving anyone eligible for a Pfizer booster that extra dose a month sooner than the six months that until now has been U.S. policy.
Vaccines still offer strong protection against serious illness from any type of COVID-19. But health authorities are urging everyone who's eligible to get a booster dose for their best chance at avoiding milder breakthrough infections from the highly contagious Omicron mutant.
Children tend to suffer less serious illness from COVID-19 than adults. But child hospitalizations are rising during the Omicron wave—most of them unvaccinated.
The vaccine made by Pfizer and its partner BioNTech is the only U.S. option for children of any age. About 13.5 million 12- to 17-year-olds—just over half that age group—have received two Pfizer shots, according to the CDC.
For families hoping to keep their children as protected as possible, the booster age limit raised questions.
The older teens, 16- and 17-year-olds, became eligible for boosters in early December. But original vaccinations opened for the younger teens, those 12 to 15, back in May. That means those first in line in the spring, potentially millions, are about as many months past their last dose as the slightly older teens.
As for even younger children, kid-size doses for 5- to 11-year-olds rolled out more recently, in November—and experts say healthy youngsters should be protected after their second dose for a while. But the FDA also said Monday that if children that young have severely weakened immune systems, they will be allowed a third dose 28 days after their second. That's the same third-dose timing already recommended for immune-compromised teens and adults.
Pfizer is studying its vaccine, in even smaller doses, for children younger than 5.
The Associated Press contributed to this report.
Update 1/3/22, 10:40 a.m. ET: This article was updated with additional information.