FDA Chief Contradicts Trump on Vaccine Approval Timeline, Hopes 1st Shot Administered on Monday
Stephen Hahn, commissioner at the U.S. Food and Drug Administration (FDA), contradicted President Donald Trump's claim that Pfizer's COVID-19 vaccine could have received an emergency use authorization earlier than it did.
Speaking to ABC News correspondent Martha Raddatz during the network's This Week program on Sunday morning, Hahn reiterated the health administration's commitment to conducting a comprehensive review prior to giving approval.
"From the beginning, Martha, [we] said the only thing that's going to matter in this is the science and data," the commissioner told Raddatz. "And of course, of course, we've been asked to speed this process as much as possible."
"We do not feel that this could have been out a week earlier," Hahn continued. "We went through our process. We promised...the American people that we would do a thorough review of the application, and that's what we did."
The FDA formally authorized the country's first COVID-19 vaccine on Friday, giving federal officials the green light to begin distributing initial shipments to states for emergency use. The vaccine, developed by U.S.-based pharmaceutical corporation Pfizer in coordination with German biotechnology company BioNTech, applied for emergency use authorization from the FDA last month.
FDA officials could approve another COVID-19 immunization candidate, developed by biotechnology company Moderna in partnership with the National Institutes of Health, for emergency use next week.
Trump, who pressured Hahn to "get the dam [sic] vaccines out NOW" in a message shared to Twitter on Friday, later credited himself with the immunization's current distribution status and suggested an emergency use authorization from the FDA could have come sooner.
"Now you have it rolling out," Trump told Fox News' Brian Kilmeade during an interview that aired Sunday, in reference to the Pfizer/BioNTech vaccine. "And frankly, they could have done it last week," he said of the FDA. "They could have even done it a week sooner. They heard from me."
Earlier, the sitting president described the federal bureau as a "big, old, slow turtle" in a tweet calling for a hastier vaccine approval process.
"Stop playing games and start saving lives!!!" he wrote, after tagging Hahn directly.
The first COVID-19 immunization shipments were dispensed out to states on Sunday. In accordance with recommendations issued by the Centers for Disease Control and Prevention (CDC), the vast majority will administer vaccines to at-risk health care workers as well as residents of long-term care facilities after receiving preliminary doses this week.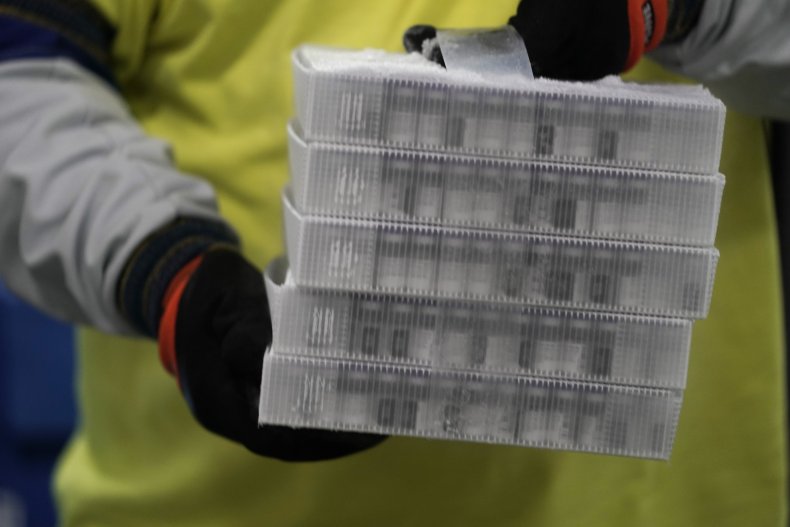 Hahn said vaccines would be administered to the earliest recipients, ideally, on Monday.
"My hope, again, is that this happens very expeditiously, hopefully tomorrow," the FDA commissioner told Jake Tapper during an appearance on CNN's State of the Union Sunday. "We've seen the vaccines go out, we've seen the press reports of hospitals waiting to vaccinate health care workers and those most vulnerable...so it would be my greatest hope and desire that that occur tomorrow."
Newsweek reached out to the White House for comment, but did not receive a reply in time for publication.