FDA Could Make Decision on COVID-19 Vaccine for 6-Month-Olds by End of Year
Officials could have data on the safety and efficacy of COVID-19 vaccines on children as young as 6-months-old by the end of the year, according to Dr. Anthony Fauci. However, it will be up to the Food and Drug Administration (FDA) to recommend whether they should be inoculated.
The Centers for Disease Control and Prevention (CDC) is recommending that children 12 and older get vaccinated against COVID-19, as studies show it can prevent infection. While children are far less likely than adults to become seriously ill from the new coronavirus, some have died of the virus or passed it along to at-risk family members, driving a need for them to be protected, as well.
On Tuesday, Fauci told MSNBC's Andrea Mitchell that the federal government and pharmaceutical companies are doing age de-escalation studies. The purpose is to identify how safe and effective vaccines are in children in several age groups—12- to 9-years-old, 9- to 6-years-old, 6- to 2-years-old, and 2-years-old to 6-months-old.
Data from those studies will "likely" be available by the end of the year, according to Fauci, giving the FDA the information it needs to decide when to recommend vaccinations for children under 12-years-old.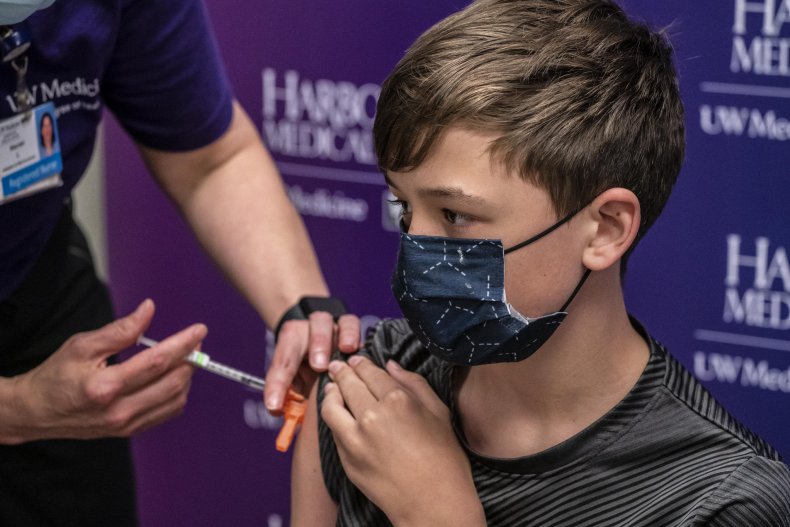 Pfizer previously stated that the company thinks it'll have enough data to submit an emergency use authorization for younger children by September. If that happens, it's possible the FDA could approve the vaccine for children under 12 by October, according to Healthline.
However, that timeline is extremely tentative and along with needing to evaluate the data from studies, the FDA will likely weigh the benefits of the COVID-19 vaccine against the potential side effects. Given that children are less likely to become seriously ill, it's possible the agency will wait until it has additional data to issue the emergency use authorization.
Newsweek reached out to the FDA for comment, but did not receive a response in time for publication.
Since the vaccination is currently not available for children under 12, Fauci advised any child over the age of 2-years-old, who cannot be vaccinated yet, continue to wear masks. The mitigation method has become a point of contention for some and a highly politicized topic, but Fauci defended wearing masks as being rooted in science.
One study looking into the effects of the COVID-19 vaccine on young children is taking place at the University of Colorado in Aurora. Parents who are looking to have their child among the first in the 6-to-11 age group vaccinated can participate in the trial that's scheduled to begin on August 7.
Participants will either receive the Moderna vaccine or a placebo and after monitoring how the vaccine impacts the 6- to 11-year-olds, researchers plan to conduct tests on kids between the ages of 2 and 6.
"Vaccines for children are part of our solution for trying to get out of the pandemic and getting back to normal," Dr. Myron Levin, a professor of pediatrics and infectious diseases at University of Colorado, said in a statement.
Along with mask-wearing, the COVID-19 vaccine has drawn passionate responses from both those who believe everyone should be vaccinated and those who vehemently oppose the vaccinations. Some, including Fauci, are pushing for more local mandates to incentivize people to get vaccinated, and it's possible states could require vaccinations to attend public school.
There's precedent for states mandating vaccines for students, but it's unlikely to happen until the vaccines become widely available. Some states, though, are attempting to make sure there's no way to enact the requirement.
At least seven states have passed legislation barring public schools from requiring students be vaccinated against COVID-19 or disclose their vaccination status. So it's possible health officials may have to rely on public messaging to convince parents to get their kids vaccinated.