FDA Issues Halloween Warning: Decorative Contact Lenses Can Cause Blindness, Infection, Cornea Scratches
Vampire and zombie hopefuls, as well as those just looking to add some extra pizzazz to their Halloween costumes, need to steer clear of colored lenses, according to the Food and Drug Administration (FDA).
"Want to see something really scary? Wear colored contacts w/o a prescription & you might have trouble seeing anything at all," the FDA said in a tweet. "You can have all of these looks with decorative contact lenses," the agency added in an official, if somewhat pointed, consumer update.
Despite their popularity, "decorative contact lenses" require prescriptions from eye doctors to avoid eye injuries, according to the FDA. Those advertising them as cosmetics or selling them over the counter are breaking the law, the update stated.
The primary risk to Halloweeners involves a poor fit. Ophthalmologists or optometrists typically measure lenses to fit eyes and evaluate how they respond after the fact. Without these measurements, the contacts can cause infections, blindness, pink eye, infections and cornea scratches, according to the FDA.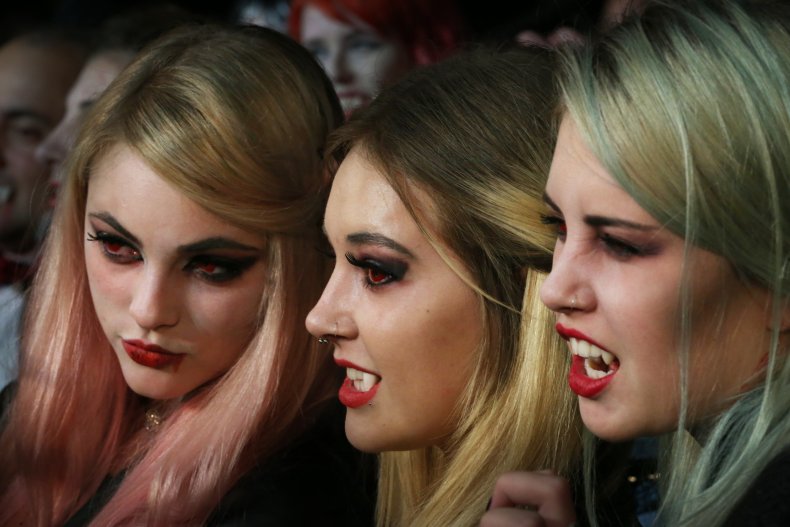 Treating the broad range of injuries can require serious eye surgeries like corneal transplants, according to the American Academy of Ophthalmology (AAO). Its site describes how costume contacts partially blinded South Carolina native Julian Hamlin when he was 17.
Hamlin, now legally blind in his left eye, underwent 10 surgeries to fix the infections, cataract and secondary glaucoma resulting from the lenses. "It gets difficult at times," Hamlin told the AAO in 2014. "It's definitely changed my life forever."
Hamlin bought the lenses for $20 from a gas station, according to the AAO. Gas stations and similar vendors, including salons, boutiques, flea markets and Halloween stores, are unlikely to take the proper precautions, the FDA said.
With do-it-yourself costumes becoming more popular in recent years, some teenagers may neglect to get decorative lenses through the proper channels.
Christianne Schoedel, an ophthalmologist in Pennsylvania, told Fox 43 that people rarely come in for colorful contacts prescriptions, even though many patients require some degree of instruction for using lenses properly in general.
"Maybe one or two in my whole career," Schoedel said to Fox 43.
Schoedel warned that, even with prescriptions, the lenses carry certain risks, since the designs are usually painted directly onto the contact, which restricts oxygen to the cornea, according to several medical authorities.
Since 2016, the American Optometric Association's "31 in 31" annual October letter-writing campaign has called out a total of 124 shops and sellers suspected of selling the lenses illegally, according to Fox 43.