The Food and Drug Administration (FDA) has taken Juul e-cigarettes off the market in the U.S., three years after the company stopped selling its fruity and sweet flavors after being accused of targeting minors.
The FDA issued the ban on Wednesday, stating, "the company must stop selling and distributing these products. In addition, those currently on the U.S. market must be removed, or risk enforcement action."
Why Ban Juul?
Founded in 2015 and now headquartered in Washington D.C., Juul quickly became the most popular e-cigarette brand in the U.S. —and is now second only to Reynolds' Vuse brand—, thanks to a massive, hip social media campaign that launched its products on the national market.
Juul —which looks a bit like a USB flash drive— is immensely popular among teenagers and is considered something of a teen status symbol. Its appeal to young people, which has raised concerns of reversing long-term declines in the number of youths picking up smoking, is what first got the company into trouble with the FDA.
The federal agency started looking into Juul's products four years ago, prompted by accusations that the company's sweet and fruit-flavored products, together with Juul's glamorizing marketing strategy, encouraged people to pick up vaping instead of quitting smoking.
Since then, the company has been trying to adapt to the closer scrutiny of regulators and the public, stopping the sale of sweet and fruity flavors in 2019 and voluntarily shutting down its Facebook and Instagram accounts. Sweet and fruity e-cigarette cartridges were then completely banned by the FDA in 2020.
But concerns remained over how safe Juul's e-cigarettes are compared to traditional tobacco. The nicotine content in Juul's e-cigarettes remains quite high, and its impact on vapers' health hasn't yet been properly assessed.
In 2020, the FDA requested that all U.S. e-cigarette manufacturers hand in data on their products for the agency to review whether these should stay on the market. Juul asked to continue selling its tobacco- and menthol-flavored products in 3 percent and 5 percent nicotine strengths.
Juul agreed to pay North Carolina $40 million last year and change its business practices in the state in a settlement reached after regulators blamed the company for the rising popularity of e-cigarettes among teenagers.
Juul Labs, which is 35 percent owned by Marlboro maker Altria, says on its website that it is "committed to helping adult smokers transition away from combustible cigarettes, while combating the serious problem of underage use."
Is Juul The Only E-Cigarette Company Affected?
The FDA has previously cleared the way for Reynolds American Inc. and NJOY Holdings Inc.—Juul's biggest rivals—to keep tobacco-flavored e-cigarettes on the market, leading industry observers to expect a similar approval for Juul.
Big changes could shake the market soon, as in April the FDA announced plans to ban all menthol-flavored cigarettes and cigars in the U.S., a move that the agency said will reduce youth initiation and tobacco-related deaths and diseases.
The FDA also plans to set a maximum nicotine level in cigarettes, looking to make them less addictive as tobacco-related deaths remain the number one cause of preventable deaths in the country.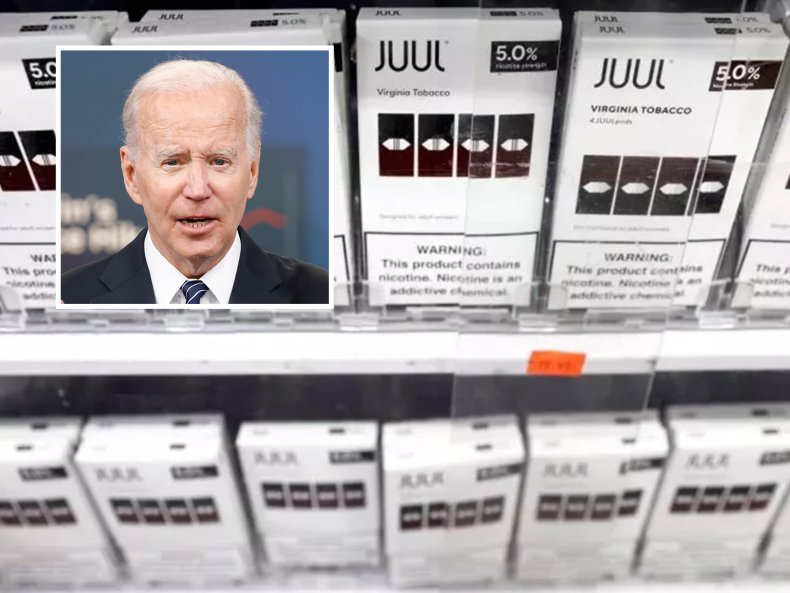 Correction 6/23/22 8:03 a.m. EDT: This article was updated to correct a reference to the FDA. The FDA has announced plans to ban menthol-flavored cigarettes, but not e-cigarettes.
Uncommon Knowledge
Newsweek is committed to challenging conventional wisdom and finding connections in the search for common ground.
Newsweek is committed to challenging conventional wisdom and finding connections in the search for common ground.
About the writer
Giulia Carbonaro is a Newsweek Reporter based in London, U.K. Her focus is on U.S. and European politics, global affairs and housing. She has covered the ups and downs of the U.S. housing market extensively, as well as given in-depth insights into the unfolding war in Ukraine. Giulia joined Newsweek in 2022 from CGTN Europe and had previously worked at the European Central Bank. She is a graduate of Nottingham Trent University. Languages: English, Italian, French.
You can get in touch with Giulia by emailing g.carbonaro@newsweek.com.