FDA Recalls 11,000 Weis Ice Cream Containers Over Metal Shards Fears
Regulators are urgently recalling nearly 11,000 containers of Weis ice cream over fears the products may contain metal shards.
The Food and Drug Administration (FDA) recalled the frozen treats made by Weis Markets over concerns the products could be "contaminated with extraneous material, specifically metal filling equipment parts."
One customer discovered an intact piece of metal equipment in a 48 oz container of Weis Quality Cookies and Cream Ice Cream, the agency said in a statement.
There are fears that an additional piece of equipment present in the ice cream may possibly present a choking hazard.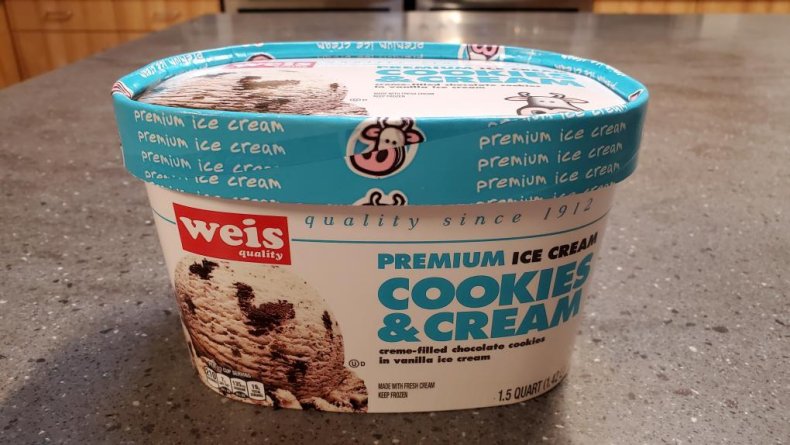 The company has subsequently recalled 10,869 containers of Weis Quality Cookies and Cream Ice Cream in 48-ounce containers, as well as 502 bulk units of Klein's Vanilla Dairy Ice Cream in three-gallon containers.
The ice cream was sold at 197 Weis Markets stores across Pennsylvania, Maryland, Virginia, New Jersey, New York, Delaware, and West Virginia.
The vanilla bulk ice cream packages were not available for retail sale and were sold to one retail establishment in New York, but have since been removed from sale.
The Cookies and Cream ice cream has a sell-by date of October 28, 2021, which can be found near the bottom of the container.
Two other types of ice cream were packaged on the same date but were stored in a warehouse and never distributed.
The news comes after at least 70 dogs died following the consumption of poisonous pet food that is now also being urgently recalled by regulators.
The FDA recalled additional brands manufactured by Midwestern Pet Foods following the discovery of potentially fatal levels of aflatoxin in some batches.
The company had already recalled three varieties of Sportmix dog and cat foods in December after 28 dog deaths were linked to the food.
Another 42 dogs have died after eating the products in the past two weeks.
The affected products were made in an Oklahoma manufacturing plant and distributed to online retailers and stores nationwide within the United States, the FDA said in a statement.
The number of brands affected now includes all Midwestern Pet Foods dry dog and cat foods containing corn, manufactured in the company's Oklahoma plant, and having an expiration date on or before July 9, 2022.
"As of January 11, 2021, FDA is aware of more than 70 pets that have died and more than 80 pets that are sick after eating Sportmix pet food," the FDA said.
The agency noted that not all cases have been officially confirmed as aflatoxin poisoning, through either laboratory testing or veterinary record review, and stressed that the count is approximate and may not reflect the total number of pets affected.