FDA Says Trucks Used to Store Bodies of Coronavirus Victims Can Carry Food, Even If Blood Leaked Inside Vehicles
On Wednesday the U.S. Food and Drug Administration released a handbook that verified that human and animal foods can be transported in refrigerated vehicles and food storage units that have been used to preserve human remains during the COVID-19 pandemic, even if the vehicles and units have come into contact with blood or bodily fluids from coronavirus victims.
Refrigerated food trucks have been used since early March to help store bodies outside of hospitals, morgues and funeral homes in cities with high coronavirus death rates, like New York City.
"Refrigerated food transport vehicles and refrigerated food storage units used for the temporary preservation of human remains during the COVID-19 pandemic subsequently can be safely used for food transport and food storage under certain circumstances," the FDA wrote in its handbook.
However, the FDA said that all trucks and storage units should be "thoroughly cleaned and disinfected," perhaps several times, with EPA-registered disinfectants that have proven effective against COVID-19 and foodborne pathogens.
The trucks and storage units need to be brought to "the appropriate temperature" before disinfection, the FDA wrote, and the workers who clean and disinfect the spaces must be protected from exposure to hazardous chemicals.
The FDA also specified that vehicles and units that have come into contact with human blood or bodily fluids should not be used if they have offensive odors, refrigeration components that cannot be cleaned, or any interior surfaces that have been damaged, compromised or that are porous and cannot be removed or replaced.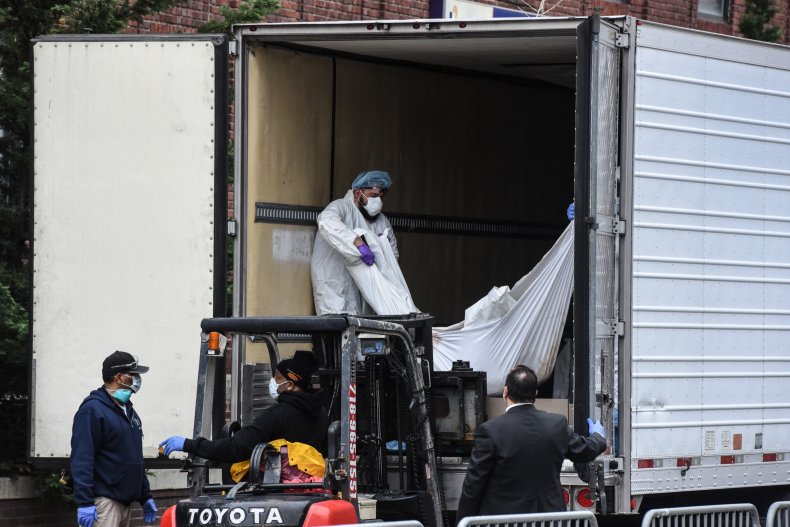 The FDA says its recommendations for cleaning, disinfecting and reusing refrigerated trucks and units "should be viewed only as recommendations," and not as legally enforceable responsibilities.
The federal agency added that other federal, state and municipal regulations may require additional cleaning or care to help sanitize such spaces and protect those who work in them.
"This guidance is being implemented without prior public comment because FDA has determined that prior public participation for this guidance is not feasible or appropriate," the handbook notes.
Newsweek reached out to the FDA for further information. This story will be updated with any response.
Dr. Jeremy Rose, an emergency room physician at Mount Sinai Beth Israel Hospital in Manhattan, recently wrote in The Washington Post that he worries the refrigerator truck will become "our era's defining symbol."
"People were reassured that a 1 percent fatality rate wasn't that bad. It turns out that 1 percent is a horrifically perfect number." he wrote, "Low enough for the disease to avoid detection, but large enough to kill millions of people if left unchecked."
Rose said that without expanded national testing and consistent guidelines for preventing COVID-19's spread, "we, our loved ones, our friends, our neighbors and strangers will share the same fate met by too many of my patients—the refrigerator truck."