FDA Warns of Dozens More 'Toxic' Hand Sanitizers to Avoid in Expanded List
Amid the ongoing novel coronavirus outbreak, hand sanitizers have been flying off the shelves at shops across the country, with customers keen to keep their hands as clean as possible.
Last month, the U.S. Food and Drug Administration (FDA) issued a warning against the use of a selection of hand sanitizers potentially containing methanol, which can "be toxic when absorbed through the skin or ingested and can be life-threatening when ingested," the FDA noted in a statement this month.
The list of hand sanitizers under the warning has been updated recently, with 42 more products added this month from July 8 to 10, including several which have been recommended for recall. The latest update brings the current listing of hand sanitizers to avoid to 59, the FDA confirmed on its website.
"Methanol is not an acceptable active ingredient for hand sanitizers and must not be used due to its toxic effects. FDA's investigation of methanol in certain hand sanitizers is ongoing. The agency will provide additional information as it becomes available," the FDA stated.
The FDA was reported to be aware of "adults and children ingesting hand sanitizer products contaminated with methanol," which has led to blindness, hospitalizations and death, the statement confirmed.
The administration also raised concerns for "products that are fraudulently marketed as 'FDA-approved' since there are no hand sanitizers approved by FDA," among a string of other issues relating to the safety of hand sanitizers, the statement noted.
Last week, 19,000 bottles of the All Clean Hand Sanitizer, Moisturizer and Disinfectant sold in one liter bottles were recalled for the potential presence of methanol.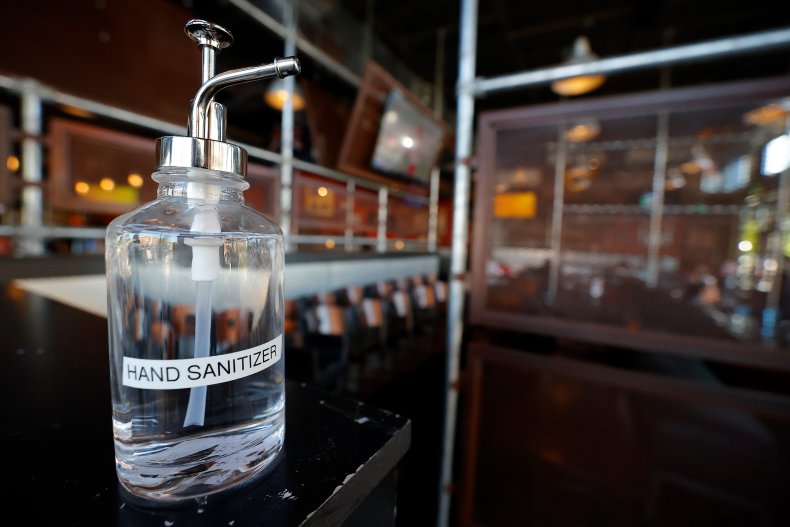 Below are the hand sanitizers added from July 8 to 10 to the FDA listing. See the FDA website for the current full list and more information about each product, including those recommended for recall.
Hand sanitizers recently added to FDA warning list
Added July 10
Shine and Clean Hand Sanitizer
Selecto Hand Sanitizer
Hand sanitizer (labeled with Wet Look Janitorial and Gardening Corp.)
Daesi hand sanitizer
Added July 8
Blumen Clear Advanced Hand Sanitizer with 70 Percent Alcohol
Blumen Advanced Instant Hand Sanitizer Clear Ethyl Alcohol 70 Percent
Blumen Advanced Instant Hand Sanitizer Clear
Klar and Danver Instant Hand Sanitizer (labeled with Greenbrier International Inc.)
Modesa Instant Hand Sanitizer Moisturizers and Vitamin E
Blumen Advanced Hand Sanitizer
Blumen Advanced Hand Sanitizer Aloe
Blumen Advanced Instant Hand Sanitizer Lavender
Blumen Clear LEAR Advanced Hand Sanitizer
Blumen Clear Advanced Hand Sanitizer
The Honeykeeper Hand Sanitizer
Blumen Advanced Hand Sanitizer Clear
Blumen Clear Advanced Instant Hand Sanitizer
Blumen Clear Advanced Instant Hand Sanitizer Aloe
Blumen Clear Advanced Instant Hand Sanitizer Lavender
Blumen Aloe Advanced Hand Sanitizer, with 70 Percent Alcohol
Blumen Advanced Hand Sanitizer Lavender, with 70 Percent alcohol
Blumen Advanced Hand Sanitizer Aloe, with 70 Percent Alcohol
Blumen Antibacterial Fresh Citrus Hand Sanitizer
Blumen Hand Sanitizer Fresh Citrus
Klar and Danver Instant Hand Sanitizer
Hello Kitty by Sanrio Hand Sanitizer
Assured Instant Hand Sanitizer (Vitamin E and Aloe)
Assured Instant Hand Sanitizer (Aloe and Moisturizers)
Assured Instant Hand Sanitizer Vitamin E and Aloe
Assured Instant Hand Sanitizer Aloe and Moisturizers
Blumen Instant Hand Sanitizer Fragrance Free
Blumen Instant Hand Sanitizer Aloe Vera
Assured Aloe
Earths Amenities Instant Unscented Hand Sanitizer with Aloe Vera Advanced
Hand Sanitizer Agavespa Skincare
Vidanos Easy Cleaning Rentals Hand Sanitizer Agavespa Skincare
Andy's Best
Andy's
Gelclor
NeoNatural
Plus Advanced
Optimus Lubricants Instant Hand Sanitizer