FDNY Denies Employing 'Your Body is Mine' Protestor
The New York City Fire Department (FDNY) on Monday released an official statement after a video went viral online showing a man in an FDNY shirt shouting at abortion-rights protesters. The department insisted that the man in the video, who shouted "Your body is mine," does not work for them and confirmed that an investigation is underway.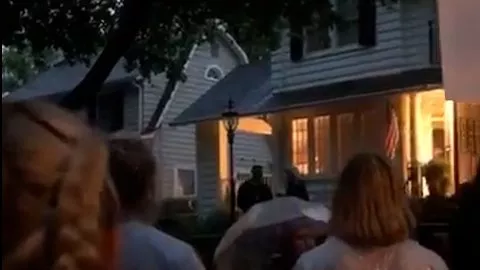 "A video circulating from a protest in Manhattan over the weekend shows an individual wearing a FDNY sweatshirt," Deputy Commissioner of Public Information Frank Dwyer said in a statement released on the FDNY Twitter account. "The individual in the video is not a member of the FDNY. The comments made do not represent the views of the FDNY. The matter is under investigation."
The demonstration took place on Mother's Day near St. Patrick's Old Cathedral in Lower Manhattan, drawing both abortion-rights and anti-abortion advocates. It came on the heels of the news that the Supreme Court of the United States (SCOTUS) is expected to overturn Roe v. Wade, the 1973 decision that assured nationwide access to abortions. The decision would make abortion laws a state matter, many of which would automatically outlaw the practice outright.
A version of the video was shared by author and activist Amy Siskind on Sunday and has garnered over 2 million views as of Monday afternoon. In it, the man in question, who has not yet been identified, can be seen speaking from the steps of the cathedral, flanked by three other men.
"You have no choice," the man can be heard shouting with a gleeful look on his face. "Not your choice, not your body, your body is mine."
The clip has also been shared amongst far-right U.S. lawmakers, like Rep. Marjorie Taylor Greene of Georgia and Rep. Paul Gosar of Arizona, who have embraced the man and the other anti-abortion demonstrators at the event as "heroes," according to NBC New York.
Newsweek reached out to the FDNY for comment.
In response to the leaked SCOTUS draft opinion that kickstarted the nationwide conversation about Roe v. Wade, New York Gov. Kathy Hochul, a Democrat, pledged to protect abortion rights in the state and called on Congress to codify abortion protections into law.
"When New York legalized abortion three years before Roe v. Wade, our state served as a safe harbor for those seeking abortion care, and with Supreme Court threatening to strike down Roe, we stand ready to once again welcome those in need," Hochul said in a letter sent to Congress.
{{#isDisplay}} {{/isDisplay}}