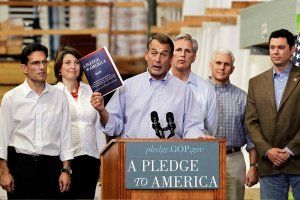 As I looked out over the sea of pasty white faces at the Republicans' "Pledge to America" unveiling at the Tart Hardware store in Sterling, Va., I couldn't help but notice how little diversity there was in the crowd. Row upon row of mostly middle-aged white guys stared forward as Ohio Rep. John Boehner and his congressional band of merry men and women unveiled their plan to take back America from the gay-marriers and the pro-choicers. And that was just the press.
To be fair to the scribes, the Republicans weren't exactly setting a good example on the whole melting-pot front either. Their 45-page "A Pledge to America" booklet, which was handed out to a lucky few at the event before they ran out, has more than 50 photos featuring hundreds of patriotic Republicans. But you had to wait until page 44 to find a person of color, and she was sitting at a table with 13 white people while being lectured by a white woman. (Clarification: there was only one person of color if you don't count Boehner, who is so orange in his official photo in the booklet that you have to assume his staffers are just messing with us.)
The Republicans decided the right place in this economy to unveil this plan was way out in Sterling, Va., an exurban edge-city 45 minutes and $3.50 worth of tolls from the stately Capitol where Newt Gingrich made his stand back in 1994 with a large number of members of Congress in attendance. Their "new governing agenda," called "A Pledge to America"—sort of a poor man's "Contract With America"—does promise to do some pretty dramatic things, like "repeal and replace the government takeover of health care," and "canceling the Troubled Asset Relief Program (TARP) and reforming Fannie Mae and Freddie Mac."
But only about a dozen members of Congress were on stage in Sterling, and one has to wonder about the political expediency of offering too many specifics just now, when every break is going the way of the Republicans lately. Wasn't it Alabama football coach Bear Bryant, or perhaps Sun Tzu, who said if your opposition is imploding, get out of the way? Instead of an ironclad "contract," they're settling for its lesser cousin, the "pledge." And instead of the imposing Capitol dome overlooking the great expanse of the National Mall as a backdrop, Boehner & Co. settled for a tiny wooden stage in a sweaty lumber room between piles of Plytanium Plywood and three kinds of lattice: privacy, regular, and super-duty. So maybe there was some diversity in the room after all.
Tart Hardware, whose motto is "Everything to Build Anything," definitely isn't imposing or majestic. But maybe that's the point the Republicans are making. It sits amid a sea of asphalt in one of those depressing, dusty industrial areas that litter Loudoun County and surround the Dulles airport corridor. The store is down the street from a strip mall with discounted shoes and mattresses, and just around the corner from a Spanish Pentecostal church. Tiny Tart is up against it in this economy, trying to compete with the likes of Home Depot and Lowe's. A sign in the lumber room said, "Lift With Your Legs, Not Your Back." That has nothing to do with this essay, but it's good advice.
During the event, several of the members of Congress took turns making mini-speeches. The best line was delivered by Texas Rep. Jeb Hensarling, who said, "The closest thing to eternal life on earth should not be a federal program." But he lost points for wearing khakis with cowboy boots, which gave me a Bush flashback there for a second. (We might be seeing more of this fashion trend after the midterms.) I went through my notes looking for other pithy lines, but since at one point I actually wrote "blah blah blah" in my notebook, I think maybe I'll leave it at this one.
After a question-and-answer period, the members retreated to the back of the lumber room and then exited toward their rides. We weren't allowed to walk out there, so we watched them through these little garage-door windows, like we were watching fish at the National Aquarium. If Boehner were a fish, he'd be a puffer fish, because he was sucking a deep drag on a cancer stick the instant he got outside.
Across the parking lot from the hardware store, kept at a safe distance by high fencing and security guards and Secret Service types, were about a dozen folks who looked suspiciously like Tea Party people. But when I asked their leader if they were, he said, "Oh, no," as if I had just insulted him. The guy standing next to him, however, was holding a tea kettle. When I asked him if that meant he was a Tea Party guy, he said, "Oh, no, that's just a prop." His name was Scott Cypher, a 52-year-old chiropractor from nearby Leesburg. He said he was there because "my business is getting its pants taxed off." He went on some more about taxes, and then asked me if I knew that some schoolkids in Wellesley, Mass., are being bused out of their district where they then "pray at a mosque!" I hoped to hear more, but the people who weren't in the Tea Party behind me started chanting, "Fox News rocks! Fox News rocks!" and drowned out the rest of his story.
There was also a moment when they started chanting, "We love the press! We love the press!" and I was so confused that I started walking toward them, as if they were calling me over. Just then they started to chant, "We love Sarkozy! We love Sarkozy!"—as in the French president—and I turned around and walked away, totally confused, and sort of hurt because I think they were making fun of the press, or at least comparing us to the French.
When the event was finally over, Boehner heard the "We want Boehner!" calls from the dozen or so flag-waving stealth Tea Partiers and walked across the road to them, surrounded by a phalanx of hangers-on and cameramen. When the unruly press mob started displacing the real Americans, that made one of the flag-waver guys really angry, and he yelled, "Let him through! He's not afraid of the people!" That gave chiropractor Cypher his opening, and he rushed up to Boehner and handed him his tea kettle. Boehner held it for a second, and asked, "Can I keep this as a souvenir?" He then quickly had a change of heart and said, "Oh, I don't know," and gave it back.