'Fear City': What the Netflix Documentary Series Misses Out
Fear City: New York vs. The Mafia is Netflix's new true-crime documentary, looking at how the Racketeer Influenced and Corrupt Organizations Act (RICO Act) helped end the chokehold the so-called "Five Families" of organized crime had over New York City.
The Netflix doc features a wealth of interviews with figures such as Rudy Giuliani, who was a key part of the legal strategy to bring the mob bosses down, as well as audio recordings taken from wiretaps never publicly heard before.
Multiple viewers, however, have noted that Fear City has some notable omissions.
A Vox review of the documentary, titled "How Netflix's New Mafia Documentary Failed," for example, criticizes Fear City for its too-narrow focus on law enforcement and for not corroborating some of the claims made by its interviewees.
Writer Alissa Wilkinson notes in the piece: "There's plenty of talk of the mafia's control over unions, but no former union workers appear to talk about it. We hear stories about grocery store owners being exploited, but never hear from the actual grocery store owners."
She later adds: "What we get with Fear City isn't 'New York vs the mafia,' as the subtitle promises; it's 'the FBI and the District Attorney's Office vs the mafia,' which boils down to a lot of talking about the specific ways bosses got bugged and doesn't offer much of a sense of how New York was caught up in it all."
This was an opinion also shared by Slate writer Sam Adams, who said of the documentary: "For as often as their safety is invoked, the everyday people of New York are only an abstraction, talked about in general terms but rarely shown, let alone heard from."
The author also noted that there is one figure central to the story of New York's ties to the mafia who is conspicuous by his absence: Donald Trump.
There are a handful of references to Trump in the three-part documentary. Images of Trump are seen when the doc mentions Trump Tower as a major New York real estate development, and he is named in one of the mobster conversations caught on tape. In another segment, he is not mentioned by name, but someone says that all New York real estate developers had to deal with the mob at some point.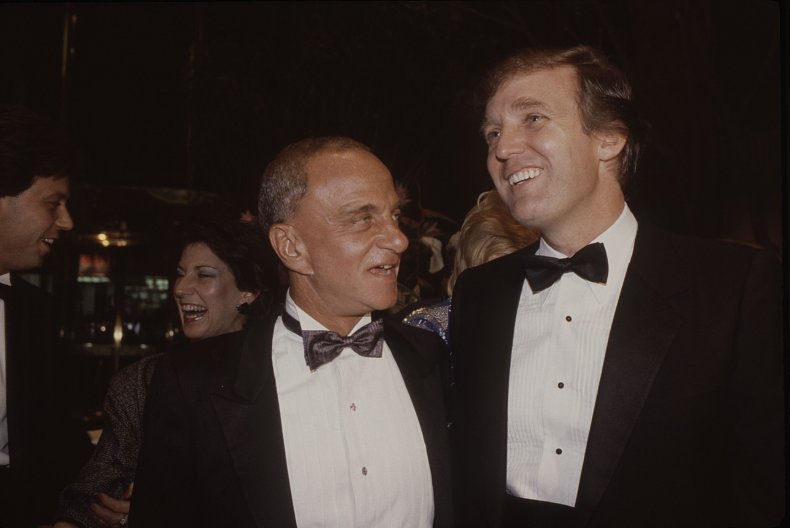 However, numerous reporters have noted that there is a long history of Trump being involved in industries with strong mob ties.
Investigative journalist and Trump biographer Wayne Barrett, for example, told CNN: "The mob connections of Donald are extraordinarily extensive," later adding: "There was a certain amount of mob association during which the father and he were building, which was very difficult to avoid in the New York construction world. He went out of his way not to avoid them, but to increase them."
As detailed in an Esquire piece, Trump's one-time close associate Roy Cohn was an attorney for a number of mob bosses. A 2016 Politico piece, meanwhile, alleged that Trump bought concrete for the construction of his New York Trump Tower at inflated prices from S & A Concrete, a company owned by mafia bosses Anthony "Fat Tony" Salerno and Paul Castellano—the former of whom would be indicted on racketeering charges for his concrete deals. It has also been alleged that Trump met privately with Salerno, though Trump has denied this.
Though Trump barely features in Fear City, one man who makes multiple appearances is Giuliani, who is a lawyer for Trump—though this is not mentioned in the documentary and the implications of this are not explored.
Fear City: New York vs. The Mafia is streaming now on Netflix.