Trump Impeachment Democrat Accused of Fostering Toxic Environment for Sexual Harassment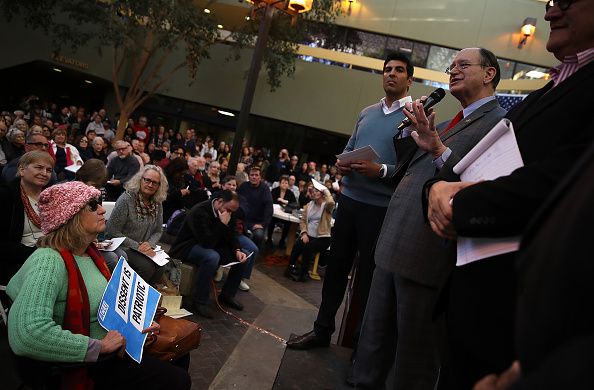 Los Angeles Congressman Brad Sherman is being accused of creating a toxic work environment for his employees after longtime aide and California Assemblyman Matt Dababneh was accused of sexual harassment while working in his office.
Eight former aides said the environment in Sherman's D.C. and California offices made them feel so uncomfortable that many junior staff members felt they could not raise concerns about harassment or any other matter, according to a report from the McClatchy D.C. Bureau.
On Friday, Dababneh said he would resign from his position as assemblyman after several allegations of harassment, including sexual assault, were made against him. Sherman's closest and most trusted employee was known to date a lot of women, according to Lauren Attard, Sherman's former legislative counsel.
Jessica Yas Barker, a former field representative in Sherman's office in Sherman Oaks, was one of the women who has alleged Dababneh harassed her. She told the D.C. Bureau she should have raised her concerns about his behavior earlier, but the culture in Sherman's office made her feel like she could not come forward.
"It definitely felt like an environment where this was just the way things were," Barker said. "I did not feel there was any channel by which I could report things."
The allegations against Dababneh first erupted during a press conference in Sacramento on December 4, when Pamela Lopez, a Sacramento lobbyist, said Dababneh pushed her into a Las Vegas bathroom and masturbated in front of her in 2016. Lopez also said Dababneh repeatedly made lewd and suggestive remarks when he was her boss in Sherman's district office, the Sacramento Bee reported.
Just last week, Carrie McFadden, an intern on Sherman's 2012 campaign, told the Los Angeles Times how Dababneh regularly discussed his sex life in the office, which made her uncomfortable. The 36-year-old San Fernando Valley Democrat has denied the accusations.
Sherman, who introduced articles of impeachment against President Donald Trump back in August, responded to the allegations with a statement to the Los Angeles Times and said he has "always had a strong policy against sexual harassment." The congressman also noted that "several times each year I have private conversations with each district office employee in which I ask a number of questions including: is there anything about your job (other than pay) which you do not like – or want to change? Is your supervisor doing a good job?"
A 2013 survey by The Washington Times found that Sherman had one of the highest staff-turnover rates in Congress over the previous decade, proving that he was a difficult boss. The congressman went through more chiefs of staff than any other lawmaker during the time period, according to The Washington Times. The House staff voted him as one of the "meanest" members of Congress, according to a Washingtonian survey in 2012.
Sherman said he was "a demanding boss" in a statement to the Sacramento Bee, but denied that his management style contributed to the silence about Dababneh's behavior.
"Throughout media, business and government, employers with a wide variety of different procedures and managerial styles have found that women were reluctant to come forward," he said.
Since the #MeToo movement has grown, Congress is weighing changes to the Office of Compliance, which handles reports of workplace abuse in Hill offices.