Fear Not, Parents. Halloween Is Not Dead This Year | Opinion
The COVID-19 pandemic has turned families' lives upside-down. School was canceled. Summer camp was canceled. Sports were canceled. Concerts were canceled. It might feel easier to list the things we can do than all the things we can't.
But fear not, parents: Halloween is not dead this year (and no, I don't mean in that sort of zombie apocalypse undead sort of way).
Sure, it won't be the Halloween of our childhood. But then again, our parents let us ride in the back of mom's minivan without seat belts, let alone car seats, so hey, change can be good.
As a mom, I want my children to be safe and have fun. The fall holidays are important to us, and our morale, especially in such a tough year. But as an emergency room physician on the front lines who advises schools on COVID-19 protocols, I know that Halloween isn't worth an outbreak (and no one wants to be that family who causes the class to quarantine).
So while everyone's situation is different, here's what I'm recommending for most families this year.
Key caveat 1: Aside from staying home, there is no zero-risk option. Every option comes with some risk, which is why this becomes about smart risk mitigation.
Key caveat 2: If 2020 has taught us anything, it's that flexibility is key. We plan and plan—but if numbers rise or there is an exposure or plague of locusts, then those plans change.
What's right for your family depends on a couple of key factors:
(a) Is anyone in your family high-risk for COVID complications or in close contact with people who are?
(b) What is the positivity rate in your county (find that here)? This tells the chance that you'll come into contact with someone who is infected (whether they know it or not).
(c) What are the safety restrictions in your state? That tells how likely the infected person in (b) is taking proper precautions to reduce their risk of spreading COVID-19.
How to keep Halloween great:
Keep it outdoors but follow the other guidelines too: Infections are much more likely to arise from indoor parties and other events, but we've seen outbreaks from outdoor gatherings too.
Mask up, everyone: For the entire time. (Note: A Halloween costume mask is not sufficient—but please don't wear a mask for COVID-19 and a Halloween mask, as that could make breathing more difficult.) The risk of COVID-19 transmission drops from 17 percent (without a mask) to 3 percent with it. Plus, activities like shouting are higher risk, even if outside—but drop down to lower risk when face-coverings are worn.
Eating and drinking: Eating and drinking are when we have our masks (and guards) down. Have families eat separately, at least 12 feet apart. Spread out everyone in one large area, or have each family eat in their own driveway.
Keep to an already existing pod: Keep to a pod you're already in (such as your child's classroom), because for anyone new, their pod becomes your pod. Small groups are best, as fewer people mean less chance for COVID-19 exposure. Plus, it makes tracing much easier if afterward you learn of an exposure.
Keep a distance: Even if masked and outdoors, aim for a 6-feet distance minimum.
What to do with candy? Reserve some of the candy you bought for your own kiddos (and you, naturally). If you get candy from others, set it aside for 24 hours, wash hands and let kids eat the candy you reserved. If there's a piece of candy that they just must have, wipe it, open it and set it on a napkin, have them wash their hands and enjoy.
Can kids trick-or-treat? If you're low risk, according to the initial questions, then stick to small, stable pods, know exactly which houses you'll visit and ask them to set out spaced, individually wrapped candy, so that kids don't all cluster at a front door or stick their hands into a communal bowl.
Can you have people over? Again, yes. With restrictions. Have a small number who are already in your pod, all masked the entire time and eat as families. Then children can do distanced activities like pumpkin decorating, an outdoors movie screening, a costume parade or "trick or treat" in spaced-out stations.
What can you do if you need to stay home? You have options! They include a Halloween movie screening, trick-or-treating stations around the house, turning down the lights for a dark hide-and-seek or a haunted house, where you can gross out your kids by making them wear a blindfold and feel bowls of eyeballs (peeled grapes), zombie brains (Jell-O molds), intestines (spaghetti), a werewolf kiss (wipe their cheek with a thin-sliced dill pickle) and cut-off hands (fill surgical gloves with cooled cooked oatmeal then tie off the ends and put into a bowl).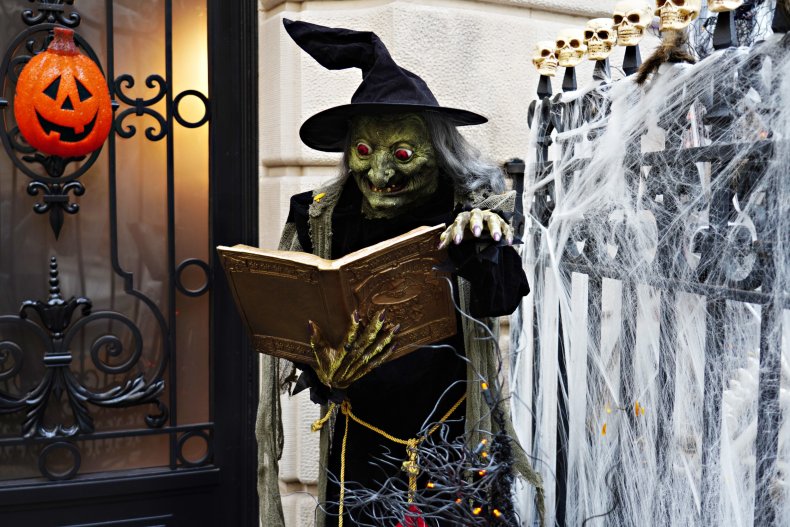 Personally, I've raided Halloween décor sales and borrowed Halloween decorations from my neighbor whose children are older (although my 3-year-old allows only decorations that are "happy Halloween mommy, not creepy Halloween"). We'll be doing trick-or-treating in stations around our yard. It's taken extra effort to plan, but it's allowed me to get to know certain neighbors and parents in my child's class better as we try creatively find safer solutions—and I'll admit that I'm pretty excited about my new décor. (Want more details on how we're doing Halloween? I'll be sharing it here.)
It's not the Halloween 2020 that we envisioned, but by thinking in terms of smart risk mitigation, we can balance safety and play (for all ages). Ensuring that we do that—and focusing on what we can do—is the antidote that we all need right now. Now if you'll excuse me, I have to set up a zombie apocalypse in my backyard.
Darria Long Gillespie, M.D., MBA, is a board-certified emergency medicine physician, best-selling author, TED speaker and clinical assistant professor at the University of Tennessee.
The views expressed in this article are the author's own.