Fear of Smash-and-Grabs Forces Bay Area Businesses to Close, Move to Online Retail
Some Bay Area businesses have decided to close shop indefinitely and focus on online sales in the wake of recent smash-and-grab robberies in the area.
One of those is Kickz Inc., and the store's owner, Danny Ryan, told Newsweek he shuttered up his San Jose store after the spate of thefts before his business could be targeted.
"We're right in the heart of the shopping area of San Jose, and there was a bunch of smash-and-grabs 100 yards away from us," Ryan said. "I felt it wasn't going to be worth it to continue and give the thieves that opportunity to come smash-and-grab us. We have a lot of high-end merchandise. We're pretty well-known. It was only going to be a matter of time."
Focusing on internet sales allows Ryan to "not have to put ourselves in jeopardy and deal with potentially being smash-and-grab robbed or vandalized," he said. "It just wasn't worth the headache."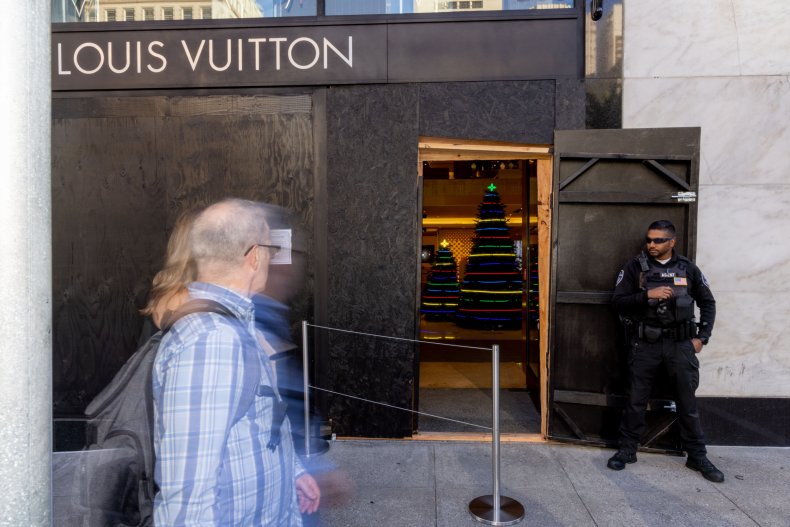 The smash-and-grab robberies have made headlines in recent months given the brazen nature of the crimes. A common description of the thefts would be groups of masked people entering into a business, often in broad daylight, who then shatter glass on display cases and make off with the merchandise.
The number of thieves in a single group have numbered in the dozens in some instances, and the crimes have taken place at large luxury retailers like Louis Vuitton and Nordstrom, as well as independent businesses.
California, especially the Bay Area, has been the site of many of the audacious robberies, though there have been reports of smash-and-grabs occurring throughout the country.
"I have spoken with some business owners—some that closed, some that didn't close. I have some friends that have stores in the mall or in complexes," Ryan said. "Some of them are doing online- or appointment-only. Others have fully shut their doors and are actually going out of business. Others are hiring security and just moving forward."
Kickz Inc. was targeted by burglars twice in 2018, and the criminals made off with some of the store's high-end clothing, Ryan said. After those incidents, Ryan aid he had bars put on the store's windows and doors. The store had felt secure after that until he saw recent reports of smash-and-grab thieves prying bars off doors with crowbars and gaining entrance to businesses.
The fact that the criminals have targeted both big businesses and small is "killing our community," Ryan said.
On November 29, Kickz Inc. posted an announcement of the physical store's closing on Instagram. It read, in part: "Due to all the recent events going on all over the Bay Area we have decided to pull everything off shelves & fully shut down until further notice."
Even still, Ryan hasn't abandoned his store. On December 23, he's hosting a toy drive there, where he said thousands of toys and food will be given out while a DJ entertains the crowd.
Ryan said he will also eventually reopen the San Jose for customers, though a remodeling will be complete first.
"We are going to transition our business and make our store floor less desirable to criminals, per se. We won't be having as much high-end merchandise on the floor. We will be kind of getting away from sneakers and focusing on our own brand, merchandising, events, public community work.… Our physical location will open back up, but we are utilizing this situation and this time to transition our business model to protect us in the future as well."