'Fear The Walking Dead' 4x02 Spoilers Reveal New Friends, Familiar Enemies
Fear The Walking Dead Season 4 continues with episode 2 this week, and we've got a fresh batch of spoilers courtesy of the Fear: The Spoiling Dead Fans Facebook page. Much like the premiere, episode 2 introduces lots of new characters. Let's get to the recap.
SPOILERS follow this break. Those who don't want to know the full plot of episode 2 should turn back now.
Episode 2, titled "Another Day In The Diamond," is largely focused on a flashback in which Strand, Madison, Alicia and Lucy go on a supply run outside their stadium-based community. While in search of something to salvage, Madison is confronted by a woman named Naomi, who's standing atop a silo filled with what appears to be human waste. Once Alicia points her gun at Naomi, she gets spooked and falls into the silo. Madison jumps in to help her, the group slices through a few walkers and they leave with Naomi.
The main person who's not part of the supply party is Nick, because he's back at the stadium with a new character named Charlie. She allegedly lost her parents while living at a nearby community, and it's Nick's job to make her feel at home. Panic sets in when Nick's family takes too long to return from their run. He leaves the stadium to look for them but becomes consumed by violent visions of what happened at the dam in Season 3. Madison returns just as Nick is about to be mauled by a walker.
Naomi fixes a small wound on Nick's head and reveals that she used to be a nurse. She agrees to stay at the stadium, but, just as things are about to quiet down, Lucy spies a convoy descending on the community with a number 12 banner on one of the trucks. The assumed leader pulls out a chair and sits down at the gate to make his demands. He's a member of a group called the Vultures, and they want everything the stadium has to offer. He also asks to see Charlie and apologizes for taking so long to get there. There's a cut, and we see the community functioning as normal. Charlie is still there, and Lucy brings her a book.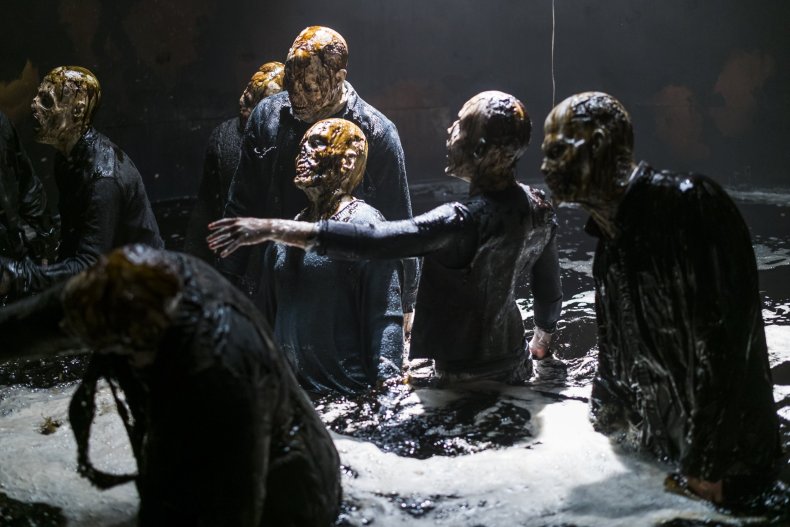 In the present, Alicia, Strand, Lucy, Nick, Morgan, John and Althea are back at the SWAT truck. Nick asks the new group if they know anything about the Vultures because the truck is numbered just like the one in the Vulture's convoy. Althea says she has no idea what the banner means, but they decide to go to the place where she found it.
In other words, episode 2 of Fear The Walking Dead essentially introduces the spinoff's version of the Saviors. The needs and attitudes of the two groups will likely differ as both shows move forward, but there are obvious parallels to be made.
Fear The Walking Dead Season 4 continues April 22 at 9 p.m. EDT on AMC.
What are your thoughts on these Fear The Walking Dead spoilers? Are you OK with seeing a Savior-like group on the show? Tell us in the comments section!