'Fear the Walking Dead' Season 6, Episode 8: Why the Show Killed Off John Dorie
Fear the Walking Dead featured a shocking death in its return after a month off on AMC as Season 6, Episode 8 showed John Dorie (played by Garret Dillahunt) battling suicidal thoughts for the majority of the episode before dying at the hands of his wife June (Jenna Elfman).
At the start of the episode, titled "The Door," John hesitates between aiming a gun at his head or at approaching zombies. Morgan (Lennie James) and Dakota (Zoe Margaret Colletti) find him and save him from the walkers. Morgan then tries to convince the suicidal John Dorie to keep going.
John then discovers that Dakota had been the one who had killed Cameron (Noah Khyle) in episode 4. This revelation gives him the reason he needs to live as he tries to help Dakota change her ways. She, however, is having none of it and shoots him in the chest, leaving him to fall into a river.
John fights for his life as he floats down the river. His wife June eventually finds him on the shore, but he has already been zombified. She then chooses to kill her husband with a knife.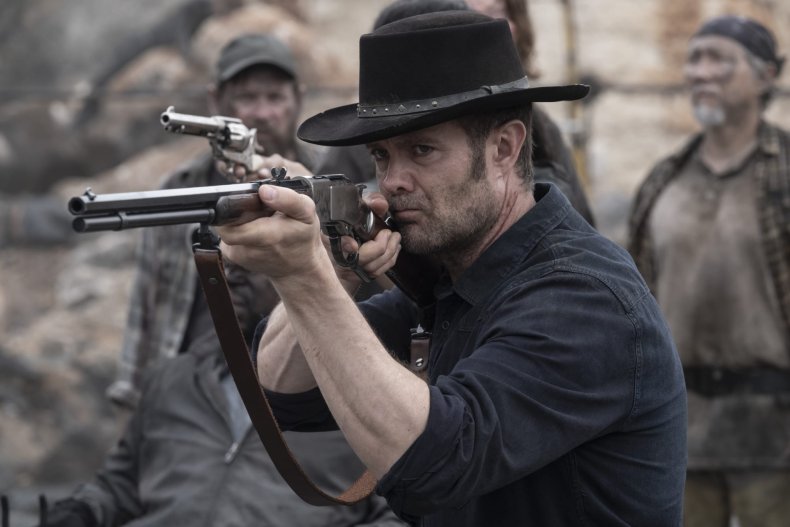 "It's something we'd been talking about since Season 5," Dillahunt told Entertainment Weekly. "They came up with this great idea—great, and tragic, and wonderful, and believable in this world for how to get him off the show."
Asked why his character had been killed off, the actor said: "I get a little antsy after a while, and I'm not a kid anymore, and I have some things I wanted to do. And I'm just fortunate it worked out."
Fear the Walking Dead co-showrunner Ian Goldberg said of John's death to EW: "John Dorie has always been this incredible point of light, this optimistic, hopeful beacon in the apocalypse.
"We knew that there had to be a cost to the war with Virginia [Colby Minifie], and, to this family, who is on the precipice of coming back together, losing someone that's so much the glue and the heart of this family, putting everyone else in a position where, how are they going to move forward now, without someone so critical to who they are."
Dillahunt also revealed that the show was shooting John's death scene when the coronavirus pandemic hit the U.S. in March 2020, meaning that some parts were shot later in the fall. "It's been more than a year that we've had to sit on this secret," the actor said, "so I'm going to be quite relieved when the thing airs, and then I can move on, and everyone else can move on too, and enjoy the back half of Season 6 and onward with this great cast and group of people."
Fear the Walking Dead Season 6 airs Sundays at 9 p.m. ET / 8 p.m. CT on AMC. All episodes of Season 6 are streaming now on AMC. Seasons 1 to 5 are streaming on Hulu.